Non-Digital Recipe Organization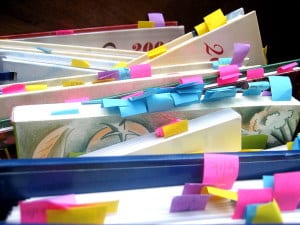 I am a third-generation cookbook fanatic. I think my collection is pushing 40, and the reasons why I don't have more are space and money. I have one little shelf I keep them on, and I promised my husband I would confine myself to that space. (Uh… and about 6 inches of the shelf above it. I really am trying.)
Because of my impatience for variety, I don't like cooking the same thing twice unless I really, really liked it the first time. Consequently, my cookbooks are littered with little post-its marking things I want to try and things I already tried and a little comment about how we felt about it. My attempts at being organized had blossomed into a garden of pretty post-its sticking out of my books with no clues as to where anything is.
What do you do with a recipe after you make it? Do you have a recipe box? A binder? A drawer full of loose papers? (Please say no.)
When Steve and I got married, a friend gave us a recipe binder. She simply got a 2″ binder from the store, placed plastic sheets in it and made dividers. She also included some of her family's favorite recipes. What a creative, personal, and functional wedding present. I loved it.
I have all of my family recipes in there as well as new recipes that we love. If my house were to start on fire, I would grab this book second only to my wedding album. It's simple to make, and if the binder wears out, it's cheap to replace. (I'm on binder #3.) I've added lots of page protectors with and without the index card slots.
Until I transferred all of my recipes into Microsoft OneNote, I used this as my sole method of recipe organization. But I still have my trusty binder because my laptop remains docked upstairs in our desk, and I'm unable (because it's broken) to use it in the kitchen. I love it. It's like a scrapbook to me. I print out a lot of recipes from my OneNote file and if it's something that I know I'll be making again, I stick them in my binder so I don't have to reprint it. I guess that's my meager contribution to saving some trees.