Caramelized Onion and Goat Cheese Garlic Toasts
Some of the best recipes I've "made up" come from simply having a bunch of mismatch leftovers and throwing them together. This is another one that I had to document.This recipe starts out with my favorite way to make garlic bread. Just a simple drizzle of olive oil over the bread before you bake it, and then a rub of fresh garlic over top. That's it. I went the next step and added some caramelized onions and goat cheese I had leftover from
one of my favorite pizzas
.
Caramelized onions are seriously a delicacy. Some people add sugar to theirs, but I don't. If you use sweet onions, there's no need to. It's amazing what a transformation is made and how much sugar is hiding in such a painfully eye-watering vegetable.
I hope the measurements are OK in the recipe. You may have some caramelized onion leftover, but that's hardly something to complain about. :)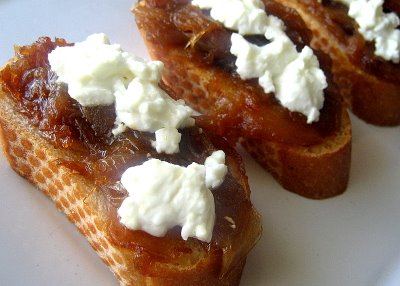 Caramelized Onion and Goat Cheese Garlic Toasts

Ingredients:

1 French baguette, sliced into 1/2-inch pieces
olive oil
1-2 garlic cloves, peeled and sliced in half lengthwise
2 large sweet onions, sliced thinly (don't be afraid, they'll cook down a LOT!)
3 T butter
4-5 oz goat cheese

Directions:

Preheat oven to 425 degrees F.

Melt butter in a large dutch oven or saucepan over medium heat. Add onions, stir to coat, then cover and cook for 30 minutes. Stir occasionally. Uncover, bump the heat up a bit and stir until onions are golden brown and caramelized.

While onions are cooking, arrange baguette slices on a sheet pan and drizzle with olive oil. Bake in preheated oven for 5-8 minutes or until bread begins to turn slightly brown. Remove from oven and immediately rub the toasts with garlic clove halves. Add a couple tablespoons of caramelized onion and some crumbles of goat cheese to each toast. Return to oven and bake for 2-3 more minutes or until everything is heated through and the cheese begins to melt.

Makes 15-20 appetizers, depending on how thick you slice your bread.