Green Bean and Egg Salad with Goat Cheese Dressing
Here's another salad for you. A really, really good salad, but only if you're hopelessly in love with goat cheese like I am. This salad is like a cross between a green salad and a potato salad with some fresh green beans thrown in. It's quite a strange-sounding combination, but the dressing is what brings it all together. I LOVED the dressing. It would be great on either type of salad, too.
If you don't like goat cheese. . . hmm. . . maybe try cream cheese or sour cream?
And yes, another one from FN magazine. That makes four now, I think. I'm telling you . . . there's some good stuff in there! Still more to come :)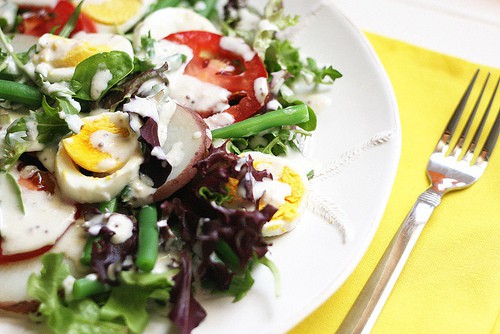 Green Bean and Egg Salad with Goat Cheese Dressing

Ingredients:

1 T minced red onion
4 ounces soft goat cheese
1/4 c buttermilk
2 T cider vinegar
1 T extra-virgin olive oil
2 tsp whole-grain mustard
1 lb small red-skinned potatoes, sliced
4 large eggs
8 ounces green beans, trimmed
8 cups mixed salad greens, torn
1 large ripe tomato, halved and thinly sliced

Directions:

In a blender or food processor, combine minced onion, goat cheese, buttermilk, vinegar, olive oil, mustard 3/4 tsp salt and pepper to taste. Blend until smooth. Add a tablespoon of water if it's too thick.

Put potatoes in a pot of salted water; bring to a simmer and cook until tender, about 18 minutes. Drain and pat dry. Meanwhile, put eggs in another, smaller, pot and cover with water. Bring to a boil; remove from heat and cover. Let eggs sit for about 10 minutes, then remove from pot (without draining the water) into a bowl of cold water. Add green beans to the same boiling pot of water the eggs came from. Cook until crisp-tender, about 5 minutes. Drain, run under cold water and pat dry. Peel and slice eggs.

In a large salad bowl toss together salad greens, green beans and half of dressing. Top with potatoes, tomato and hard-boiled egg slices. Drizzle with remaining dressing.

adapted from Food Network Magazine, June/July 2009