Grilled Corn on the Cob + Salmon Foil Packets
With an abundance of fresh, sweet corn around, I seem to fall back on my favorite way of cooking it — grilling. There are three ways that I know of to grill corn on the cob, so I'll explain all three below. I get such a kick out of making a whole meal on the grill, so I decided to pull out some salmon fillets, too. After eating salmon cooked several ways, and eating it at restaurants, nothing compares to the way my parents do it — wrapped in a foil packet with seasonings and a pat of butter.
It's even better if you get fresh (non-frozen) salmon fillets that are wild caught as opposed to farmed. Farmed salmon don't eat krill, which is what wild salmon eat, and krill is where the omega-3 fatty acids come from that everyone rants about. Basically, if you want the nutritional benefits from eating salmon, get wild-caught. Otherwise, you might as well grab a steak. (Just make sure it's grass fed or you might as well get a hamburger. :))
Rant finished.
If you really want the entire meal made on the grill, do some Grilled Pineapple Sundaes with Rum Sauce!
Grilled Corn on the Cob
I wouldn't call this original because you could find it anywhere on the Internet :)
fresh ears of corn
butter
salt & pepper
Method #1: This is probably the easiest and most fail-proof out of the three methods. It also stays hot longer after you take it off the grill. Shuck the corn, removing all of the stringies. Lay each cob on a piece of aluminum foil with a small pat of butter (like 2 tsp – you don't have to smear it on the corn, just throw it in there), and a sprinkle of salt and pepper (or whatever seasoning you like. The House Seasoning I always use works really well). Wrap up the corn tightly, covering the entire ear. Lay the corn on a hot grill and cook for 25-30 minutes (less time if your grill is closed), turning the ears a quarter turn every 5 minutes or so. Open an ear to check for doneness. The corn should be bright yellow and may have a few brownish spots.
Method #2: Your second option is to, again, husk the corn, removing all the stringies, and lay the corn directly on the hot grill. Grill according to directions above, then season the corn when it comes off the grill. You get more caramelization with this method, but your chance for burnage goes up, so keep a close eye on this one.
Method #3: This method is trickier, but it'll give you the best flavor. Pull down the corn husks, but don't remove them. Remove all the stringies from the corn and pull the husks back up. At this point a lot of people recommend soaking the corn, which keeps the husks from burning on the grill, but I never do it. I just forget. And I'm lazy. I think it turns out fine with the husks a little charred (I wasn't planning on eating those anyway.) Grill the same way as directed above and remove the husks when they're cool enough to handle. You could also leave them on to provide a "handle" to eat your corn. That's fun.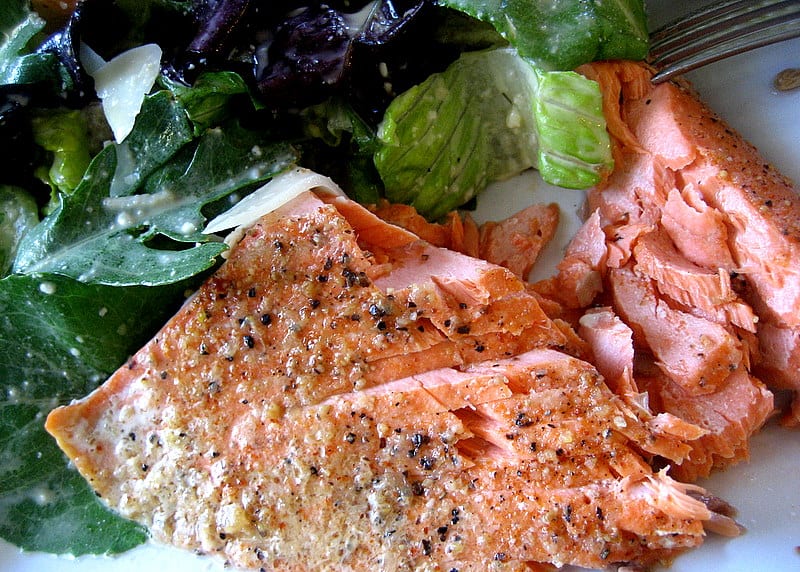 Grilled Salmon Foil Packets

Ingredients:

salmon fillets, preferably fresh, wild-caught (This works with small ones as well as whole, giant fillets -- whatever fits on your grill.)
butter
salt
lemon pepper
Creole seasoning (Tony Chachere's is best)

Directions:

Place salmon on one side of a piece of greased aluminum foil, twice the size of the salmon (so you can wrap it all in one piece). Sprinkle salmon with a pinch of salt, some lemon pepper and the Creole seasoning. Be a little generous with the lemon pepper and the Creole (see photo above). Lay a couple of small pats of butter (about 1 tsp each) on the salmon, then wrap the other side of the foil over top. Fold the sides in to seal.

Place packet on a preheated grill (about medium heat). Cover and grill for about 10-20 minutes, depending on how large your fillets are. Don't flip! Fillets are done when you can flake them easily with a fork. Don't overcook or it won't be as moist. Transfer to a serving platter and dish up!

from my mom & dad, Ray & Debbie Phillips