Mexican Style Corn on the Cob (Elote)
I forget that my little one is quick and that she has 6-foot-long arms that reach far onto the counter. She's also bold. Bold enough to snatch a freshly husked piece of corn off the counter (while her mother is watching), bite into it raw and walk out of the kitchen with it.
Little did she know I was about to work some magic on that corn. Magic named "Elote". Elote is Mexican style corn on the cob, and I hear it's a street food down there. I never saw it when I was in Mexico, but I was in Cancun. That probably doesn't count as Mexico.
Here's how it goes. You cook the corn (grilled, boiled, whatev), slather some Mexi-sauce stuff on it, then roll it in Cotija cheese. (Use grated Parmesan or Queso Fresco if you can't find it.) See?
Seriously? This corn rocked the Perry table. I think I finally may have convinced the hubs to like eating corn on the cob. (Getting it stuck in his teeth wasn't worth the effort. Now it is.)Sophie loved it, too, but she ate more corn when it wasn't covered in cheese.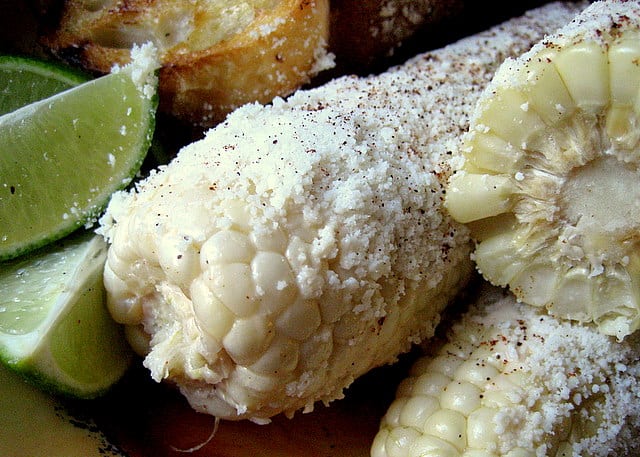 Mexican Style Corn on the Cob (Elote)

Ingredients:

4 ears corn
3 T mayo
2 T sour cream
1/4-1/2 t lime zest
1/2 t fresh lime juice
1/4 t cayenne pepper (optional)
1/4 t chili powder
tiny pinch kosher salt
1 C crumbled Cotija Cheese* (use fresh parmesan or queso fresco if you can't find Cotija)

Directions:

While your corn is cooking, prepare the rest of the ingredients. Crumble the Cotija by either simply using your hands, using a fine grater, or putting it into a ziptop bag and smashing it with a glass or something.

For the spread, mix the mayo, sour cream, lime zest & juice, chili powder, and salt in a small bowl. Set aside or refrigerate until ready to use. (Can be made a day or two ahead.) Reserve a few extra lime wedges.

When your corn is finished cooking and piping hot, use a spoon to spread on some sauce. Then roll it in the grated cheese. If you want, sprinkle on a little extra chili powder and squeeze some lime over top. (Do it. We tried it both ways and it adds a lot of flavor!)

Recipe from Our Best Bites