Kabocha Squash Cornbread + How to Cook Down a Squash
Happy October! It's squash time again! I finally got around to making this cornbread after it spent a year in my file. Mostly because I had no idea what kabocha squash was until I happened upon it at the grocery store.My cousin Mary sent me this recipe, which won an award at the Texas State Fair last year. Which award, I'm not sure, but I would have given it the Most Fragrant Cornbread Award. Somebody should make a candle out of it. It also tasted great, especially warm from the oven. It has such a unique flavor, reminiscent of Indian spices. The flavor starts to wane the next day so eat fast.
Cooking down squash or pumpkin is a great skill to have. You can puree it and either freeze it in ice tray cubes to use as baby food, or store in portions to use in place of canned pumpkin for baking. If you cube it, it's nice to throw into skillet dinners, soup, or . . . cornbread. If you've never cooked down a squash or pumpkin before, I'll show you my favorite way of doing it — roasting. You can also boil it in a little water, steam it, or even pressure-cook it (I have a friend who swears by this). I like the intensity of flavor that roasting adds to vegetables, so I usually roast them.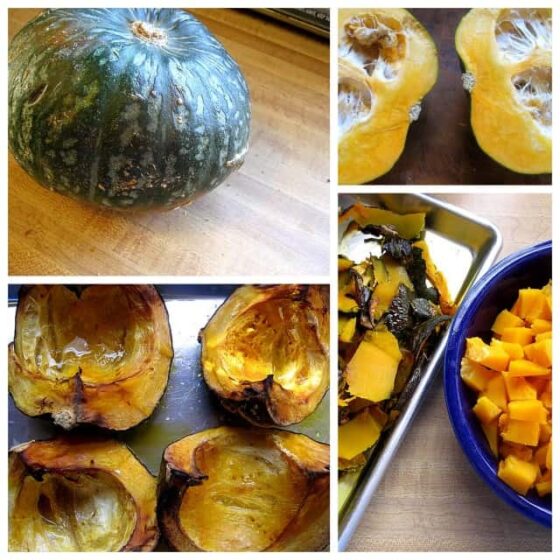 Here's what you do:
1. Preheat your oven to 400 degrees F.
2. Cut the squash in half and remove all of the seeds, then cut it in half again so you have quarters.
3. Here's where you have a choice . . . you can either place them cut-side down in a casserole (9×13 works well) dish and fill the pan about 1/3 of the way up the side with water.
OR
3. Place them cut-side up on a rimmed cookie sheet and drizzle a little olive oil over top.
4. Roast in the upper third rack of the oven until the squash is fork-tender. This can take anywhere from 30 minutes to over an hour depending on the size of your squash.
5. Remove from oven and allow to cool. Remove skin and any dried-up parts (more when you roast it cut-side up), then either cut into pieces or puree with a little water, if needed, to achieve desired consistency.
Kabocha Squash Corn Bread

Ingredients:

Makes 1 10-inch bread (serves 12)
8 ounces-unsalted butter
2 clove garlic, minced
4 large shallots, minced
1 jalapeno, minced
3 eggs
1 1/2 cups buttermilk
1 1/2 cups stone ground cornmeal
1 1/2 cups all purpose flour
1/4 cup granulated sugar
1/4 cup maple syrup
1 Tablespoon baking powder
3/4 teaspoon baking soda
1 teaspoon ground cinnamon
1/2 teaspoon freshly grated nutmeg
1 Tablespoon salt
2 cups roasted kabocha or butternut squash, diced
1 teaspoon fresh rosemary, finely chopped
1 teaspoon fresy tyme, finely chopped
1 teaspoon fresh sage leaves, finely chopped

Directions:

Preheat oven to 400 F, and place a 10-inch iron skillet or high heat baking dish in the oven to preheat.

Place the butter in a large saute pan. Add the jalapenos, shallots and garlic. Cook over medium heat for about 3 minutes or until the butter melts and the vegetables soften. Set aside to cool slightly.

Combine the dry ingredients in a mixing bowl. In another bowl, mix the buttermilk, maple syrup and eggs. Add the sauteed mixture, and mix well. Add the dry ingredients, and mix until just combined. Fold in the diced squash and herbs.

Carefully remove the iron skillet or baking dish, and grease with butter or vegetable cooking spray. Pour in the batter, and bake at 400 F for about 30-40 minutes or until firm to the touch on top and golden brown. Serve warm with butter and sea salt on the side. (Any flavorful autumn squash or pumpkin may be substituted.)

from the 2008 Texas State Fair via my cousin, Mary Jackson