Kaiserschmarren (Kaiser Pancakes)
Ever since I returned from an 18-month stint in Austria serving my church, I've always wished to go back in December. I loved being in Austria in December with the Christmas markets and the holiday smells and tastes. This isn't a holiday recipe per se, but since it reminds me of being in Austria, I'm posting it anyway.
This recipe cracks me up. You pour the batter into a pan like you're making a pancake, flip it over, and then you take a couple of forks and bust the whole thing to pieces. I often wonder if this intended to be a regular pancake recipe, but the cook couldn't ever get the pancake out of the pan in one piece.
The recipe is in metric measurements. Sorry. I hope you have a food scale. If you don't, please ask for one for Christmas. I don't know what I'd do without mine. (Probably never get my pasta amounts correct. Ever. I'm horrible at estimating pasta.)
Kaiserschmarren is traditionally topped with plum puree, but you can add any kind of jam, jelly or syrup you want. And a dusting of powered sugar.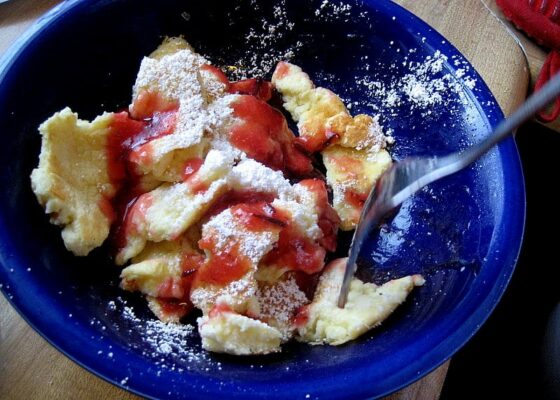 Kaiserschmarren (Kaiser Pancakes)

Ingredients:

6 eggs
200 g (7 oz) cake or pastry flour (or well-sifted all-purpose flour)
50 g (1 1/2 oz) sugar
250 ml (8 fluid oz) milk
1/4 tsp salt
40 g (1 oz) raisins (optional)
butter
powdered sugar
plum puree or any kind of jam or topping you'd like

Directions:

Separate the eggs from the yolks, placing the whites in a medium bowl (to beat later), and the yolks in a large bowl. Add the sugar, milk, and flour to the yolks and thoroghly blend. Beat (or whisk) the whites until they come to a soft peak. Carefully fold the whites into the yolk mixture, a little at a time, about 3-4 additions.

Melt a pat of butter in a large pan on medium heat. Pour half of the batter into the pan and sprinkle on half the raisins (if using). Allow to cook on one side for a few minutes until somewhat set, beginning to turn slightly golden. Flip over and tear into pieces with a couple of forks. Stir until all of the pieces are cooked through. Be careful not to over cook them or they will be dry. When they're set, but not yet browned, remove them from the pan. Repeat with remaining batter.

Serve with some plum puree or jam and a dust of powdered sugar.

Makes 2 large pancakes, enough for 2 hungry people.

adapted from Imperial Austrian Cuisine by Renate Wagner-Wittula