About CSAs + Parmesan Roasted Broccoli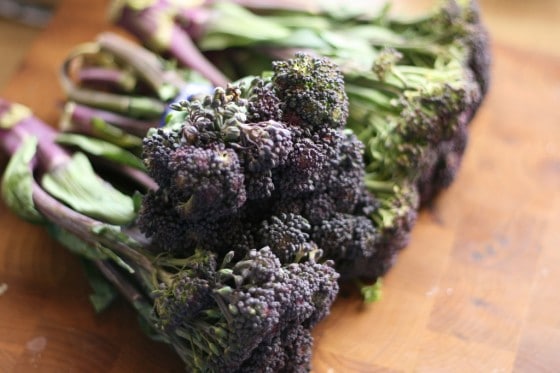 Don't adjust your monitors. Yes, that's broccoli. And yes, it's purple. Living in the San Francisco Bay Area has exposed us to some pretty interesting produce. We got this purple broccoli in our CSA box.What's CSA? Community Supported Agriculture. In a nutshell, you pay farmers directly (a couple months in advance), and you receive a lovely box of fruit and vegetables weekly. If I'm not mistaken, CSA farmers all use sustainable farming methods, thus the produce is organic — and most likely cheaper than organic farmers market produce. Update: Not all CSA farms are organic or even use entirely local produce. Check them out carefully before you sign up!
My favorite part is, you never know what's going to be in that box until you open it. Although after getting bunches of kale and carrots every week, I'd bet money that they'll be in next week's box, too.
So ya, back to purple broccoli. It was quite a surprise pulling that out of the box, but I love surprises. And randomness. Purple broccoli is definitely both of those things. I made this as a side dish for our "Emancipation Dinner". (More about that HERE.)
I posted a recipe for roasted broccoli a while back, which is also delicious. This one is better, though, if you like Parmesan cheese. Is there anyone who doesn't? Seriously. I'd like to know if you don't. Please tell me.I loved the chewy, salty crust on the broccoli mixed with occasional bites of roasted garlic. Maybe the broccoli is the mere vehicle for eating the topping. . .
Parmesan Roasted Broccoli

Ingredients:

1 large head of broccoli
3/4 c fresh bread crumbs
3/4 c grated Parmesan
2 cloves of garlic, sliced thinly
Kosher salt & pepper to taste
3 T olive oil

Directions:

Preheat the oven, with a rimmed baking sheet on the bottom rack, to 450 degrees.

Meanwhile, bring a pot of lightly salted water to boil. Cut broccoli into pieces and place in the boiling water for 1-2 minutes, or until bright green and just beginning to soften. Remove broccoli from the pot and rinse with cold water to stop the broccoli from cooking further. Drain well.

Place blanched broccoli in a medium-sized bowl and toss with half of the bread crumbs, half of the Parmesan, all of the garlic and olive oil. Sprinkle with a pinch or two of salt and pepper. Remove preheated baking sheet from the oven and carefully, but quickly, transfer the broccoli to the baking sheet. Sprinkle remaining bread crumbs and Parmesan over top.

Return baking sheet to the oven on the middle rack and roast for about 15-20 minutes until broccoli is cooked through and the pieces begin to turn golden brown on the edges.

Transfer broccoli to a serving bowl.

Serves 2-4. (Steve and I ate it all.)

Nat's Notes:
1. Using fresh bread crumbs gives the crust on the broccoli a better texture. To make your own fresh bread crumbs, either place a few pieces of bread into a food processor or add a couple of tablespoons of water to some dry bread crumbs and let it sit for a few minutes.

adapted from the Food Network Magazine
3 Responses to "About CSAs + Parmesan Roasted Broccoli"
Leave a Comment