Pretty Pink Waffle Makeover + Fun News!
Here's a makeover I did of my favorite waffle recipe. Sophie wanted "pink waffles" for her birthday breakfast, so I turned them pink with a little beet puree I had in the fridge (you rarely have a shortage of beets with a CSA box, unfortunately.)
I've tried to avoid using vegetable oil as much as I can, so I substituted butter, but in a lesser amount (so they wouldn't be too heavy). I also substituted over half of the all-purpose flour for whole wheat pastry flour, which is something I recently discovered and LOVE.
Whole wheat pastry flour is a super-fine grind of low-protein soft wheat. It's low protein content means it forms less gluten, which means it's perfect for things you want to keep light an airy, like pancakes. When I substitute half (sometimes all, depending on the recipe) of this flour for regular white flour, I don't even tell a difference in texture or taste! It's great.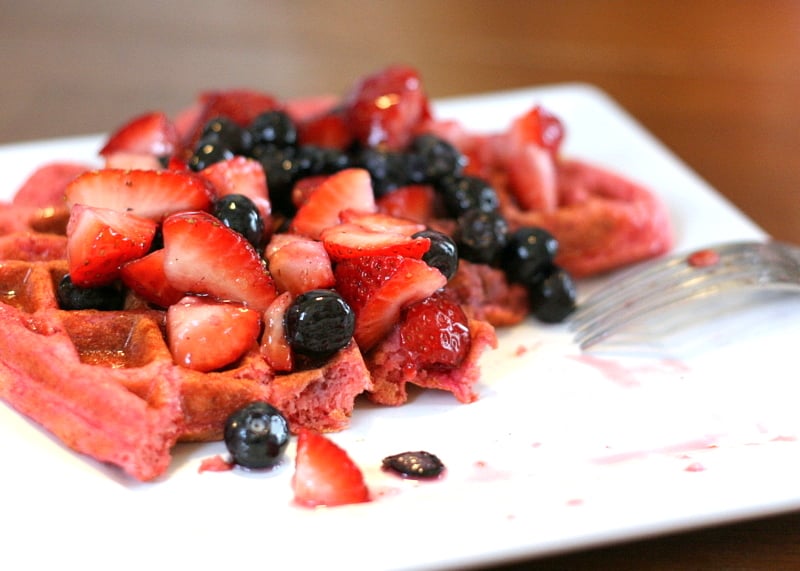 My Favorite Waffles, Remixed

Ingredients:

1 cup whole wheat pastry flour (or all-purpose white)
3/4 cup all-purpose white flour
3 tsp. baking powder
½ tsp salt
2 eggs, divided
1 ¾ c. milk
4 T melted butter
2 T pureed beet (optional)
Fresh berries, honey or warm syrup for serving

Directions:

Sift together flours, baking powder, and salt. Separate egg yolks from the whites. Combine yolks, milk, beet puree (if using) and melted butter. Beat whites in a separate bowl until soft peaks form. Whisk milk mixture into dry ingredients, just until there are no dry spots left. Fold in whites, leaving a few fluffs.

Bake on hot waffle iron.

Nat's Notes:
1. For buttermilk waffles, substitute 2 c. buttermilk for regular milk. Add ½ tsp baking soda and reduce baking powder to 2 tsp.