Southwest Cod Cakes
I'm excited for this recipe today because it comes from a newly-found bloggy friend of mine, Lauren from GoLo Kitchen Lauren's Latest! I met Lauren through Tasty Kitchen and found we had lots in common. (Including a friend who lives down the street from me, whom I'll talk about shortly.) Lauren and I thought it would be fun to do a recipe swap for today.
I chose Lauren's Southwest Cod Cakes, which turned out to be delicious! I've started to incorporate more fish into our diet. (Even though I'm not traditionally a fish person. If you can find good quality fish, i.e. wild-caught, it can be a great source of Omega-3′s.) Cod is one fish that I think of as rather bland (unless battered, fried, and thrown into fish tacos), and I was curious about making "cakes" from it. Due to a few mistakes of my own doing (see recipe notes), half of my "cakes" fell apart during cooking, but they were still full of flavor — especially paired with my favorite black beans and pico (with an avocado thrown in).
My husband thought the cod cakes would be great thrown into a taco, too. So I guess cod is destined to be a taco filling in our household. I'm cool with that.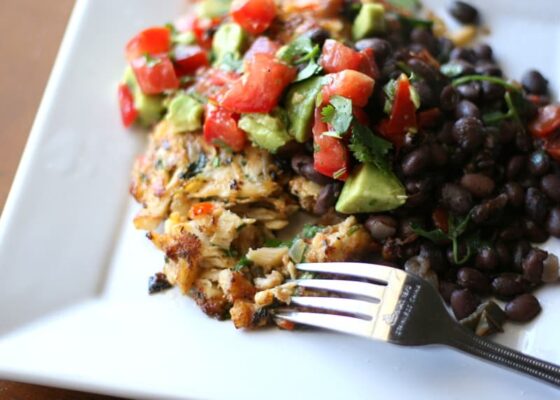 Southwest Cod Cakes

Ingredients:

2 Tablespoons butter
1/2 cup onion, diced
1 clove garlic
1/2 cup red bell pepper, finely diced
2 1/2 lbs. cod filet, cooked and flaked
1/4 cups cilantro, chopped
1 Tablespoon cumin
1/2 Tablespoon chili powder
salt
pepper
2 eggs
1/4 cup breadcrumbs

Directions:

Heat large skillet to medium heat. Melt butter and sauté onions, garlic, and red pepper until soft, 7-10 minutes. Remove from heat and set aside. In large bowl, combine remaining ingredients and cooked vegetables together.

Form palm-sized patties by pressing mixture in between hands. Place on greased cookie sheet. Bake at 350 for 20 minutes. Serve with rice, black beans and/or avocado tomato salsa.

Makes 12 cakes.

Nat's Notes:
1. I used half the amount of cod, one egg, the full amount of onion and peppers and adjusted the seasonings accordingly. I held back on the cumin and chili powder, not wanting to overpower the flavor of the fish (I used about 1 tsp cumin and 1/2 tsp chili powder).
2. I made the mistake of using fresh bread crumbs (I didn't have dried and I was too lazy to toast the ones I made from sticking bread into my food processor) and half of them fell apart during cooking . . .
3. Which brings me to my last note. I marinated the cod for about 15 minutes in a mixture of olive oil, lime juice, cilantro, cumin, salt and pepper, then put it in a foil packet and grilled it for 10-12 minutes. Then when I cooked the patties, I fried them in a little coconut oil instead of baking them. Lauren mentioned that they were a tad bit dry and I think changing the cooking methods helped a little, as well as serving them with salsa and beans.

from GoLo Kitchen (Lauren's Latest)