White Bean and Garlic Soup + Toasty Eggplant Sandwiches
We made it home alive from our marathon 3-week wedding/Disneyland/job hunting/friend & family visiting/Thanksgiving/2500 mile trek. The amazing part? We spent about 14 hours in the car yesterday driving straight home and only stopped twice.I'm very grateful for (mostly) well-behaved children. And portable DVD players. And princess movies.
Oh, and for libraries that have a huge selection of cookbooks, which is both a curse and blessing — finding hundreds of recipes I want to try only to realize I can't keep renewing my books forever. I forget that I don't own them after a while.
The Tuscan White Bean and Garlic Soup recipe comes from Giada de Laurentiis' book, Giada's Kitchen
. I've made it three times already. It's fast, easy (especially if you have an immersion blender), and my whole family loved it. It has so much flavor for so few ingredients, which means that quality is really important. (Like using fresh garlic and sage, etc.) I tweaked it a little in an attempt to make it thicker. It didn't work, but there are more beans in it, which we liked.
By the way, what makes something "Tuscan"?
The sandwich recipe comes from the December 2009 issue of Bon Appetit. I've apologized to that ripped out page for letting it stay in my file for so long. I love eggplant and caramelized onions (and cheese and bread, but that goes without saying), so I loved this as much as I hoped I would. The process of making those sandwiches is sort of involved for just sandwiches, but you can make the components a day or so ahead and simply reheat and assemble them when you get the bread toasted. They complimented the soup perfectly. It was kind of an accident that I made them on the same night. A very happy accident.
I used a rustic sourdough loaf — one of the many, many things I'll miss about being in the Bay Area when we leave. You may see some posts about sourdough starters in the near future if I can't find a loaf that measures up.
Tuscan White Bean and Garlic Soup
adapted from Giada's Kitchen
by Giada de Laurentiis.
2 T butter
1 T olive oil
2 shallots, peeled and chopped
2 fresh sage leaves, stems removed
3 15-ounce cans cannellini beans, drained and rinsed
4 garlic cloves, peeled and halved
4 cups low-sodium chicken broth
1/2 cup heavy cream
1/2 tsp salt
1/2 tsp black pepper
additional sage leaves for garnish
Heat butter and oil in a medium saucepan over medium heat. Add shallots and cook, stirring occasionally, until shallots have softened, 3-5 minutes. Add the 2 sage leaves, beans, garlic, and stir to combine. Add the chicken broth. Bring the mixture to a simmer and cook gently, until the garlic is softened, about 15 minutes.
Ladle half of the soup into a large bowl, scooping up as much of the garlic as you can. Blend until smooth using an immersion or stick blender
or transfer to a regular blender in batches, returning pureed soup back to the pot on the stove.
Once all the soup is returned to the pot, stir in the cream, salt, and pepper. Cover and keep warm over very low heat until ready to serve. Garnish with extra fresh sage leaves.
Serves 4-5.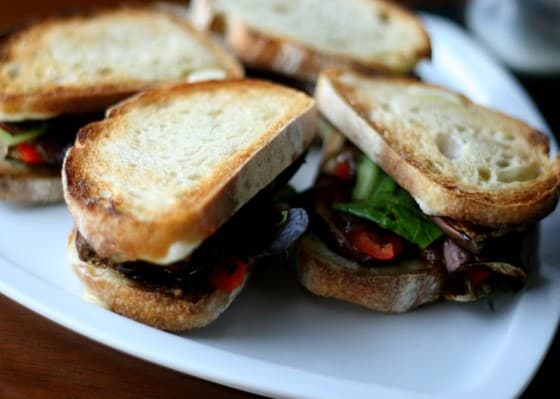 Eggplant Sandwiches with Fontina and Caramelized Onions
from Bon Appetit, December 2009
5 T balsamic vinegar, divided
2 T chopped shallot
1 small garlic clove, pressed
1/2 cup plus 2 T olive oil, plus additional for brushing
2 large onions (red or yellow, about 1 1/2 lbs), halved and thinly sliced
1 large bell pepper
2 large eggplants (about 2 1/3 lbs total) cut crosswise into 1/3-inch rounds or into strips.
16 slices of rustic-type bread or 8 ciabatta rolls, halved
8 large slices Fontina cheese
8 large lettuce leaves
Whisk 3 T of vinegar, chopped shallot, and garlic in a small bowl. Gradually whisk in 1/2 cup oil. Season dressing with a couple pinches of salt and pepper. TIP: Can be done 2 days ahead. Cover and chill, the bring to room temperature before using.
Heat 2 T oil in a large skillet over medium-high heat. Add onions; sprinkle with salt. Cook until onions begin to brown, about 5-6 minutes. Reduce heat to medium low and cook until soft, about 8 more minutes. (It helps to cover the pan.) Add 2 T vinegar and cook an additional 8 minutes or so until very soft and golden brown. Season with a pinch or two of salt and pepper.
Meanwhile, char bell pepper over gas flame (set it right on rack above the flame and turn with heat-safe tongs) or broiler until mostly blackened. Place in a bowl and cover. Let it sit for 10-15 minutes or until it's cool enough to handle. Peel the black parts off of the pepper (it should be fairly easy, but don't worry if you don't get all the skin off). Remove seeds and cut the pepper into 1/2-inch slices TIP: Peppers and onion mixture can be done a day or two ahead. Chill until ready to use.
Sprinkle eggplant slices with salt. Let stand for 30 minutes. (Don't skip this step! The salt draws the water out of the eggplant, which allows it to cook without getting too soggy.) Preheat broiler. Pat eggplant dry and brush slices with oil. Broil until tender, about 3-5 minutes per side.
Broil bread (cut side down if using rolls) until toasted. Turn and place cheese atop bottom half of bread. Broil until cheese melts, watching carefully so it doesn't burn. Transfer bread to work surface. Arrange eggplant atop the cheese, then onion mixture and roasted pepper. Drizzle with dressing; top with lettuce leaf and another slice of bread.
Makes 8 sandwiches.
Nat's Notes:
1. I halved this and it fed two adults and two kids just fine with the soup. 
2. Yes, my kids picked almost all of the vegetables out of the sandwich, essentially eating a fancy grilled cheese. Can't win them all.