Curried Potato, Chickpea, and Corn Burgers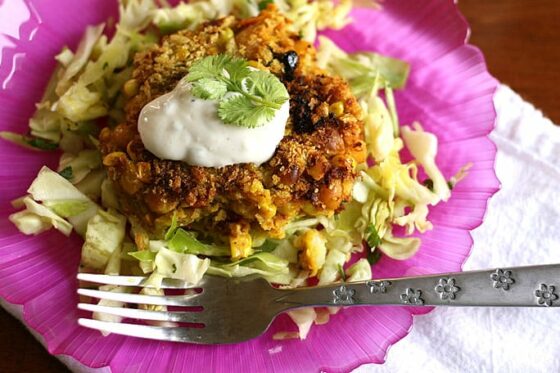 Here's the second vegetarian Indian-inspired dish I've got for you this week. We've been eating a lot of great vegetarian dishes lately. Not because we're vegetarians, but because money's been tight and it costs an arm and a leg for good, clean animal products. I guess you could say we're "flexitarians" — eating meat maybe once or twice a week instead of every day.
We've also been trying to make our meals more vegetable-based instead of grain-based, so we like our burgers and burritos "naked" over a salad instead of a bun, flatbread, or a tortilla. We had these curried "burgers" over a bed of simple cabbage slaw and drizzled with some spiced yogurt sauce (recipe below). Can I tell you how much I love that cabbage slaw? It goes great with Latin as well as Indian, Thai, and Middle-Eastern dishes. Or with a simple fried egg. (One of my favorite breakfasts.)
We loved these little patties! I think using a good, quality curry powder makes these extra special. (If you have a coffee grinder, grind your own curry powder!). My girls happily ate theirs that night and then again for lunch the following day. They like other types of Indian food, though, which I'm SO happy about.
If I could only convince them to eat sushi . . .
Curried Potato, Chickpea, and Corn Burgers

Ingredients:

For the burgers:
2 cups cooked chickpeas (about 1 15-oz can)
1 pound red potatoes, scrubbed, cut into quarters
1 medium onions, finely chopped
1 T oil (I used grapeseed)
1 clove garlic, minced
1 large tomato, coarsely chopped
1 small hot chile pepper minced (optional)
1 cup fresh or frozen corn kernels
1 1/2 T curry powder
1 tsp salt
freshly ground pepper
2 T vegetable or chicken stock
1 1/2 - 2 cups dried bread crumbs
1 1/2 tsp rice vinegar
1/2 cup oil, for frying (coconut or grapeseed recommended)

For the Spiced Yogurt Sauce:
1 cup whole plain yogurt or sour cream
juice from 1/2 a lime
1/4 tsp coriander
1/4 tsp cumin
1 clove garlic, minced
1 T chopped fresh cilantro
salt and pepper to taste

Directions:

To prepare the burgers:
Mash the chickpeas in a large bowl or pulse them in a food processor until a chunky paste is formed. Set aside.

Steam or boil the potatoes until soft.

Meanwhile, in a large pan, cook the onion in 1 T vegetable oil over medium heat until golden, 5-7 minutes. Add the garlic, tomato, chile, and corn. Raise the heat to medium-high and cook until the tomato is soft, 2-3 minutes. Add the curry powder, salt, and a generous pinch or two of pepper. Stir and cook for an additional minute or so. When the mixture begins to stick slightly, add the stock. Cook until the mixture has reduced slightly to a thick sauce. Remove from the heat.

Add the curry mixture and steamed potatoes to the chickpeas. Mash the potatoes while mixing them in well. Mix in 1/2 cup bread crumbs. Add the vinegar and additional salt and pepper to taste. If the mixture is still too wet, add more bread crumbs. Let cool completely, then form into eight patties about 3 inches across.

Heat the 1/4 cup of oil in a heavy skillet over medium-high heat. Spread out the remaining bread crumbs on a clean plate. Coat the patties on both sides with bread crumbs and place in the skillet when the oil is hot. The burgers should sizzle loudly when they hit the oil. Fry burgers, 3 or 4 at a time, 2-3 minutes on each side until each side turns crispy brown on the outside and heated through. Add remaining 1/4 cup of oil and cook remaining burgers when the oil is ready.

Drain on paper towels and serve with spiced yogurt sauce.

Makes 8 3-inch burgers or about a dozen 2 to 2 1/2 inch ones.

To prepare the yogurt sauce:
Whisk together all ingredients in a small bowl and chill until ready to use. Keeps for about a week.

adapted from The Bold Vegetarian Chef by Ken Charney