The "Beauty" of Lentils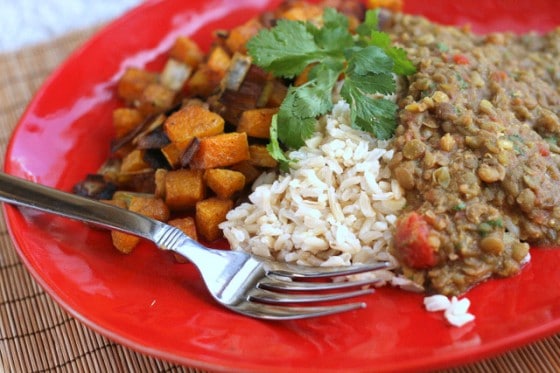 I think everyone will agree that lentils will never win a beauty pageant — not even a legume beauty pageant. Especially lentils that have been smashed up a bit (on purpose) and resemble. . . well. . . something I'd rather not talk about right now.
These lentils get slopped on a plate over rice next to some cumin-roasted butternut squash as a distraction. (Is it working?) Daylight was fading fast and my only hope for a good photo was to put the plate on a placemat on the floor next to our patio door.
So I did.
But I forgot to do one important thing. . .
to close the patio door.
A few curious toes came over for a look.
Then a set of hands.
Then my garnish got rearranged.
But in the end, it doesn't matter. You can't make lentils look appetizing. I assure you, they were. They had a subtle Indian flair that went really well with the rice and squash.
Both kids cleaned their plates that night. They especially loved those little squash cubes, which they thought were sweet potatoes.
And neither of them said it looked gross. Score.
Spiced Lentils

Ingredients:

1 cup red or yellow lentils
1 pinch turmeric
1-inch piece of fresh ginger, peeled and minced
1 tsp cumin or cumin seeds
2 sliced garlic cloves
2-3 dried red chiles
3 T olive oil
1 can diced tomatoes, drained (or 1 cup of fresh chopped tomatoes)
1/2 tsp salt or to taste
generous dash of black pepper
3 T chopped fresh cilantro
1 T red wine vinegar

Directions:

Bring lentils, 4 cups water, turmeric and ginger to a boil; simmer 20-30 minutes. Whisk vigorously to break them up a bit. I had to use my immersion blender to do a decent job, but maybe I'm a weak whisker. Season with salt.

Meanwhile, cook cumin, garlic and chiles in a skillet with 3 tablespoons olive oil over medium-high heat for 2 minutes. Remove from heat and add to the cooked lentils. Stir in the tomatoes, cilantro, and vinegar and cook 1 minute. Taste and adjust seasonings as necessary.

Nat's Notes:
1. I only used 1 chile because I was afraid it would be too spicy. I could have put two in and been fine, I think. My little ones had no problems eating this up. They loved it.

adapted from Food Network Magazine March 2011