Chicago Italian Beef Sandwich + Guy Fieri Food Giveaway
First of all, congrats to PERSON who won the Saucy Mama sample pack!
Oh, boy, this is fantastic. I received a copy of Guy Fieri's first (and newly released) cookbook Guy Fieri Food to review and was so excited to dive in. If you're not familiar with Guy Fieri, he's a wildy popular Food Network personality and hosts several shows on the network. I'm a long-time fan of Guy, since watching him win the Next Food Network Star a while back. Anyway, this is by far the most unique cookbook I have ever owned. Just like Guy himself, his cookbook is fun, colorful, entertaining, and. . . er. . . dare I say, hefty? This book is over 400 pages and weighs exactly 3 lbs 13 ounces. It's a big boy.
It's also very manly and punk rock — about as far from Martha as you can get. Even after browsing through it for a half hour I had to keep reminding myself that it was a cookbook and not a coffee table book in a tatoo joint. (Do tatoo places have coffe table books? I'm so far from all of that, but I try to be cool about it.) Check out the crazy illustrations, which I found out later were drawn by Guy's tatoo artist. The book is covered with them…
Chickens playing cards? I love it. And vegetables seem much, much cooler when drawn like ninjas. Not only does the book have recipes and rockstar illustrations, it contains almost everything you've ever wanted to know about Guy and his rise to stardom. It also contains practical helps on butchery and vegetable preparation, as well as a complete guide to stocking your pantry and kitchen.
I used to watch a lot of Food Network back when I had one immobile baby and more time than I knew what to do with. *
Wistful sigh*
 When I saw recipes I liked I jotted them down in a little notebook. That's how I discovered the
fish tacos
he serves at his restaurant, Tex Wasabi's. Another recipe was his 
McAlister Potatoes
.  I was excited to see both recipes in his book!
Since I'd already taken a crack at his fish tacos, I tried the potatoes next. And loved them. I was also introduced to peppadew peppers (the bright orange peppers in the photo above are the mild version and taste like sweet jalapeno jelly).
Luckily the recipe for the potatoes is on the Food Network site, so I linked to it above. They're not for the faint of heart (almost literally), as the potatoes are smashed and fried and are set on a pile of crispy bacon and sweet caramelized onions. Oh, and there's sour cream with bits of peppadew peppers mixed in that goes on top. A carb coma worth slipping into at least once a year.
With all of the carnivorous recipes in this book (it's very manly, remember?) I made the mistake of trying Guy's veggie burgers. Not so hot – like ordering fish tacos at a specialty burger joint. (Um, I've done that. Worst fish tacos ever.) Order what they're good at! I have high hopes for his Baklava Cigars, Guy-talian Nachos, and French Pig Pizza, which are next on my list. As soon as I've taken a little break, that is. All I want to eat for the next couple of weeks is salad.
Since I was craving sandwiches at that point, I chose this recipe out of the ones the publisher allowed me to share — Chicago Italian Beef Sandwiches.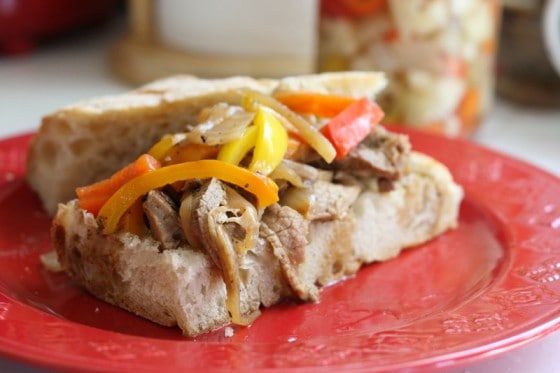 Wow. Fantastic flavor. All of us loved it! (See more detailed comments with the recipe at the end of this post.) Like most of Guy's recipes, it's not something you can whip up in 30 minutes on a weeknight. These recipes are great if you're feeling ambitious or entertaining on the weekend. Or for Father's Day for the manly chef in your life!
Harper Collins has generously agreed to let me give away a copy of Guys' brand new book so you can enjoy all 3 lb 13 oz of tasty, fantastic content.
TO ENTER:


Simply leave a comment on this post and answer the question:
Who is your favorite Food Network personality?
A few little details…
1. Comments will close on Sunday, May 15, 2011 at 10PM PST. I'll use a random number generator to choose one winner that I will contact and announce here on the 16th. If I don't get a response from the winner after three days I'll pick a new one.
2. One entry per person. As much as I love having new Facebook and Twitter pals, I want you to follow me because you genuinely like my blog. Not for extra entries in a contest.
3. Contest open to US residents only.
4. Leave a way for me to contact you. I shout this from the rooftops every time I do a giveaway, but every time over a quarter of the entries are those who I cannot reach. If your Blogger profile is private or you do not have an email address/active blog listed, please leave your email address or send me an email at perrysplate [at] gmail [dot] com after you leave a comment so I have your contact info.
Oh yes, the recipe…
Chicago Italian Beef Sandwich

Ingredients:

For the spice mix:
3 T Italian seasoning
2 T fine sea salt
2 T freshly cracked black pepper
1 T paprika
1 tsp cayenne pepper
1 tsp crushed red pepper flakes

For the sandwiches:
4 lbs beef top round, with fat cap
3 T bacon fat or canola oil
3 yellow onions, chopped
1 cup garlic cloves, peeled and smashed
1/2 cup red wine
3 T Worcesterchire sauce
2 cups beef stock
2 bay leaves
6 sourdough hero or hoagie rolls, split and toasted
1 cup chopped drained Italian giardiniera (pickled vegetables)
1 cup jarred roasted red peppers, sliced 1/4-inch thick

Directions:

Combine all of the ingredients for the spice mix in a small bowl. Rub the spice mix on the meat, cover meat tightly with plastic wrap, and refrigerate for 2-3 hours. (Store any remaining spice mix in an airtight jar.)

Preheat oven to 275 degrees F.

On the stovetop, in a roasting pan over high heat, add the bacon fat. When it starts to smoke a little, add the beef and cook for 15 minutes, turning meat often, until it is nicely browned on all sides. Ad the onions and cook for 5 minutes, then add the garlic and cook for another minute. Add the wine, Worcestershire, stock, and bay leaves and scrape up all the browned bits.

Transfer the pan to the oven and roast the meat for about 1 hour 30 minutes, uncovered, until the center registers 135 degrees F. Remove meat from the pan and let it rest for 10-15 minutes.

Cool the broth in the roasting pan and remove the fat that rises to the top. Strain. (I didn't do this because my meat was lean.)

When the meat is cool, slice it very thin. Reheat the broth and add the meat.

Place some meat on each roll, ladle some broth over the meat, and top with giardiniera vegetables and red peppers.

Serves 6-8.

Nat's Notes:
1. Because I couldn't find a grass-fed roast at the store I was at, I opted for steaks (and halved the recipe). I had to adjust the cooking times to 5 minutes or so in the skillet, removing the steaks from the skillet before adding the wine, etc, then returning them to the skillet to be finished in the oven. It only took about 15-20 minutes before my meat reached the desired temperature, which resulted in medium-rare beef, I believe. A little to rare for me. Because it wasn't cooked very long, the meat was slightly chewy, which I'm really sensitive about. My husband LOVED it, though. We had some leftover steaks that I put in the fridge and cut a couple of days later. They were more tender after chilling.
2. I halved the amount of cayenne and crushed red pepper because I have little ones, and it was still kind of spicy, especially the leftover sliced meat that was sitting in the juices overnight.
3. Because I don't use wine or liquor in my kitchen, I used additional beef broth in place of the wine.
4. There is a recipe for homemade Italian giardiniera in Guy's book, which I made a small amount of after not finding it at two different grocery stores. (I ended up seeing it by the pickles at Winco, of all places. After the fact.) The veggies were really strong, like a vinegary punch in the face alone, but were awesome in small amounts on the sandwich.
5. For the bread, I used a chewy artisan sourdough ciabatta loaf. If we eat white bread, it's got to be the good stuff. You'll want the chewy, thick crust to hold up to the juices from the meat.
(This giveaway copy as well as my own was provided by HarperCollins Publishers, but all opinions shared are 100% my own.)