How to Cater a Wedding Open House
Plan A: Call a caterer.
Plan B: Call a food blogger. Cross your fingers.
I am not a caterer, but because I have this overwhelming urge to feed people, I couldn't pass up the chance to feed 80.  It was for the daughter of a friend I attend church with, so I was happy to do the job.
Even though I hadn't done any catering before. And I had no idea what I was getting myself into. Me = a little insane.
The event was held the day after the wedding at the home of another friend. I love the colors they used — purples, greens, and peacock feathers. See that "storybook" above? That was actually a real book in a past life and is forever preserved in mod podge and spray paint. I kept staring at it in wonder. I can be creative with food, but when it comes to that kind of stuff my brain just turns off and I start thinking about what to make for dinner.
I had a lot of questions (both off and online) about the food that was served. Here's a breakdown for you! I added links (when applicable) and comments to clarify. And I apologize for my yellow-ish photos. I literally had 2 minutes to shoot pictures of everything before people started coming through the door.
Caramelized Onion, Goat Cheese, & Crispy Prosciutto Crostini
: Adapted from
this recipe
. (Omitting the garlic steps and adding oven-baked shards of prosciutto on top.)
Pesto Chicken Crostini with Shaved Romano: Chicken breasts cooked in the slow cooker, shredded, then returned to slow cooker with a bunch of basil pesto. Topped with fresh Romano cheese shavings.
Caprese Salad Crostini: Chunks of mozzarella and tomatoes mixed with basil chiffonade, olive oil, and balsamic vinegar.
Lots of fresh fruit and vegetables with these dips…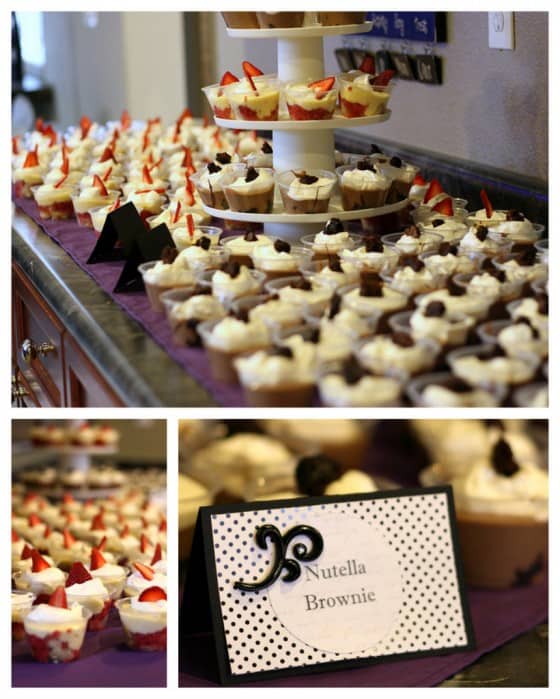 Strawberry Cream Trifle Shots
: Adapted from
this recipe.
 This is one of my most beloved desserts and up until now it hasn't had a photo. I need to update the post to do it justice. It's a spectacular dessert!
Nutella Brownie Trifle Shots: I layered brownies, a drizzle of warmed Nutella, Nutella custard (the custard from the recipe above, adding 1/2 cup of Nutella at the end), whipped cream, and a brownie bit. This one deserves a post of its own. I can't even describe how good this was! Complete and utter bliss.
The dessert cups were the favorite that night. My little party girls agreed. Yes, party. That's why my 4-year-old is dressed like Belle.
Overall I think it was a success. I'm glad there are people out there who are crafty in nature. The open house was gorgeous and my food was arranged so beautifully with the decorations! I definitely learned a lot along the way and would do things a little differently if I had the chance to do it again. It was a lot of hard work, but I had so much fun doing it!