15-Minute Ice Cream + Homemade Ice Cream Challenge Update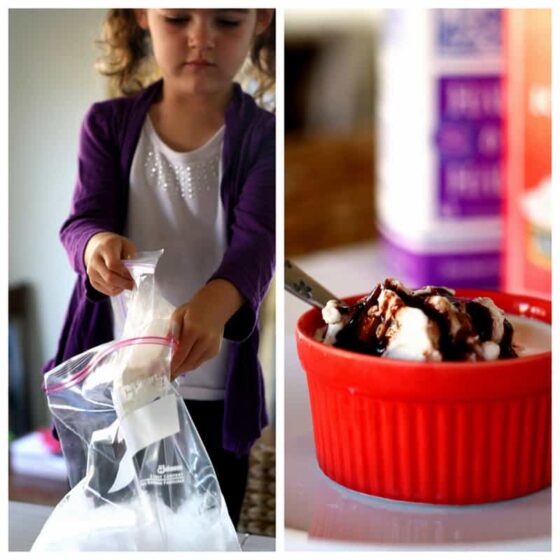 Yep, ice cream in about 15 minutes. And there aren't several hours of freezing time attached to that. Start to finish — 15 minutes.
A small bag of ice cream base gets jostled around in a bag of ice and rock salt. 5-10 minutes later… ice cream. Not Ben & Jerry's, but pretty dang good for 15-minute ice cream. (A lot better than the 5-minute chocolate-cake-in-the-mug recipe. Ick.)
And now…
Homemade Ice Cream Challenge Update
What's this challenge? At the
beginning of July
we decided that we were going to make all of the ice cream we eat at home. All summer long.
The results? Eh….
Unfortunately there haven't been too many ice cream recipes posted this summer. After the
Lemon-Buttermilk Sherbet
and the
Blackberry Lemonade Ice Cream
….. there was nothing.
Not because we didn't make ice cream. Boy did we make ice cream. I experimented with each recipe and for one reason or another they didn't make the cut.
I should title this section, "Ode to
The Perfect Scoop
."
Most of our ice cream attempts were variations on recipes from this book. And they all had their virtues. Let me explain.
Roasted Banana and Oatmeal-Butterscotch Cookie Ice Cream Sandwiches. Sounds promising, right? I had high hopes for this one. The Roasted Banana Ice Cream from the book was outstanding right out of the machine. Seriously, for an avid banana hater, I loved it. I also loved banana creamies, and this ice cream was everything that a banana creamy tried to be but fell short.
After it froze, though, it was extremely icy. With a few tweaks it would be awesome. The cookie recipe was from the oatmeal cookie recipe in the book with the addition of minced butterscotch chips. Cookies were good. Ice cream was good. Together? Not like I hoped. The cookies were a LOT sweeter than the ice cream and didn't pair well together. Potential, though.
Peppermint Ice Cream with Fudge Ripple. This one was one of our favorites. I adapted a couple of recipes from the book to make this, but made the mistake of adding too much vanilla and not enough peppermint. I may make this one and post it in the future.
The fudge ripple? GOLD.
Chocolate-Mint Ice Cream with Peppermint Patties. We really like mint & chocolate around here. This one would have made it to the blog except one night as I was putting it back into the freezer, I actually put it into the refrigerator instead…. and didn't notice until the next morning.
After the initial shock and sadness, I was pleasantly surprised to find the absolute best chocolate pudding I've ever eaten. The base is THAT thick. I'll be making that one again. Probably this week.
I didn't use the peppermint patty recipe from the book, but used
a recipe from Elana's Pantry
instead which used only three ingredients: coconut oil, agave, and dark chocolate. Interesting flavor, but a complete pain in the rear to cover in chocolate. We liked them, but found that they're best stored, chopped up, in the freezer as a topping.
Double Chocolate Chip Cookie Dough Ice Cream.
Last, I tried one that wasn't from The Perfect Scoop, but from
Annie's Eats
. I had high hopes for this one, but was slightly disappointed. The ice cream base tasted kind of like cookie dough… but was rather greasy and left a weird film on the roof of my mouth. The cookie dough pieces were a disaster, but I think that was my fault. And WAY too much chocolate in both the ice cream and the cookie dough itself. It was decent, but I think with a few tweaks it would be pretty fantastic.
And there you have it.
We don't regret making ice cream all summer. Or buying half-gallon containers of cream from Costco.
It was kind of fun.
I promise I'll have a recipe for you next time!