CSA Wednesdays: Tomatoes & Eggplant + Eggplant "Bacon"

I had a real dilemma in planning this post. I thought eggplant and tomatoes deserved their own post, but  there were two problems:
1. I don't have very many eggplant recipes.
2. Most of my eggplant recipes also have tomatoes.
Because they play so well together in dishes, I thought they'd be cool with sharing a post, too.
Let's get started, shall we?
I think tomatoes are kind of a diva vegetable. Their fiery red color and ability to conform to any type of cuisine gives you the impression that they like attention. They're good performers, I'll give them that much.
Our CSA farm has about 400 tomato plants which are doing quite well, I hear. We've been receiving baskets of gorgeous multi-colored cherry tomatoes and perfectly ripe larger varieties in our box for the past few weeks.
So… WHY did I order a 30-pound box of Romas from a neighbor with bulk produce connections? Because I'm insane, that's why. I'll tell you more about that adventure in a couple of days.
Pictured: Vegetarian Sweet Potato Chili, Fried Green Tomatoes, Chevy's Fresh Salsa, Roasted Vegetable Polenta Lasagna.
Let's focus on manageable quantities in this post, shall we? Here are a few of my favorite uses for tomatoes. (Even green tomatoes if you have a lot of those on hand.) If you click over to the Chevy's salsa recipe, you can find seven more ideas!
Tomatoes
Fried Green Tomatoes
Vegetarian Sweet Potato Chili
Mulligatawny
Roasted Garlic Pasta Sauce
Roasted Vegetable Polenta Lasagna
Chevy's Fresh Salsa (Seven more tomato recipes in this post!)
Pictured: Toasty Eggplant Sandwiches, Pesto Eggplant Rollatine, Eggplant Curry, Mediterranean Roasted Vegetable Pie.
Oh, eggplant. If tomatoes are the diva musical theater kids, I believe the eggplants are the yearbook nerds of the vegetable kingdom. Often odd looking and mysterious, get them in the right situation, and they can be an absolute delight to be around.
Hmm. Clearly I need more sleep. Or less congested sinuses.
*Trying to avoid discussing why I know so much about yearbook nerds.*
Got a few sitting on the counter? (Eggplants, I mean.) Try one of these recipes. I bet you could even get an eggplant-hater to like it!
Here are some eggplant recipes that use a lot of fresh tomatoes (as opposed to marinara)…
Eggplant with Tomatoes
And, like, always, I'm leaving you with a brand-new recipe. This one's kind of quirky, so stay with me for a second.
Remember that mandoline slicer I told you to buy when I made zucchini "spaghetti"? Go get it out. It's OK, I'll wait.
Run a few eggplants over the "thin" slicing blade, then put them in a plastic bag with some wicked marinade.
Dry them out in the oven for several hours and what do you have?
Eggplant "Bacon", that's what.
Now don't start munching on this stuff expecting a perfect match. (There is no perfect replacement for bacon. Ever.) It has a smoky, spicy flavor that reminds me of bacon. It's fun to eat alone (like bacon) or put on a salad (like bacon) or on a sandwich (like bacon). See the uses for this?
And if I were a vegetarian, I would make this every week.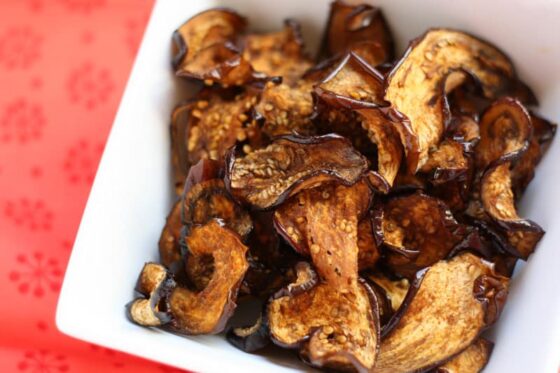 A big thanks goes to Cara for this awesome recipe. Her blog,
Cara's Cravings
is one of my favorite healthy-living recipe blogs. And she's super nice. Go tell her hi for me.
Crispy Eggplant "Bacon"

Ingredients:

1 large eggplant
1/2 cup water
2 tablespoons maple syrup
2 tablespoons olive oil
2 tablespoons reduced sodium soy sauce
2 tablespoons apple cider vinegar
1 teaspoon liquid smoke
1 teaspoon chili powder
1/2 teaspoon paprika
1/2 teaspoon cumin
1/2 teaspoon kosher salt
pinch black pepper
pinch cayenne

Directions:

Slice the eggplant to about 1/8-1/4" thickness. A mandoline slicer is recommended for this to create even slices.

Whisk together remaining ingredients.

You can layer the eggplant slices in a baking dish, pouring the marinade over each layer to ensure complete coating or if you're lazy (like me) throw the eggplant into a zip-top bag and pour the marinade in it. Let sit for 30 minutes.

Turn on oven to the lowest possible setting. Most ovens only go down to 170 degrees F. This worked just fine. Line baking sheets with parchment paper. Remove eggplant slices from the marinade and arrange on the baking sheets. Place them in the oven, and "cook" for several hours, or overnight, until crispy. Actual time will vary according to oven temperature.
Sorry. I couldn't help myself.