Flatbread Salad Wrap Thingy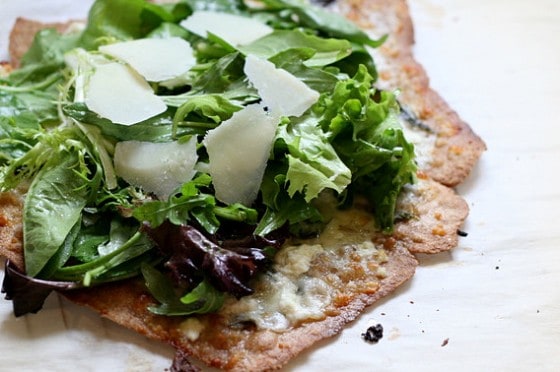 I need help. Usually I turn to Facebook or Twitter when I need sound advice, but this time I'm shouting out to all of bloggerdom.
Is this a pizza? A flatbread? A salad-wrap? What would you call this thing?
While you're here I need more help. What's the difference between pizza and flatbread? It seems that pizza joints are suddenly advertising "artisan flatbreads," which look just like pizza. Except they have fancier toppings. Or baked on foccacia.


How many toppings can a flatbread have before it crosses the line to pizza?
Do the toppings even matter?
Is it the lack of sauce that makes it a flatbread?
The thickness of the crust?
Is the pizza joint trying to be pretentious?
Is pizza going through a mid-life crisis?
As you can see, I have serious concerns plaguing my mind.
Toppings: Garlic-infused olive oil, fresh basil, mozzarella, goat cheese.
So, making this pizza-flatbread-salad-wrap-thingy has done two things for me.
1. It has satisfied my never-ending craving for pizza without my passing out on the couch afterwards. Because the crust is so thin, you eat less crust. And you use fewer toppings in order to preserve its crispness. And the addition of a vinaigrette-dressed salad encased in the pizza makes it even lighter.
2. I have finally figured out how to make a non-soggy thin-crust pizza. Roll that dough as thin. as. you. possibly. can. (Duh, Natalie.) I used my usual method of sliding it (with the parchment underneath) into a 450 degree oven onto a screamin'-hot inverted cookie sheet.
This crust was crispy on the edges and chewy toward the center. I think if you used white flour in the crust it would make it even more crispy. Not worth doing every time, though.
The more salad you put on this the less it will seem like a pizza. That's what I told myself.
We ate this twice in one week. (Mostly because I had leftover pizza dough in the fridge, which I don't normally have.) One batch of pizza dough will feed us three times this way!
My husband is the one who thought of wrapping the pizza around the salad.
Did I ever tell you I married him for his brains?
And gigantic brown eyes.
Plus he pretty much lets me do what I want.
Basil & Goat Cheese Flatbread Wrap

Ingredients:

whole wheat pizza dough (enough for 1 large pizza)
1/2 cup olive oil
2-3 cloves garlic, finely grated (with a Microplane grater) or minced
2 cups fresh basil leaves (about 1 bunch)
2 1/2 cups shredded mozzarella cheese
1 cup goat cheese crumbles

For the salad:
10-14 ounces of salad greens (spring mix, arugula, baby spinach etc.)
3 T freshly squeezed lemon juice
3 T extra-virgin olive oil
salt and pepper to taste
Fresh Parmesan or Pecorino-Romano shavings (for garnish)

Directions:

Preheat oven to 450 degrees F and place an inverted cookie sheet into the oven. Place 1/2 cup olive oil in a small bowl with the finely grated garlic. Stir and set aside.

Divide the dough into 4 or 6 balls, depending on how large you want your pizzas. Roll each ball out on a lightly floured piece of parchment paper as thin as you can. (See photos within blog post.) Brush the dough lightly with the garlic oil. Top with some basil leaves, mozzarella, and goat cheese. (Dividing toppings among the flatbreads.)

If your flatbread is small enough you can probably pick up the parchment and place it on the hot cookie sheet in the oven. If it's too large, slide the parchment onto another (cool) inverted cookie sheet, and then slide it into the hot oven.

Bake for about 10-12 minutes, or until the edges of the crust begin to turn medium brown and crisp and the cheese is bubbly and golden in spots.

Remove from the oven and let it sit for about 3-4 minutes before slicing.

To make the salad, place the salad greens in a large bowl. Drizzle with lemon juice, olive oil and a pinch or two of salt and pepper. Use your hands to mix the salad thoroughly (it's more fun that way). Place a handful of salad on to each warm flatbread. Slice and eat or wrap the flatbread around the salad and eat it like a wrap.

Makes 4-6 flatbread wraps.

Nat's Notes:
1. Feel free to play with the toppings as you like, but keep them light so the crust doesn't get soggy. I'd avoid using marinara sauce unless you use a very scant amount. Pesto would be a great alternative to the garlic oil.