Apple/Pear Sauce & Butter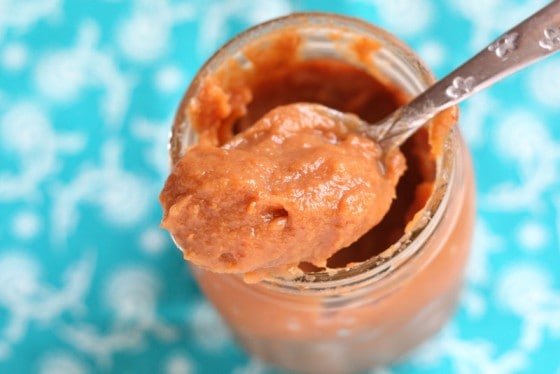 What is this little spoon of deliciousness? This, my friends, is pear butter. But not just any pear butter. It's Ginger-Cardamom Pear Butter. My favorite part? There's no sugar in it. Why fruit butter recipes call for loads of sugar is beyond me. This jar of gold didn't need it at all. I'm in love with this stuff.
I may be the last person on earth to make a fruit butter. That's OK. Up until a couple of weeks ago, I was also the last person on earth to make fruit sauce. Oh, the hurdles I'm jumping over, folks.
You want the recipe? Here's the fast version:
Throw fruit into slow cooker.
Wait.
Blend it up. (Now you have pear sauce.)
Throw pear sauce back into slow cooker.
Wait. (Now you have pear butter.)
Want the detailed version? I'm about to freak out the "must have measurements" people, so I apologize right now. I didn't measure. I just did it. You really can't mess this stuff up.
Check out all of the CSA Wednesday Posts!
Ginger-Cardamom Pear Sauce (and Pear Butter)
Yield: about 3 quarts of pear sauce
Total Time: 5 hours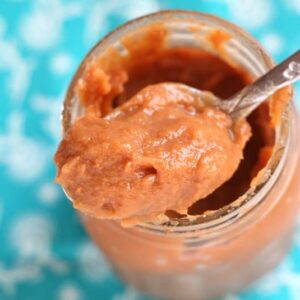 Ingredients:
Lots of pears, cored and roughly chopped (peeling isn't necessary)
1 3-inch long piece of ginger, sliced (peeling not necessary)
A few green cardamom pods (you can leave this out if you can't find them)
Water or apple juice or white grape juice
Directions:
Fill a 6-quart slow cooker with pears. Add the sliced ginger and cardamom pods. Pour about a cup of water over it and cook on low for 4-5 hours, until pears break down and it starts to look saucy. Remove the ginger and cardamom pods and blend with a hand blender. Or transfer to a blender and process until it's as smooth as you like. Some people like chunks. I don't. At this point, taste it. Add sweetener if you feel that it needs it.
Pear sauce is done! I got three quarts out of that batch. I believe you can can it at this point. Don't quote me on that. I'm not ready yet.
To make pear butter...
Fill a crockpot at least 2/3 full with pear sauce. (I put 2 quarts of sauce into a 2 1/2 quart slow cooker.) Add more ginger slices and cardamom pods. Turn the slow cooker on high and instead of putting the lid on, tent it with foil so the steam can escape and shield from splattering sauce. Cook for 2-3 hours, checking frequently to stir it around and to check the consistency.
When it's as thick as you like, taste it and add any more spices or sweetener if you feel it needs it. My two quarts of sauce cooked down to just over a pint.
Note: You can also use apples in place of pears if you like.