The Idaho Burger + Crispy-Thin Hash Browns – For You, Dad.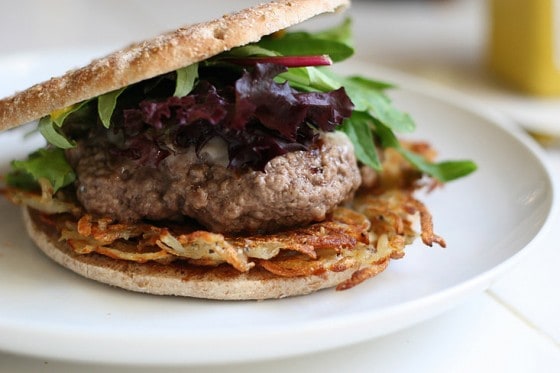 I don't think I've talked much about my dad on here, have I? He's pretty great. Dad is the grill master in the family and cooks up a mean salmon. (My fav.) He's also a part-time cowboy and just had a birthday on Sunday. That's him down there…
This recipe was his idea.
We had a conversation several months ago, right after I won that recipe contest with those Sweet Potato Foil Packet Tacos. My dad, to be honest, couldn't figure out why I won. (Just so you know, he's an Idaho born-and-raised, meat & potatoes guy. I tried not to take it personally.)
He started giving me suggestions, and he goes, "Y'ought to make a burger and put potatoes on it or something." (See? Meat and potatoes. Every. Time.) "You could call it the 'Idaho Burger'."
At the time I was thinking, "Why don't you just put your fries on your burger the next time you go to Sonic?" I could have said that out loud. I really don't remember.
A few weeks later I watched Alton Brown make crispy hash browns on Good Eats, and I remembered my dad's suggestion. I also happened to have several baked, foil-wrapped Russets in the fridge left over from a family party.
Unlike most of Alton's techniques, this one is pretty straightforward and simple.
1. Grate the cold baked potatoes.
2. Sprinkle some into a small, greased nonstick skillet. (I usually grab my cast-iron, but there are some things that are a million times easier with a nonstick. This is one of them.)
3. Smash it down with a spatula so they stick together.
4. Cook it like a pancake until it's as brown as you like on both sides.
I put a couple of these crispy hash browns on some burgers we had that night. They tasted like dark, crispy, homemade french fries. I made the mistake of putting BBQ sauce on my burger which totally overpowered the hash browns, but it was still great. I think I'll put about five on my next burger.
This one's for you, Dad — The Idaho Burger. From your Idaho-raised, vegetable-loving daughter.
Dad, you're probably asking yourself why on earth I put salad on my burger. Honestly, I can't take photos of things that are completely brown. Unless it's chocolate. :))
The Idaho Burger

Ingredients:

1 lb organic, grass-fed ground beef
1/2 tsp salt
1/2 tsp black pepper
1 T Worcestershire sauce
1 T milk
4 hamburger buns
Several Crispy-Thin Hash Browns (recipe below)
All of your favorite hamburger fixings

Directions:

Place the ground beef in a medium bowl. Add the salt, pepper, Worcestershire, and milk. Using your hands, gently mix the meat until everything is thoroughly combined. Please don't squish the meat in your fists. It only results in mushy burgers.

Form the meat into four patties and cook on a BBQ grill, stove-top grill, or in a skillet over medium heat, flipping halfway through cooking. Patties should be firm, juices running clear, and no pink remaining on the inside. Cooking time may depend on how thick your patties are, but it should take 12-15 minutes total. Add cheese (if you're using) during the last 2-3 minutes of cooking time.

Assemble burgers how you like them, adding 2 or 3 hash browns to each burger.

Makes 4 burgers.

Crispy-Thin Hash Browns
from Alton Brown

1 large Russet-Burbank (Idaho) potato, baked and cooled
some cooking oil or butter (I used bacon drippings)
salt & pepper, to taste

Preheat the oven to 170 degrees or the lowest temperature your oven will hold. Place a baking sheet in the oven.
Grate the potatoes.

Heat a small nonstick skillet over medium heat and add a teaspoon of oil. Sprinkle about 1/3 cup of grated potatoes in the skillet and add a pinch or two of salt and pepper, to taste. Let the potatoes cook for a minute or two until they're warm. Using a heat-safe spatula, push the potatoes together and smash them flat, essentially forming a potato pancake. Let them cook for 5 minutes or until golden brown. Flip over and cook on the other side. Transfer to the pan in the warm oven until ready to eat.

Repeat with remaining grated potatoes and oil. If you have more than one small pan, I would suggest having more than one hash brown going at once.

1 large potato made about 8 hash browns.

Nat's Note: A "large potato" is a relative term. By large, I mean Idaho large -- the potato should be as long or longer than your hand.

from Perry's Plate, inspired by Alton Brown and my dad, Ray Phillips