Giving Hope to Single Parents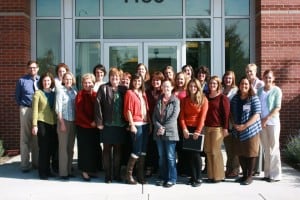 I'm going to step out of the kitchen for a minute and tell you about an important project that's going on.
I spent last weekend in Salt Lake City with family, and was thrilled to attend a meeting with the LDS Philanthropies (a fund-raising organization within The Church of Jesus Christ of Latter-Day Saints).
The project I'm going to tell you about has less to do with religion and more to do with making a difference in the lives of struggling families.
LDS Philanthropies has teamed up LDS Business College (located in Salt Lake City, UT) and a room full of bubbly, chatting bloggers to raise money for the Stella Harris Oaks Horizons of Hope Scholarship — a scholarship for single parents.
Why single parents?
28% of children now live with just one parent.


40% of children under 18 experience a parental breakup


90% of single parent families are headed by females.


Single moms with children have the highest poverty rates.


60% of children living in mother-only families are impoverished.


Single moms are more likely to be poor because of lower earning capacity.


Single moms median income is only about 25% of what a married couple makes.
Pretty staggering isn't it?
We were able to meet Megan, a single mom and a recipient of this scholarship. My favorite part of her presentation was her comment, "this isn't a sob story, but a story of success." You can hear Megan's story below…. (just unmute the player)

The scholarships that LDS Business College provides are full-tuition and materials for one of six career-oriented programs: accounting, business, computers, medical careers, interior design, or office technology. The college also places 90% of its graduates so single moms (or dads) are pretty much guaranteed a stable, higher-paying job upon graduation. What a blessing that would be to a single parent trying to support a family!
One of my favorite things about humanitarian efforts of the LDS Church is that 100% of the donations go directly to the cause. There aren't any administration fees or overhead costs.
This fund-raising program will be going on through the month of November and the goal is to raise enough for 4 scholarships (about $30,000). As you can see by the widget, we're far ahead of schedule and at the meeting we basically planned on blasting that figure out of the ballpark.
The hashtag for our project is #GiveOhGive if you'd like to follow our progress via Twitter. "Give Oh Give" comes from a song often sung by the children in our church. My favorite line from the song is, "I'm small I know, but where ever I go, the grass grows greener still." Small efforts do indeed make greener grass. In this case, much needed hope for struggling single-parent families.
If you're interested in donating or sharing this widget on your own blog or website, just click on either "Give" or "Share". Thanks!