Homemade Magic Shell Topping
This post may seem contradictory. I'm about to tell you that coconut oil, an oil that has gotten a bad rap for many years for its saturated fat content, is actually really good for you and is probably the best oil to cook with. It's true. I have a little clip from Dr. Mercola that explains it much better than I could. (And also about saturated fats in general.) He's not the only one that has said this — I've heard it from many reliable sources.But is now the best time to tell you the benefits of coconut oil only to have you add a bunch of chocolate to it?
I suppose. It might ease your conscience a little.
Feel better?Did anyone eat magic shell as a kid?
We did. At Grandma's house. I loved this stuff.
All the years I ate it, I never bothered to look at the ingredient list. Until I went to college, that is. The first ingredient is sugar (no surprise). The second and third are both oils, one of which is coconut. THEN comes the chocolate. More oil than chocolate? I was devestated. I had a hard time eating magic shell after that. It made sense though — why else would it harden so quickly when it sat on cold ice cream?
Then I found this recipe from AlphaMom.com.
This is by no means a healthy recipe, but if you're addicted to magic shell, then it's a small step in the right direction. A very small step.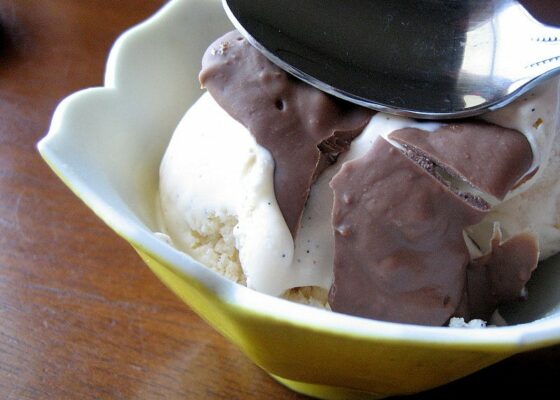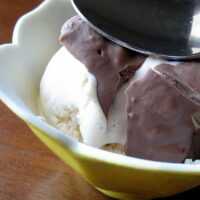 Homemade Magic Shell Topping
Prep Time: 4 minutes
Cook Time: 1 minute
Total Time: 5 minutes
Just two ingredients is all it takes to make a cleaned-up version of my favorite childhood ice cream topping!
Ingredients
1 ¼ cups Chocolate Chips
½ cup Coconut Oil (measured when solid)
Instructions
Melt chocolate chips and coconut oil in the microwave about 1 minute (depending on your microwave). Allow to sit a few minutes to allow the heat of the oil to melt the chocolate chips and then stir until smooth. It will be runny. You can store it in the cupboard for a couple of weeks and it should stay liquid. If you want to store it in the fridge, just zap it in the microwave to melt it before serving.
Nat's Notes:
1. I made it in a mason jar and kept it in the cupboard for about a week. After a few days it started to thicken up and get slightly clumpy. It's best to use it within a couple of days or plan on microwaving it every time.