Chocolate Malt Cake
Hey there! You may be wondering what this Chocolate Malt Cake is doing on a paleo-ish food blog. Well…. it dates back to when I wasn't a paleo-ish blogger, and it's one of our favorites. And it's apparently one of your favorites, too, because it's been flying around Pinterest like crazy for the past few years.
Eventually I'd like to clean it up and make it (at least) gluten and dairy-free, but in the meantime it'll stay and have a home here on my blog as totally-worth-it recipe we'd indulge in.
---
Thank you for all of your kind words and encouragement in response to my last post! You're the best, really. Supportive, food-loving friends make this whole blogging thing more worthwhile. :)
I know that's a distracting photo down there. I can barely type this sentence without glancing down and having flashbacks of how good that fudge tasted.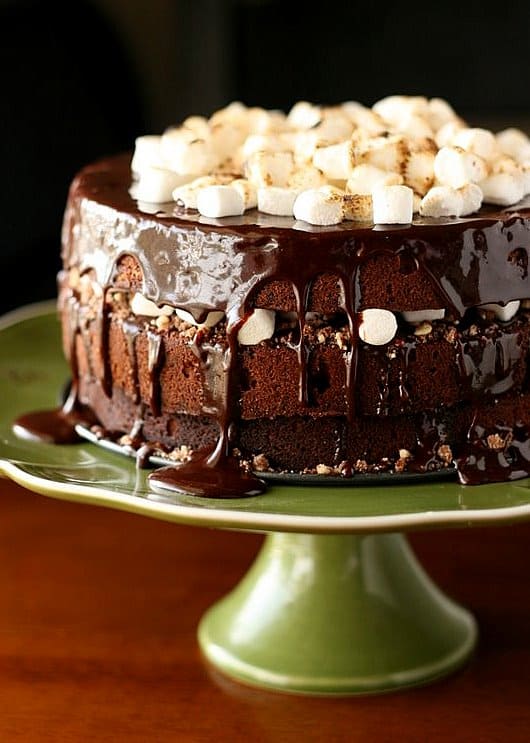 When a big, indulgent cake shows up on my blog, you know it's someone's birthday. This time it was my dad's. My parents decided to travel 800 miles and celebrate with us! I had recently saw this cake in a Bon Appetit magazine and it was stewing in the back of my brain. (Seriously, how could you forget something like this?) When I found out they were coming for my dad's birthday, I immediately thought of this one. Luckily he's a chocolate man.
This cake was a pretty big project with a lot of components and took me (and my cute little helpers) three days to make. I like to compare it to a multi-day sewing or craft project for those of you who enjoy doing those types of things. I'd rather make something edible. I thought I'd give you a more detailed post because it's so involved.
One key (and sometimes hard to find) ingredient for this cake is powdered malt mix. The recipe called for regular and chocolate flavored Ovaltine, but I used Carnation because I already had some on hand. (Steve is a big fan of malt.)
Another key ingredient is something called milk crumbs. Milk crumbs are a streusel-like concoction made mostly from dry milk powder. The article where I found the cake recipe listed another recipe that uses milk crumbs. It's suppose to give things a creamier taste. They were a snap to make — simply mixing a few things in a bowl, spreading them out on a cookie sheet and baking it for a few minutes. After that, it can sit for up to a week or so until you're ready for the next steps.
On that same day we also made the malt-fudge sauce, which can sit for a week in the fridge as well. Doing things like this bit by bit makes it seem less cumbersome. And more kid-friendly, if you happen to have willing helpers. I sure did.
On the day you bake the cake, just mix some milk crumbs, chocolate malt powder, and melted white chocolate to make . . . chocolate malt crumbs.
Get the layers baked. . . all three of them.
Once they've cooled, place one layer in a spring-form pan. An 8-inch is recommended, but I used a 9-inch with no problem. Mix some regular malt powder with some milk and brush 1/3 of it over this layer.
This is where it gets good. Reheat the malt-fudge sauce you made a few days ago and drizzle some over the cake. Then sprinkle with some chocolate-malt crumbs. Then more fudge. (It's getting ridiculous, isn't it?) THEN a handful of marshmallows.
And just when you thought things couldn't get any more mind-blowing. . . enter–kitchen torch, my new best friend.
Torch those little mallows until they're puffed and golden brown. Be careful though, they burn easily. I may or may not have lit a few on fire.
Put the second cake layer over the marshmallows and repeat layering. Top with a brush of the malt-milk powder. This needs to rest in the fridge overnight so things can ooze together nicely.
When you're ready to serve it, release it from the pan and put it on a pretty platter. Rewarm the remaining fudge sauce and dump it over the top, letting it drip down the sides. Top with a few handfuls of marshmallows and torch 'em. Then you have to sit and stare at it for three hours while it sits at room temperature. I suggest leaving the house.
Toasted marshmallows are a beautiful, beautiful thing. So is fudge. And birthdays.
If the person you're making the cake for owns a tractor then put a few on top. I tried to make it look like our family's ranch in the winter (the "crater", for those of you in the know) which gets pretty snowy and muddy.
The verdict? A-mazing cake. Especially loved the fudge and the toasted mallows. BUT (Yes, there's a but. I'm sorry.) I kept thinking that the cake was a tad on the dry side. I thought of trying this again someday with my favorite chocolate cake recipe ever, but I think it would all turn to mush on the inside. The cake needs to be dense in order to support the ridiculously rich fillings. The cake was more like a cakey-brownie than a regular cake. And super-duper rich.
Unfortunately it didn't slice very gracefully. But I didn't hear any complaints!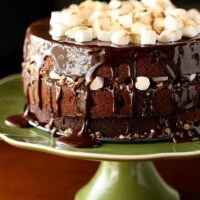 Chocolate-Malt Cake
This Chocolate Malt Cake is the perfect cake to make a chocolate-lover in your life. Make sure to invited a bunch of friends over, too. It's big and rich!
Ingredients
Milk Crumbs
3/4 cup nonfat dry milk powder
1/2 cup all purpose flour
3 tablespoons sugar
2 tablespoons cornstarch
3/4 teaspoon coarse kosher salt
6 tablespoons (3/4 stick) unsalted butter, melted
Chocolate-Malt Crumbs
2/3 cup Milk Crumbs
6 tablespoons chocolate malt mix (Carnation or Ovaltine)
1 1/2 ounces high-quality white chocolate (I used Ghirardelli white chips), chopped
Malt-Fudge Sauce
1 1/3 cups chocolate malt mix (Carnation or Ovaltine)
4 ounces bittersweet chocolate (70% to 72% cacao), chopped
1 teaspoon mild-flavored (light) molasses
Pinch of coarse kosher salt
1/2 cup heavy whipping cream
1/2 cup light corn syrup
1/4 cup sugar
Cake
Nonstick vegetable oil spray
2 ounces bittersweet chocolate (70% to 72% cacao), chopped
1 3/4 cups all purpose flour
3/4 cup unsweetened cocoa powder
2 teaspoons baking powder
1 teaspoon coarse kosher salt
3/4 cup (1 1/2 sticks) unsalted butter, room temperature
2 1/4 cups sugar
3 tablespoons light corn syrup
3 large eggs
3/4 cup buttermilk
1/3 cup vegetable oil
1 teaspoon vanilla extract
1/2 cup whole milk
3 tablespoons regular malt mix (Carnation or Ovaltine)
2 cups mini marshmallows
Special Equipment
Stand mixer (or hand-held electric mixer)
3 8-inch cake pans with 1 1/2-inch sides
8-inch springform pan
Kitchen torch
Instructions
Milk Crumbs Preheat oven to 275°F.
Line large rimmed baking sheet with parchment. Combine milk powder, flour, sugar, cornstarch, and coarse salt in medium bowl; toss to mix evenly. Add butter; stir with fork until clusters form. Spread mixture evenly on prepared sheet. Bake until crumbs are dry and crumbly but still pale, about 10 minutes. Cool Milk Crumbs completely on sheet. DO AHEAD Can be made 1 week ahead. Store in airtight container at room temperature. Makes about 2 cups.
Chocolate-Malt Crumbs Mix 2/3 cup Milk Crumbs and chocolate malt powder in small bowl. Place white chocolate in small microwave-safe bowl. Heat in microwave in 15-second intervals just until melted, stirring occasionally. Drizzle chocolate over Milk Crumb mixture; toss to coat.
Malt-Fudge Sauce Place first 4 ingredients in medium bowl; set aside. Combine cream, corn syrup, and sugar in heavy medium saucepan. Bring to boil, stirring until sugar dissolves. Pour cream mixture over chocolate mixture in bowl. Let stand 1 minute, then stir until smooth. Whisk until sauce is glossy, about 1 minute. DO AHEAD Can be made 1 week ahead. Cool completely. Cover and chill. Rewarm just until pourable before using.
Cake Preheat oven to 350°F. Coat three 8-inch cake pans with nonstick spray. Line bottom of each pan with parchment round; coat parchment with nonstick spray. (Or just make sure your pan is well greased.)
Place chocolate in small microwave-safe bowl. Melt in microwave in 15-second intervals just until melted, stirring occasionally. Set aside.
Sift flour, cocoa powder, baking powder, and coarse salt into medium bowl. Combine butter, sugar, and corn syrup in large bowl of stand mixer fitted with paddle attachment; beat on medium-high speed until fluffy and pale, about 2 minutes. Scrape down sides of bowl. Add eggs; beat on low speed to incorporate, then increase speed to medium-high and beat until mixture is fluffy, about 2 minutes. Scrape down sides of bowl. Add melted chocolate. Beat until blended, about 1 minute. Add buttermilk, oil, and vanilla; beat on medium-high speed until pale brown, about 2 minutes. Add dry ingredients; beat on low speed just until blended, about 45 seconds.
Divide batter among pans; smooth tops. Bake cakes until tester inserted into center comes out clean, about 20 minutes. Cool completely in pans on racks.
Stir milk and regular malt powder in small bowl. Invert 1 cake from pan onto flat plate or tart pan bottom; peel off parchment. Place cake, top side down, in 8-inch springform pan. Brush cake with generous 2 1/2 tablespoons malt-milk mixture. Let malt-milk mixture soak into cake. Drizzle 1/3 cup malt-fudge sauce over cake; spread evenly over top. Sprinkle 1/2 cup chocolate-malt crumbs over sauce. Drizzle 1/3 cup malt-fudge sauce over crumbs. Scatter 1 cup mini marshmallows over. Using kitchen torch, toast marshmallows.
Repeat with second cake layer, malt-milk mixture, malt-fudge sauce, chocolate-malt crumbs, malt-fudge sauce, and marshmallows. Remove third cake from pan; peel off parchment. Place cake, top side down, atop marshmallows on second cake layer. Brush with remaining Ovaltine-milk mixture (assembled cake will rise well above edge of pan).
Cover cake with plastic wrap; chill overnight. Cover and chill fudge sauce.
Run thin knife around sides of pan to release cake. Remove pan sides. Place cake (still on springform pan bottom) on plate. Rewarm sauce just until pourable. Pour over top of cake, allowing sauce to drip over edges. Mound handful of marshmallows in center of cake. Using kitchen torch, toast marshmallows. Sprinkle remaining malt crumbs over cake. Let cake stand at room temperature 3 hours before serving. Cut cake into wedges and serve.
Notes
Nat's Notes:
You'll need to make the milk crumbs before you start making the rest of the components for the cake. You'll have lots leftover, so you could certainly half the recipe.
I used regular, salted butter and reduced the added salt by half.
I would have liked to have had more malt-fudge sauce. If I ever make this again, I'd do 1 1/2 times or double the recipe to make it more gooey and to have more coverage on top.
I used a 9-inch springform pan, which worked fine.
I used all my chocolate malt crumbs between the layers and didn't save any for the top. (Oops.)