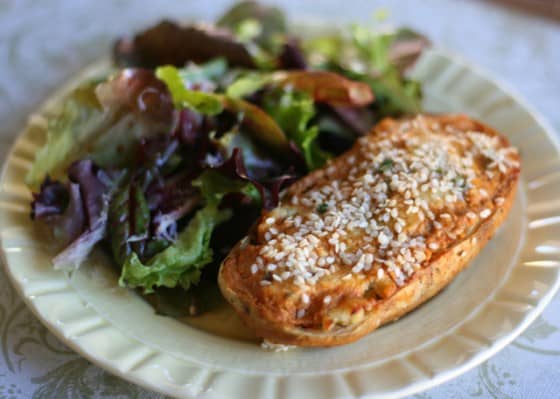 After all the pie and Nutella (um… the jar is half gone and it's only been three days!) I think my poor blog needs a detox. How about a vegetarian Indian detox? I've got two recipes this week that are Indian-inspired and absolutely delicious. This first one is supposed to be an authentic Indian dish that is typically cooked over a BBQ grill, but I adapted it to my oven. I think the best way to describe them is Indian-style twice baked potatoes.
Would you believe this is only the second time I've made twice baked potatoes? It's a little blasphemous, having grown up in Idaho, I know. Wanna know what happened the first time? I wrapped the potatoes in foil (my mom always did that when she made baked potatoes) and they ended up steamed with skins that peeled right off. Ya, try scooping the potato pulp out of those "shells". Oops. That night we had some killer mashed potatoes instead.
I've had this recipe in my file for over a year. I'm not sure what drew me to it, but whatever it was, I'm glad it did. And every time I would browse through looking for something to make, I would think, "Ugh. . . twice-baked potatoes are SO much work!" Know what? It wasn't that bad. And it's one of those great time management recipes that can be made over the course of an entire day (or two days even), doing a little here and there when you get a few minutes to spare in the kitchen.
The only thing I would change about these is getting more paste and seeds on the potatoes. See up there? They get smothered in the yogurt-spiced paste and dipped in sesame seeds (top and bottom). The potatoes already had a lot of flavor, but that outside crust added SO much.I thought these potatoes would have a stronger "Indian/curry/spicy" flavor, but they don't. Like I said, they were full of flavor, but it wasn't the flavors I was expecting. It's a little hard to explain. Anyway, all of my little guinea pigs loved these, and they were even great the next day for lunch!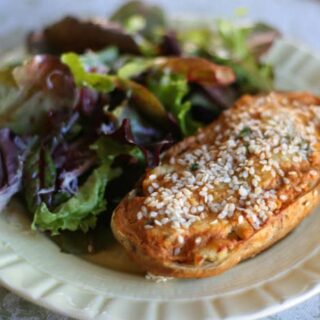 Twice-Baked Potatoes, Indian Style
Twice baked potatoes always seemed kind of fussy to me -- until I tried this version. This Indian twist on a twice baked potato is definitely the best version I've ever had!
Ingredients
Potatoes and stuffing:
3 large unpeeled russet potatoes (each about 16 ounces), scrubbed
1 cup (packed) coarsely grated Monterey Jack cheese (about 4 ounces)
2 tablespoons (1/4 stick) butter, melted
2 tablespoons chopped fresh cilantro
1 green onion, finely chopped
1 serrano chile, seeded, minced (I used half because I have little ones)
1 tablespoon sesame seeds
Coarse kosher salt
Yogurt-spice paste:
2 garlic cloves, coarsely chopped
2 teaspoons chopped peeled fresh ginger
2 teaspoons sweet or hot paprika
1 teaspoon salt
1 teaspoon ground coriander
1/2 teaspoon ground cumin
1/2 cup plain whole-milk yogurt (Greek is fine, too)
4 teaspoons avocado oil
2 teaspoons fresh lemon juice
1/3 cup sesame seeds
Instructions
Potatoes and stuffing: Position rack in center of oven and preheat to 400°F. Place potatoes directly on oven rack and bake until tender when pierced with fork, about 1 hour 15 minutes.
Transfer to platter and let stand until cool enough to handle. TIP: Can be made 1 day ahead. Cover and chill.
Cut potatoes horizontally in half. Using spoon, scoop out pulp, leaving 1/4-inch-thick shell.
Transfer potato pulp to medium bowl and mash; mix in cheese, melted butter, cilantro, green onion, chile, and sesame seeds. Season potato mixture generously with salt and pepper; divide among potato shells. TIP: Can be made 6 hours ahead. Cover and chill.
Yogurt-spice paste: Combine first 6 ingredients in processor. Using on/off turns, blend until mixture is finely chopped. Add yogurt, oil, and lemon juice and process until smooth puree forms. Transfer to small bowl. Season to taste with salt and pepper. TIP: Can be made 6 hours ahead. Cover and refrigerate.
Preheat oven to 375 degrees F. with the rack in the center. Line a rimmed baking sheet with aluminum foil.
Place sesame seeds on small plate. Place half of yogurt-spice paste in shallow bowl. Spread remaining yogurt-spice paste over top of potato filling in each potato half. Coat them well. Sprinkle with half of sesame seeds. Dip bottom of each potato half into reserved spice paste, then dip into remaining sesame seeds.
Place potatoes on prepared baking sheet. Bake until potatoes are warmed through 25 to 30 minutes. (Maybe longer if they've been refrigerated for a while.) Transfer potatoes to platter and serve.
Notes
Nat's Notes:
1. These potatoes were cooked on a grill in the original recipe.
SaveSave