Grilled Summer Squash Salad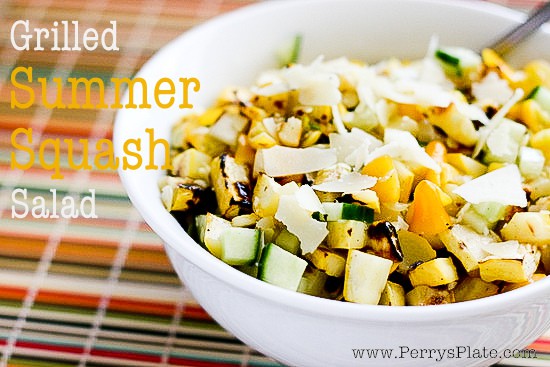 Fact: My grandma currently has 12 yellow squash plants.
Yes, 12.
TWELVE, people!
We drove home from her house in Utah last weekend with a bag of squash that probably weighs as much as my 3-year-old.
My kids aren't that fond of squash, but I'm trying hard to win them over. I frequently make a fleshed-out version of my Grilled Corn Salad with Cucumber, Avocado & Feta that they love. Turns out you can add just about any grilled or fresh summer vegetable to this salad. Grilled squash, diced red bell peppers, and sweet cherry tomatoes are fantastic in it.
The best part is that my kids inhale it. And my 5-year-old doesn't pick out a single thing.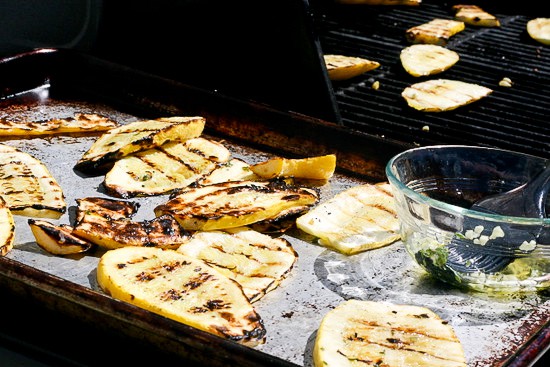 This time instead of going the Southwestern lime-cilantro-cumin route, I went the garlic-lemon-thyme route. Plus some fresh Romano.
Yes, I realize that my sheet pans look 100 years old. They're only 9 years old. That's what happens when you roast a lot of stuff. And cook pizza at 500 degrees. (And that one is the better-looking of the two.)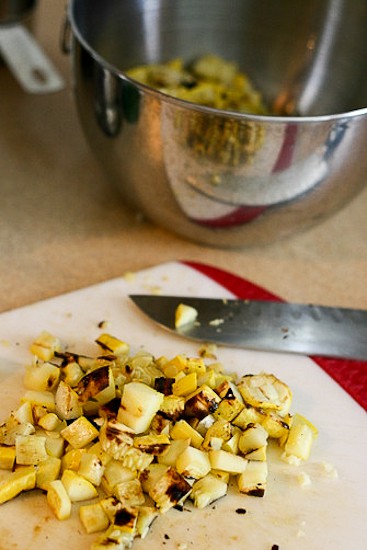 This right here is my favorite part of the process. I love seeing all of the charred bits of squash. MMM.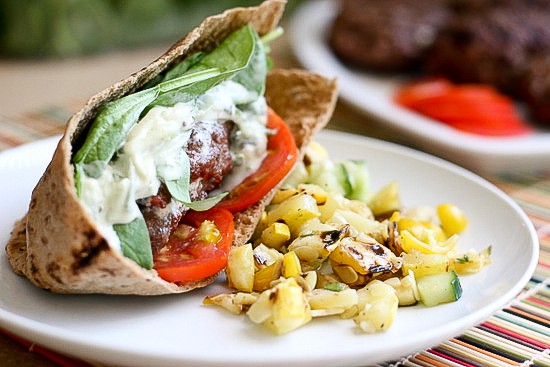 We served this bright, yellow-y salad with a pretty fantastic burger. If you happen to like goat cheese, you will have died and gone to goat cheese heaven.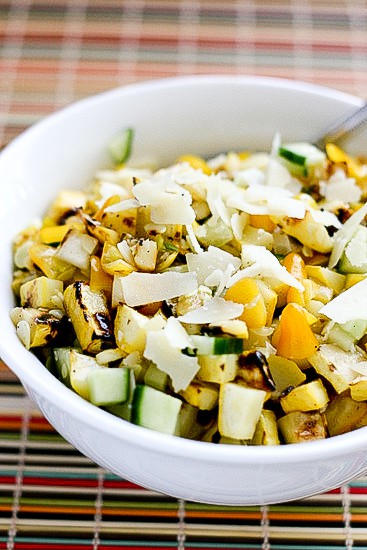 As much as I love my little yellow pear tomatoes, using red ones would have made this salad even more beautiful!
If you have more yellow squash, try making my Creole Salmon Lettuce Wraps with Grilled "Squash-o" de Gallo or Thai Shrimp Curry with Summer Squash.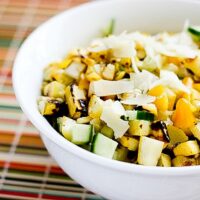 Grilled Summer Squash Salad
Yield: Serves 4 as a side dish
Prep Time: 15 minutes
Cook Time: 10 minutes
Total Time: 25 minutes
Grilled summer squash salad is a great little side dish the serve alongside some grilled chicken or steaks in the summertime!
Ingredients
3 T avocado oil
3 T extra-virgin olive oil
2 cloves garlic, minced
1 Tablespoon fresh thyme (or 1 tsp dried)
2-3 medium summer squash (zucchini, Italian squash, yellow crooked-neck, etc.)
1 cup quartered cherry tomatoes (I used yellow pear tomatoes)
1 cup diced English cucumber (or any cucumber)
1/2 freshly grated Parmesan or Romano cheese
juice from 1 small lemon
Salt and pepper
Instructions
Preheat your grill or stove-top grill pan to about medium heat.
Place the two oils in small, separate bowls. Divide the garlic and thyme between the bowls, and stir.
Cut the squash into quarter-inch thick slices and arrange on a sheet pan. Brush the squash with the heat-safe oil mixture and place on the grill, oil-side down. Brush the other sides.
Grill for about 8-10 minutes, flipping once, until squash is tender and has nice grill marks. Don't grill them until they're mushy.
Dice up the grilled squash and place in a medium bowl with the tomatoes, cucumber, lemon juice, and extra-virgin olive oil mixture. Mix well, then add salt and pepper to taste. Sprinkle the cheese shavings on top and serve.
Notes
Nat's Note:
Why are there two kinds of oil? Heating extra-virgin olive oil to high temperatures changes the structure of the fats in the oil and causes them to oxidize, eliminating the benefits you'd normally receive. (Oxidated fats = not good for the body)
Grilled bell peppers, corn and/or onions would be great additions, too! You can put pretty much any kind of summer produce in this salad and it turns out well.