Sole Almondine + Lemon-Buttermilk Smashed Potatoes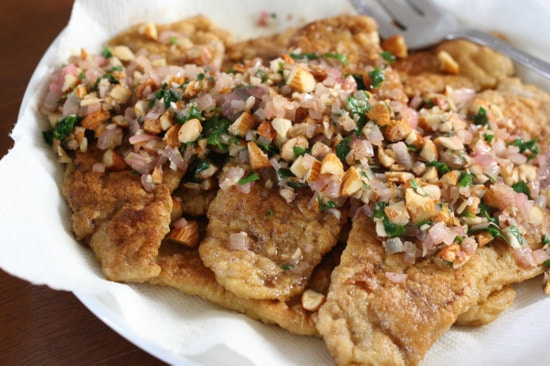 The fish is good. Love the crunchy almonds. Ya-de-ya-de-ya. (No really. This fish is the bomb.)
OK, let's talk about the potatoes now.
I grew up in a meat and potato home in Idaho where dehydrated mashed potato flakes were an abomination. Our mashed potatoes were always real. Always.
My dad only had two food prep jobs in our house: grilling the meat and mashing the potatoes. He used a hand mixer, which works well if you want them creamy and smooth. (Just be careful not to overdo it or you'll end up with a gluey mess.) Only a splash or two of milk and some butter was all that was needed. Idaho has the best potatoes ever.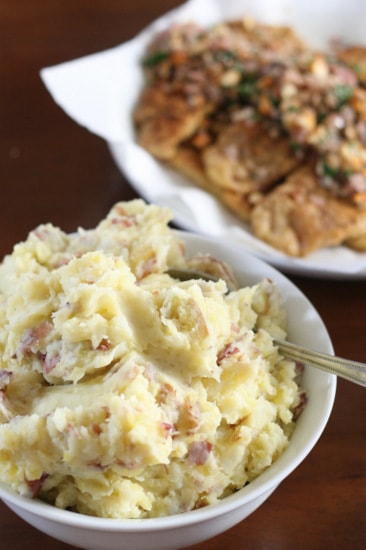 When I started making my own mashed potatoes, I experimented with a few flavors. I found that I love the skins left on and the texture on the chunky side, I also love adding peeled garlic cloves to the potato water and mashing up the whole thing together. And I LOVE buttermilk added to them. It makes them taste like you blended them with sour cream.
When I saw these two recipes in Tyler Florence's book, Family Meal, I knew I had to add buttermilk to the already-lemon-spiked mashed potatoes. I love lemon and buttermilk together, as you can see here.)
(Sidenote: I met Tyler Florence once. I felt like a 14-year-old at a Justin Bieber concert… in a purely platonic way.)
(Sidenote #2: That book is on sale right now for $14, which makes me a little sick inside because I paid full price. But I do have his John Hancock inside, which eases the sickness.)
Let's review: almondy fish + tangy, lemony mashed potatoes = invite me over for dinner, please.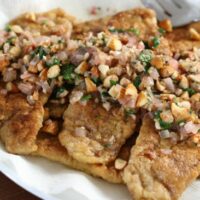 Sole Almondine + Lemon-Buttermilk Smashed Potatoes
Lightly breaded fish is a perfect pairing with the lemon-tart smashed potatoes.
Ingredients
For the potatoes:
8-10 medium Yukon Gold or red potatoes
1 cup buttermilk (plus more, if needed)
Salt and freshly ground black pepper
Grated zest of 2 lemons
1/4 cup chopped fresh flat-leaf parsley
For the fish:
1/2 cup coarsely chopped almonds
Salt & freshly ground pepper
Heat-safe oil, for pan frying
1 cup flour (see note)
1 egg, lightly beaten
1 1/2 pounds sole fillets
2-4 Tablespoons butter
2 small shallots, finely chopped
1/2 cup dry white wine (I used chicken stock)
juice from 1 lemon
1/4 cup chopped fresh flat-leaf parsley
Instructions
To make the potatoes:
Quarter the potatoes and put them into a large pot. Cover with cold water and bring it to a boil. Add 1 teaspoon of salt to the water, then reduce the heat and simmer for 20-25 minutes until they are fork tender.
Drain, then return potatoes to the pan. Add the lemon zest, buttermilk, and season (to taste) with salt and pepper.
Mash the potatoes using a potato masher, adding more buttermilk if you find them too dry. Fold in the chopped parsley, season again with salt and pepper (if needed), and keep warm while you make the fish.
To make the fish:
Toast the almonds in a large nonstick (or cast iron) skillet over medium heat for 5-7 minutes, or until golden brown. Season with a sprinkle of salt and set aside in a small bowl.
Place the flour in a shallow dish and season liberally with salt and pepper. Place the eggs in another shallow dish.
Return the pan to medium heat and add a couple glugs of oil (enough to barely cover the pan.) Make sure the pan is hot before you begin. (A pinch of flour should sizzle in the pan.)
Working with 2 fillets at a time, coat both sides of the fish in the seasoned flour. Shake gently to remove the excess flour, then dip in the beaten eggs, allowing the excess egg to drip back into the dish. Coat again in the flour, then place the fillets directly into the hot pan and cook 2-3 minutes.
Flip over the fillets and add a dab of the butter (about a half tablespoon) to the pan. Spoon the melted butter over the fillets as they cook on the second side, about 30 seconds. (This will keep the fish moist.)
Transfer fillets to a platter and keep warm while you repeat with remaining fillets and butter.
When they're finished, add the shallots to the same pan and cook over medium heat until translucent, about 3 minutes. Add the wine (or stock) to loosen the bits stuck to the pan. Then add lemon juice and parsley.
Serve the fillets on a bed of smashed potatoes (if you like), with the sauce spooned on top and sprinkled with the toasted almonds.