Paleo Apple Cinnamon Muffins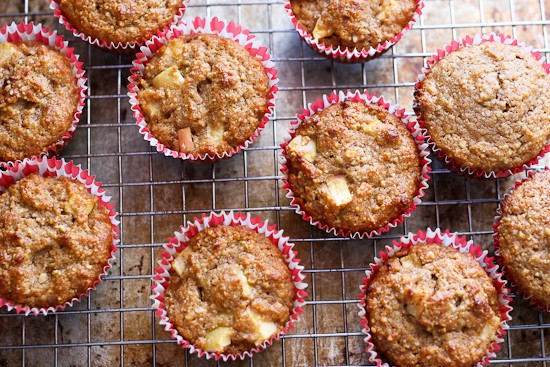 Today you can find me and the recipe for these Paleo Apple Cinnamon Muffins over at Java Cupcake! Betsy, the brains behind Java Cupcake, is flying solo while her husband is over in Afghanistan on his third deployment. Deployments are rough, folks — especially the first few weeks, so I'm happy to help Betsy out! Go give her some love!
(Post updated — Recipe added below!)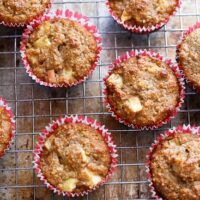 Paleo Apple Cinnamon Muffins
Yield: About 20 muffins
Prep Time: 15 minutes
Cook Time: 15 minutes
Total Time: 30 minutes
These apple cinnamon muffins are so tasty -- my kids love them just as much as they love traditional muffins!
Ingredients
2 cups of almond flour (about 192 grams)
¼ cup coconut flour (about 32 grams)
1 Tablespoon cinnamon
2 teaspoons baking powder
¼ teaspoon sea salt
½ cup melted coconut oil
6 eggs
⅓ cup raw honey
¼ cup unsweetened applesauce
2 teaspoons vanilla extract
2 small apples, cored and diced
Instructions
Preheat your oven to 375 degrees F. Line (or grease) your muffin pans (enough for 20 muffins).
Combine the dry ingredients (almond flour, coconut flour, cinnamon, baking powder, and salt) in a large bowl. Whisk to combine.
In a separate bowl whisk together the coconut oil, eggs, honey, applesauce, and vanilla. The coconut oil might harden, but don't worry if the batter has coconut oil chunks. It'll all work out nicely in the end.
Add the wet mixture to the dry, just until combined. Fold in the diced apple. The mixture should be about the consistency of a loose cookie dough.
Fill the muffin cups about ¾ full and bake for about 15-18 minutes or until they begin to turn golden on top and are firm to the touch. A toothpick inserted into the center should come out clean.
Let them cool in the pan for a few minutes, then transfer to a wire rack to cool.
They hold up best to unwrapping and cutting if you let them cool for about 15-20 minutes. I understand if you can't wait that long. We usually can't! You can store these in an air-tight container for 2-3 days.