30 Healthy Potluck Recipes for Summer!
Are you grilling all the things? Because I've been grilling all the things. I even grill the salad. And the dessert. (True story.)
If you're invited to a potluck BBQ, what do you bring? If you're looking for some new ideas, here's a whole bunch of healthy potluck recipes to inspire you. Most are from Perry's Plate, but I included a few from other blogs that caught my eye. There are a lot of definitions of "healthy" and not all of these are paleo. But they're all whole-food based and mostly gluten and dairy free.
I've never understood why store-bought potato salad and baked beans are always a staple. I'd much rather have  one of these…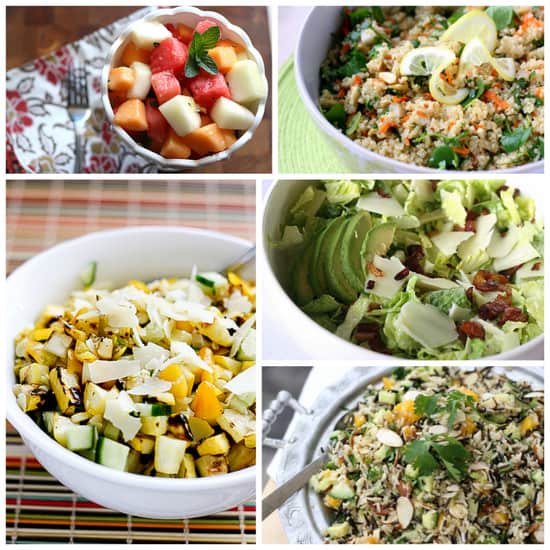 SALADS
Grilled Summer Squash Salad from Perry's Plate
Melon Salad with Ginger-Mint Dressing from Perry's Plate
Mango-Cucumber Rice Salad from Perry's Plate
Avocado Bacon Parmesan Salad with Tangy Avocado Dressing from Perry's Plate
Sweet Lemon-Herb Quinoa Salad from Perry's Plate
Spinach Salad with Chicken, Avocado, and Goat Cheese from Recipe Girl
Thai Shrimp Salad from Bev Cooks
BLT Chopped Salad with Corn, Feta, and Avocado from How Sweet Eats
Grilled Ginger-Sesame Chicken Chopped Salad  from Cooking Classy
Broccoli, Apple, and Almond Salad with Garlic Vinaigrette by The Healthy Foodie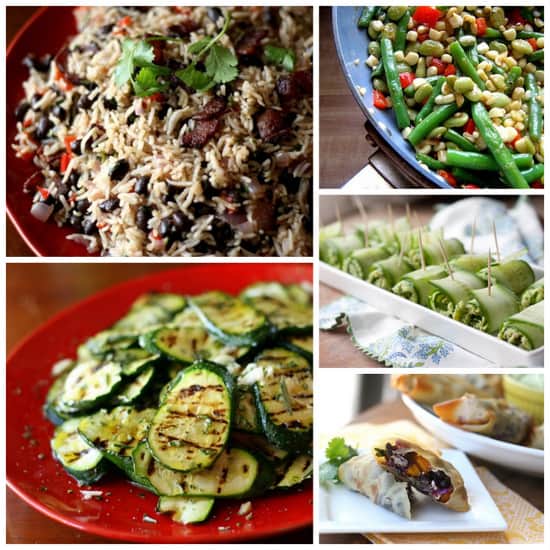 SIDES AND APPETIZERS
Costa Rican Rice and Beans from Perry's Plate
Marinated Zucchini from Perry's Plate
Green Bean Succotash from Perry's Plate
Pesto-Shrimp Cucumber Rolls from Perry's Plate
Spicy Butternut and Black Bean Egg Rolls with Citrus Avocado Cream from Perry's Plate
Rainbow Veggie Skewers by Gimme Some Oven
Orange-Mint Grilled Shrimp by Rock Recipes
Cuban Grilled Zucchini by The Whole Smiths
Jalapeno Ginger Cauliflower Rice by The Roasted Root
Cilantro-Lime Cucumber Salad by The Food Charlatan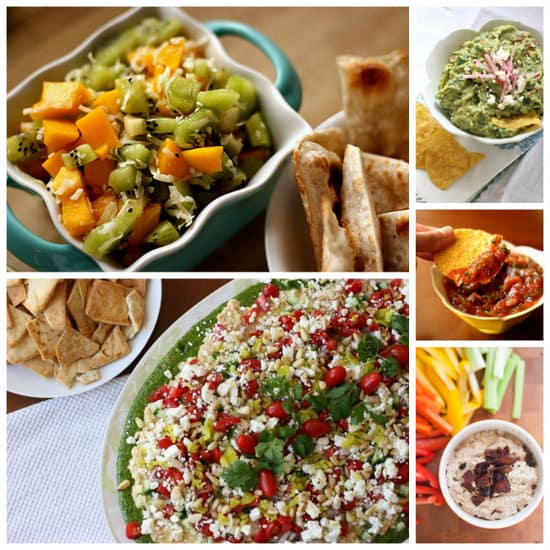 DIPS AND SALSAS
Coco-Kiwi Mango Salsa with Cinnamon Crisps from Perry's Plate
Layered Mediterranean Dip from the Tasty Kitchen Blog
Loaded Roasted Chile Guacamole from Perry's Plate
Chevy's Fresh Salsa (Copycat) from Perry's Plate
Balsamic Bacon Artichoke Dip from Perry's Plate
Lemon Herb Cauliflower Bean Dip from Edible Perspective
Four Pepper and Corn Salsa with Baked Chili Lime Chips from Eat Your Heart Out
Cashew-less Vegan Queso by Minimalist Baker
Green Pico de Gallo by Macheesmo
Triple Layer Guacamole Creamy Cotija and Confetti Salsa Party Dip from Soup Addict