Paleo Huevos Rancheros Skillet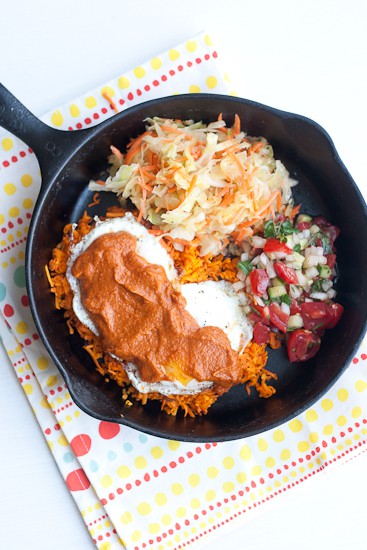 This one is a long time coming, guys. I've decided that the reckoning of time is different during the late stages of pregnancy and first few months of having a newborn. "Oh, it'll take about three weeks," I thought to my 8-month pregnant self. Six months later, here's the post!
I know I'm not the only one who finds this to be true. At least I hope not. Anyway, this Huevos Rancheros Skillet is well worth the wait. I promise.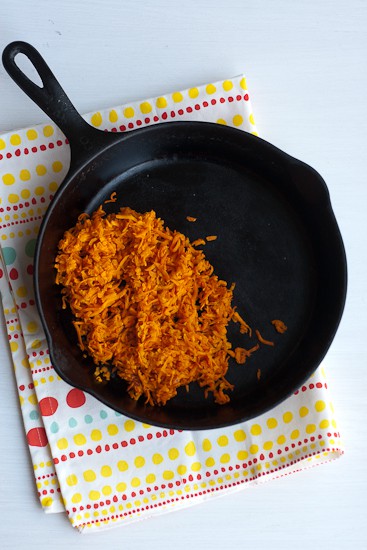 One of my favorite local diners, Peg's Glorified Ham and Eggs, has this Huevos Rancheros Skillet that's my favorite breakfast on earth. Seriously.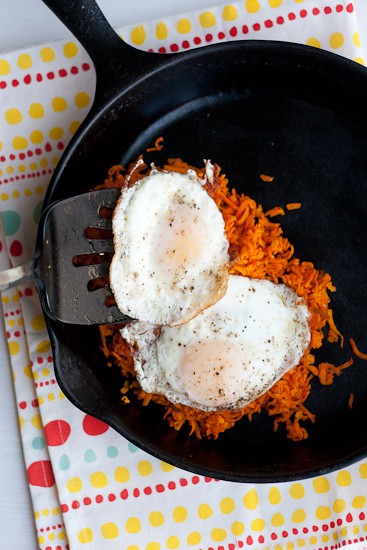 I decided to do a remake at home and clean it up so it would be paleo. Also, sweet potato hash browns are super duper tasty.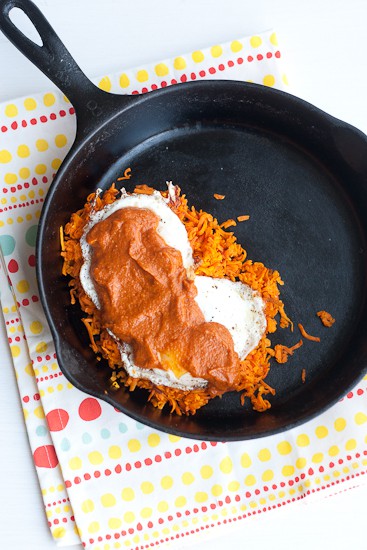 Part of the reason this post took so long was the enchilada sauce and some indecision on my part. I originally used some Diestel's (clean!) turkey chorizo as the base for my enchilada sauce and it was heavenly. I considered that everyone might not be able to find that kind of chorizo or any other clean chorizo, for that matter.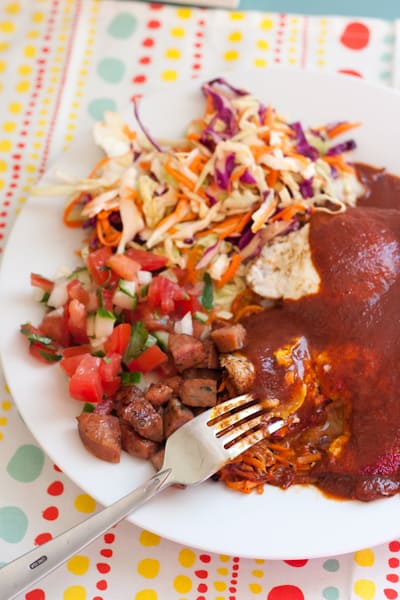 So, I made it again (like, 4 months later. Ha.) with my Whole30 Enchilada Sauce (the thinner sauce, pictured above) as another option.
There are a lot of ingredients in this because it has a lot of from-scratch components. The slaw, pico, and enchilada sauce can be made ahead of time and you can shred the sweet potatoes ahead of time, too. If you're making this for breakfast, I highly recommend doing some prep work the night before so all you need to do is reheat a couple of things and fry some eggs.
It's also great for brinner. We LOVE brinner. So much so that we have brinner most Wednesdays, and I created #brinnerwednesday on Instagram to document our brinners.
Although it might change to #pancakewednesday because my 8-year-old recently learned how to make pancakes by herself and has ballet on Wednesdays now. Pancakes are a quick option. Plus, I'll gladly let someone cook dinner for me. Even if her repertoire is simply scrambled eggs and pancakes at this point.
Psst… I included the chorizo enchilada sauce recipe in the notes!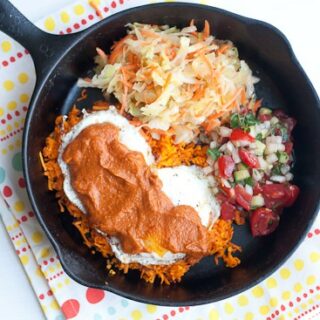 Paleo Huevos Rancheros Skillet
Yield: Serves 6-8
Prep Time: 30 minutes
Cook Time: 30 minutes
Total Time: 1 hour
Sweet potato hash browns, drippy fried eggs, tangy cabbage slaw, and fresh cucumber pico de gallo. All topped with a slathering of enchilada sauce. It really doesn't get better than this.
Ingredients
For the pico de gallo:
6 Roma tomatoes, diced
1/2 English cucumber, diced
1 cup diced sweet or red onion
1 lime
1/3 cup chopped fresh cilantro
hot sauce
salt
For the slaw:
1 small head of cabbage, shredded
3 large carrots, grated
1/4 cup neutral oil, like avocado oil
1/4 cup white wine vinegar
1 Tablespoon honey
1/2 teaspoon ground cumin
1/2 teaspoon salt
1/2 teaspoon black pepper
For the skillet:
1 1/2 pounds sweet potatoes, peeled, and grated
fried eggs, as desired
salt/pepper/cooking oil
chopped, pre-cooked breakfast sausage (optional)
Instructions
Combine all pico de gallo ingredients into a medium-sized bowl. Mix well. Cover and chill until ready to use.
Combine all slaw ingredients in a large bowl. Mix well. Cover and chill until ready to use.
Pour enchilada sauce into a pan and reheat over medium-low heat, if necessary.
Heat a couple tablespoons of cooking oil (your choice, but I recommend bacon drippings or ghee for this) in a large nonstick skillet over medium-high heat. Put a couple big handfuls of grated sweet potato in the pan. Toss them around to coat them with oil. Cook until tender and golden brown in spots, tossing them around occasionally, about 10-12 minutes. If they start to darken too quickly, reduce heat. Remove from the pan and keep warm while you cook the rest of the sweet potato in batches.
Heat a tablespoonful of cooking oil (again, bacon drippings or ghee is good for this) and cook your eggs to your liking. Also, throw the sausage into a pan to reheat, if you're planning on using it.
Serve plates with a pile of sweet potato hash browns topped with eggs and a few spoonfuls of warm enchilada sauce. Put some pico and slaw on the side. You're welcome.
Notes
Chorizo Enchilada Sauce: Saute 8 ounces of turkey chorizo in a couple tablespoonfuls of cooking oil over medium-high heat. Add 1 cup chopped onion. Stir, breaking up the chorizo and cook until the onions are tender. Add 1 14 ounce can of tomato sauce, 2 teaspoons chili powder, 1 teaspoon ground cumin, and 1 teaspoon dried coriander. (Also add some cayenne, to taste, if you like.) Cook for about 5 minutes until everything is heated through and seasoned. Transfer to a blender and add a cup of warm water. Blend until smooth, adding more water to reach your desired consistency. Taste, and add salt if needed. Return to saucepan and simmer for 5-10 minutes. If you aren't using it right away, transfer to an airtight container and chill. Reheat when you plan on using it, adding more water if it thickens too much.