What We Eat Weekly (aka Week of Soup | Fall/Winter #5)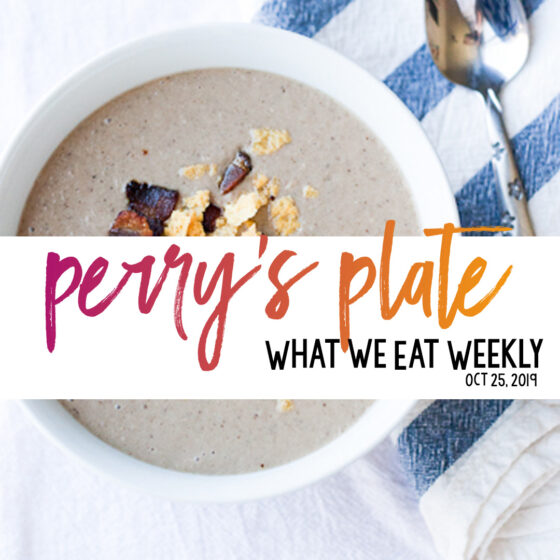 Here you'll find our weekly dinner plan! Almost all of our dinners are gluten-free and most are grain-free and dairy-free or can be easily converted. Some weeks we do well sticking to plan, and some weeks…. well, you know. Life happens.
The "coming soon" meals mean I'm doing photos and will have links added as I publish those recipes.
Last week we were out of town Thurs-Sun, so we just muddled through the beginning of the week with leftovers and Costco tamales.
Here's a full menu for this week! I'm not even going to apologize for making soup/chili four times.
Dinner Menu for Oct 25th:
Monday
Leftover Baked Potatoes (Thanks mom!)
Toppings (avocados, shredded cheese)
Tuesday
Cauliflower Rice Stir Fry with Ground Turkey
Asian Chopped Salad Kit
Wednesday
Thursday
Roasted Beets with Roasted Garlic & Balsamic Vinaigrette (coming soon!) These did not happen.
Toppings: Bacon crumbles & crispy cheese bits
Friday
Roasted Broccoli & Sweet Potatoes
This one got bumped in place of pizza and a movie (Downton Abbey! Finally!)
Saturday
Green salad
Actually… Fish Nuggets are going here. Sorry, roast chicken. You always seem to get the shaft.
Sunday
Weekly Notes:
The turkey stir fry on Tuesday was a last-minute menu decision while I was at Costco. Costco shopping days tend to be super hectic so I find a healthy-ish option in the deli and freezer areas and make something super quick. This week was a seasoned cauliflower rice stir fry kit from the freezer section mixed with some browned ground turkey seasoned with fresh ginger, sea salt, and some Trader Joe's mushroom powder. So fast and easy! I started saving these easy meals in my Instagram highlights under "At least it's not pizza" meals. Ha.
---
Disclosure: This post may contain Amazon affiliate links. Purchases made by using these links don't cost you any extra and helps to keep my content free.