What We Eat Weekly (Fall/Winter #10)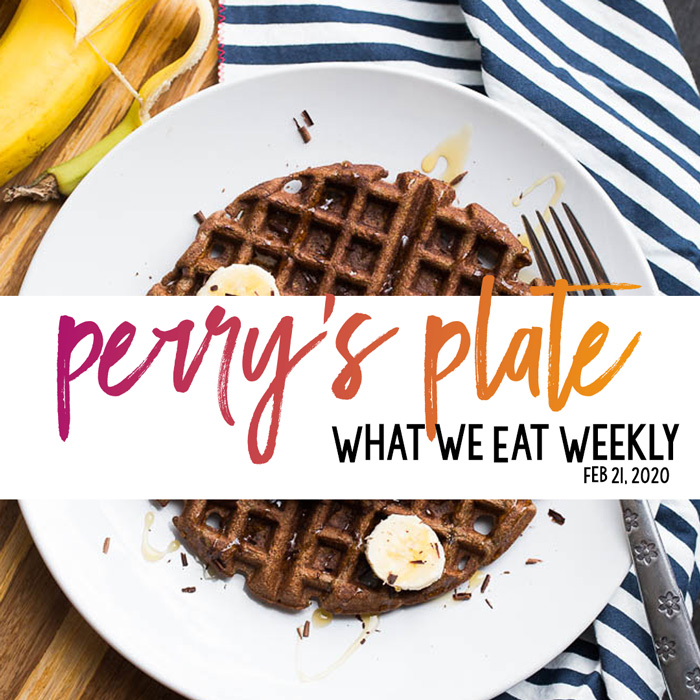 Here you'll find our weekly dinner plan! Almost all of our dinners are gluten-free and most are grain-free and dairy-free or can be easily converted. Some weeks we do well sticking to plan, and some weeks…. well, you know. Life happens.
The "coming soon" meals mean I'm working on recipe testing or photos and will have links added as I publish those recipes.
---
This week I was craving cozy — like somehow my body knew this awful cold was coming and told me to plan comfort food meals. At any rate, it supplied us with a lot of fabulous leftovers!
Dinner Menu for Week of Feb 21st:
Monday
Asian salad kit (Like this Paleo Asian Chopped Salad. Yes, I'm getting the kits again. Times and seasons, friends.)
Asian Roasted Broccoli (coming soon!)
Tuesday
The Best Chicken Fajitas (but sheet pan style & made into rice bowls)
Roasted corn & diced jalapeno with the new Trader Joe's Elote seasoning
Rice & toppings (guac, crema, hot sauce)
Wednesday
Easy Low-Carb Berry Sauce (coming soon!)
Thursday
Friday
Sourdough Pizza ( I love this sourdough pizza crust!) — one of the pizzas will most likely have some of that BBQ Beef.
Saturday
Sunday
Weekly Notes:
This weekend I'm doing another hotel stay by myself (Thanks to my Hyatt rewards card and a kidney stone I had last year — I've got 6 more free nights! Ha. But seriously.) Steve's on his own Friday night so I'm leaving some pizza dough and lots of high fives as I giggle my way out the door.
---
Disclosure: This post may contain affiliate links. Purchases made by using these links don't cost you any extra and helps to keep my content free.