Staying Whole in a Processed World: Introduction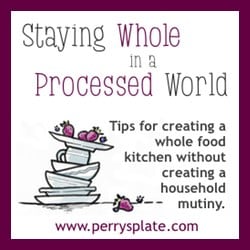 One day I got this message from my cousin Mary, who just finished reading In Defense of Food by Michael Pollan:
"Now I want to join our CSA co-op, only eat whole grains, and never eat grocery store meat again. It's exciting, but a little overwhelming, and hard to know where to begin."
She suggested that I write a series of posts about how we transitioned as a family to eating more carefully.
So… I am. For the next few Mondays!
If you've been reading (or watching films) about topics like this, you may be feel inspired to make changes to your diet, but are unsure where to begin — especially if being in the kitchen isn't your thing. I feel like there's a gap between the education about food matters and the practical application. That's where I want to help!
Where do we start?
I knew for sure what I did NOT want to do in this series. I didn't want this to be a "eat this, not that" kind of series. I'll be focusing more on how to transition and incorporate more whole foods into your kitchen by sharing what worked with our family. (And to hopefully prevent a mutiny in yours!)
Why? The topic of nutrition is like drinking from a fire hose and conflicting opinions/research can lead to some hot debates. I think we can all agree that a whole food is healthier than a processed one, right? I don't think we'll go much deeper than that besides discussing the "cleanliness" of meat. With the tips and things I'm going to share, you can take this as far as you like… going full-on paleo, or vegan, or just getting rid of the boxes in the cupboard.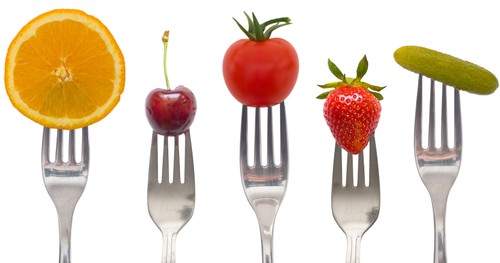 Here are the topics I'll go over in the next few weeks: (Links will be added as I finish the posts.)
I'll also give you one or two things you can easily do each week as well as resources and recipes that apply to each topic. (aka Homework. Yay!)
Ready for your first assignment?
Yes? Great!
OK, you're assignment: Pick up a book, read an article, or watch a movie about a food-related topic.
Need some direction?
Here are some great resources:
Note: I've researched or read through most of these sources and found some great information. They don't always agree with each other, but they're good places to start.
Books
Nourishing Traditions by Sally Fallon & Mary Enig
In Defense of Food by Michael Pollan (or watch Food, Inc. which is based on the book)
Food Rules by Michael Pollan and Maira Kalman (like a condensed version of In Defense of Food)
Omnivore's Dilemma by Michael Pollan
The Coconut Oil Miracle by Bruce Fife
The Primal Blueprint by Mark Sisson
Animal, Vegetable, Miracle by Barbara Kingsolver
The Dirty Life by Kristin Kimball
Websites
Weston A. Price Foundation Website
Mercola.com
Jamie Oliver's Food Revolution Website (the TV show is excellent!)
This list just scratches the surface (and I'll continue to add to it). If you have any other helpful resources, please leave them in a comment below!
Until next time…
Photo Credit: Shutterstock