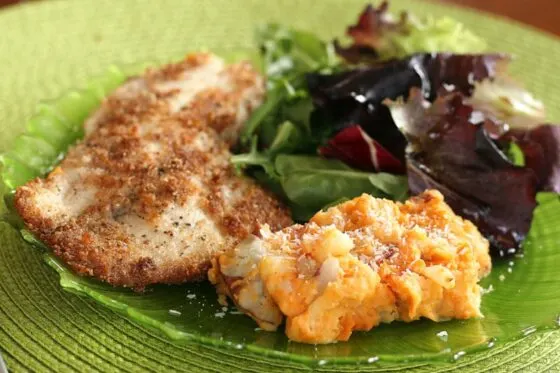 We really like coconut around here (even the little ones), so I played around with some coconut milk and shredded unsweetened coconut and came up with this coconut almond crusted fish! This was so much better than I thought it would be!
Let's start with the fish. First a nice soak in coconut milk & lemon, then a light almond-meal-coconut-ginger-mint coating, and finally a quick fry in some coconut oil.
Yes, coconut oil. Don't freak out. Coconut oil, despite its reputation for the last 20 years, is actually good for you, and is my go-to frying oil if the slight coconut flavor it imparts compliments the food — in this case, yes.
The potatoes were a last minute decision. I wasn't planning on putting coconut milk in them (I usually use milk or buttermilk), but I had half of a can left and thought, "what the heck."
I'm glad I do that sometimes — acting on a gutsy instinct pays off more often than not.
The addition of sweet potatoes gave it a nice sweetness that played off of the coconut milk, tricking you into thinking that there may have been sugar added. But there wasn't. Sneaky, indeed.
My husband is eyeball-deep in paleo nutrition, and we've gradually been heading that direction as a family for the past three years.
Very gradually. I went completely paleo for almost a month last year, and I loved how it made me feel. But, I also love cheese. LOVE cheese.
And pizza crust. And ice cream. I try to be picky about the grains, dairy, and sugar I consume, and maybe I'll get to the point in my life where I'm willing to let those go completely. I just can't do it right now.
Do any of you have experience with a paleo diet? Thoughts?
Anyway. The fish and spuds are great. :)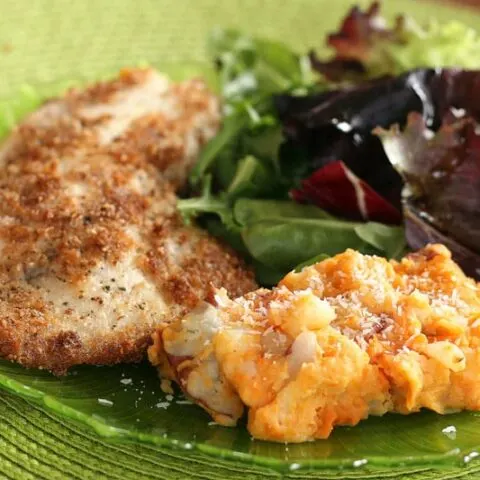 Coconut-Almond Crusted Fish + Tropical Sweets & Reds Mash
I love this fun, tropical twist on fish and potatoes! Coconut makes such a great breading for fish.
Ingredients
For the fish:
4 thin, white fish fillets (or any other firm, white fish, such as cod or halibut)
one lemon, sliced in half
1/4 cup coconut milk
1/2 cup almond meal, ground almonds, or almond flour (or bread crumbs, if you like)
1/2 cup finely shredded unsweetened coconut
1/4 teaspoon salt
1/8 teaspoon black pepper
1/2 teaspoon ground ginger
1/2 teaspoon dried mint
oil for frying (coconut oil is recommended)
For the potatoes:
1 medium to large sweet potato (about 1 lb)
3-4 red potatoes (about 1 lb)
3 Tablespoons ghee, softened
1/2 cup coconut milk
salt and pepper to taste
Instructions
To prepare the fish: Pat and dry fish fillets. Sprinkle both sides with a pinch or two of salt and pepper. Squirt juice from 1/2 of the lemon and drizzle the coconut milk over top. Turn to ensure everything is coated well. Let them sit at room temperature for 15 minutes to marinate.
Meanwhile prepare the breading by combining the almond meal, shredded coconut, salt, pepper, ginger and mint in a shallow bowl.
Cover the bottom of a large skillet with oil and bring to medium heat. Lay fillets carefully in the skillet and cook, flipping fish halfway through cooking, until both sides are golden brown and fish flakes easily with a fork. Three to five minutes per side for thin fillets, longer if they're thicker.
Transfer to a stack of paper towels to drain and cool slightly. Serve with Tropical Sweets & Reds Mash.
To prepare the potatoes: Peel and cut all the potatoes into 1-inch chunks.
Bring a large pot of water to boil, add the potatoes, and cook for about 15 minutes or until the potatoes are fork tender.
Drain the water and return potatoes to the pot over medium-low heat. Stir the potatoes around, letting the small amount of water sizzle away, about 30 seconds.
Remove from heat and add ghee and coconut milk to the potatoes. Mash, using a potato masher or a large fork, adding salt and pepper to suit your taste.
Transfer to a small bowl to serve.