Date Night In by Ashley Rodriguez is a beautifully written account of her marriage and her culinary strategy to invite the spark back in.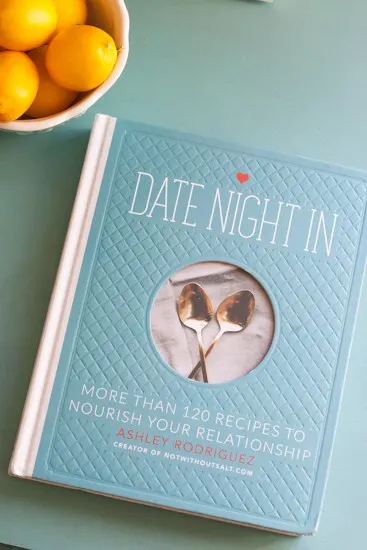 You guys, this book.
Just to clarity, it IS a cookbook, but it's so much more than that. I have never in my life read a cookbook cover to cover like a novel. Nor has one ever brought me to tears. When I finished the book I was alone in my bedroom, almost afraid that my kids would come in and see the tears streaming down my face. I could imagine their confused little faces when I told them I was reading a cookbook, along with my two-year-old's big, fake laugh and her little voice saying, "You're silly!"
Granted, I'm in a state of delicate emotions right now, but I believe it would have made me cry sans pregnancy. But, my little fireball is right. Pregnancy can be silly sometimes.
I hadn't even tried out a single recipe, but judging from the to-do list I jotted down as I was reading, I knew it was going to be one of my absolute favorites cookbooks.
The beautiful book is called Date Night In by Ashley Rodriguez. Ashley is also the talented chef and blogger behind the blog Not Without Salt.
I think the reason I connected with this book so well is that Ashley and I are in very similar stages of life right now. We both have a passion for food and feeding others. We've both been married about 11ish years and each have three children (Her daughter and one of mine share a name, even.). And we have both found ourselves knee-deep in child-rearing and feeling like we need to reconnect with our spouses (who both happen to have dark hair and olive skin). I think I'd get along really well with Ashley.
In Date Night In, Ashely shares sweet courtship stories and weaves you in and out of the past as she tells how she and her husband reconnected through weekly date nights at home. She recreates food memories they shared early in their marriage and even opens up and shares some rough patches they struggled through. Ashley put her whole heart into this book, and I admire the couple's determination to intentionally carve out time for each other. I loved her writing and felt like she included me in her experiences — as if we were sitting down in a little cafe together as friends.
I'm excited to give one of these books away to you! I wish I could give one to every married couple knee-deep in child rearing. Or every married couple in general. Or ever person who has ever thought about getting married.
Let's look inside…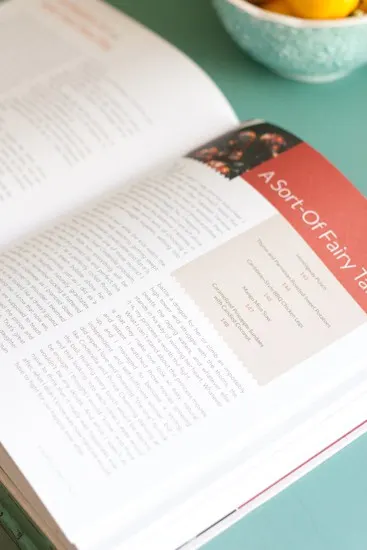 Ashely organized her book by season (which I LOVE). Within every season she groups recipes into entire meals, and every meal begins with a personal story. This is what I meant about reading it like a novel. Oh, the stories. They're sometimes super sweet and sometimes a little heart-wrenching, but always beautifully written and meaningful.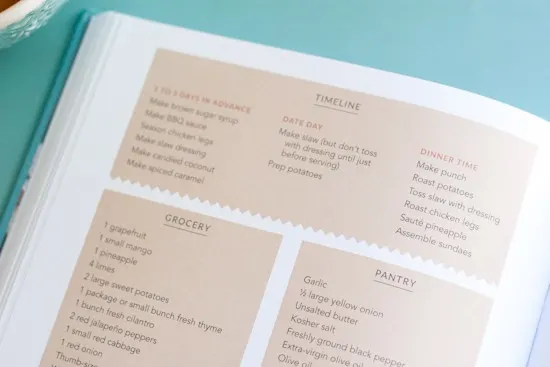 Let me add here that these meals aren't something you whip up when it's 4:30 and you have no idea what to make.
The intention behind her book is to share the meals she made for her and her husband, Gabe, during their weekly date nights at home. Some are more work than others, but she helps you out by breaking the meal down into a timeline and giving you a shopping list. I love doing things ahead to make a special dinner less stressful!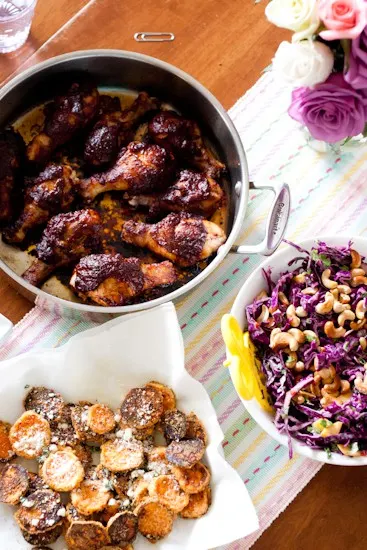 The meal I chose from the book was her Caribbean-Style BBQ Chicken Legs, Mango Miso Slaw, and Thyme and Parmesan Roasted Sweet Potatoes. (There was also a drink, but because we don't drink alcohol, I just skipped it.)
No, this isn't a paleo-oriented cookbook, but everything is made from scratch. I also found many recipes that were at least grain-free (or could easily be adapted). This meal sounded amazing to me. and I happened to have most of the ingredients already. Plus, this one was nearly grain-free as is!
And if you're wondering… no, this wasn't a date night with Steve. Our kids were there, too. In order for us to eat alone I'd have to make something else for the kids and do our dinner prep after they went to bed. I don't have that kind of stamina lately, but I would like to try it once baby gets here and decides that sleeping is a good thing.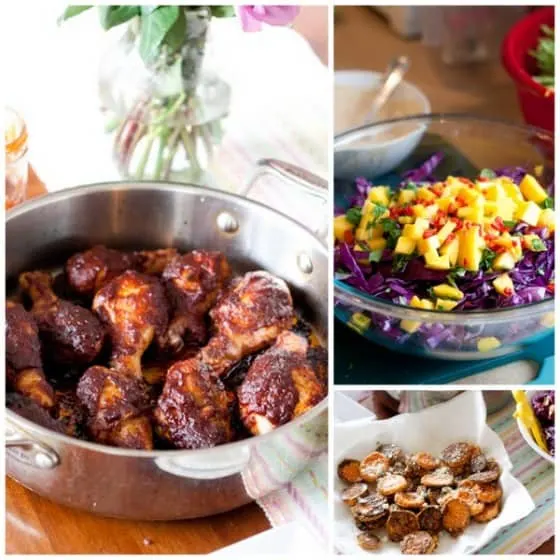 That BBQ sauce completely won me over so I decided to share the chicken recipe with you (see below!). There are a lot of ingredients, but none of them are obscure or hard to find. I love the Caribbean flavors she threw in there — ginger, molasses, lime, allspice. It gives the sauce a different little kick. And the sauce isn't overly sweet, which I prefer.
The slaw was so beautiful! I loved all the colors. It was the perfect punch of freshness for this meal. I swapped out the miso for some almond butter and it was delish.
Those potatoes — dusted in cornstartch (I used arrowroot powder) and tossed in a Parmesan-Thyme mixture before getting a little crispy in the oven. I love this method and debated on sharing the recipe as well. While I LOVED them, for some reason my kids weren't too excited about them. (?!) I think I'm going to tweak them a bit and make them paleo. And THEN share them with you. Hopefully soon.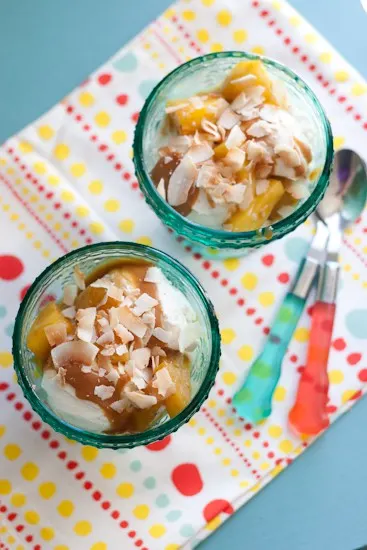 Like I said, my 7-month pregnant body doesn't have the cooking stamina of my pre-pregnant self, so the Caramelized Pineapple Sundaes with Candied Coconut got postponed until the next day.
I'm so glad I didn't postpone it forever, though. I didn't change anything about this dessert to make it more paleo-friendly. I made it as is.
Let me just tell you… this may have been one of the best ice cream sundaes I've had in my life. Honestly. I had some homemade caramel sauce leftover from Christmas, so I just added the spices from her caramel recipe to it, threw a little into a skillet with fresh pineapple for a few minutes then spooned it over vanilla ice cream and topped it with some crunchy candied coconut flakes. And more caramel.
*swoon* No words, people.
Even if the only thing you made for date night was this sundae and looked your spouse in the eyes as you chatted for 15-20 minutes, uninterrupted, I think you would accomplish your goal. Ashley's plan for reconnecting might not be for everyone, and she admits that not all date nights are an elaborate spread, and depending on their schedules, sometimes they get pushed back a week or two. But they happen. Because they intentionally carve out time for each other. I loved the final paragraph from her last story:
"The main message remains the same: for as long as I'm alive, I will wake up every morning and say yes to you. Sometimes I will do it with a great joy pounding in my heart, and other times I will do it because of the promise we made so long ago. Regardless, I will continue to choose you over and over again."
Happy Valentine's Day, friends.
You can find the chicken recipe and the giveaway details below!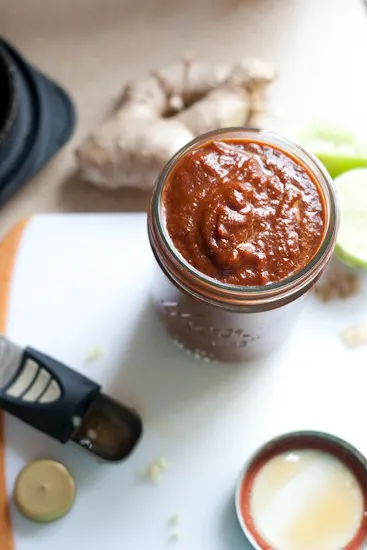 ---
If you make one of my recipes, be sure to post it on social media and tag me at @perrysplate or #perrysplate so I can send you some love!
Caribbean-Style BBQ Chicken Legs
Yield:
2-3 servings with extra sauce
Total Time:
1 hour
15 minutes
These chicken legs are sweet, sticky, a little spicy, and completely delicious. You could pair them with a fresh slaw or some roasted potatoes for a whole meal.
Ingredients
For the chicken:
2 teaspoons kosher salt
1 teaspoon freshly ground black pepper
6-10 chicken legs/drumsticks
For the sauce:
1/2 large yellow onion, diced
2 garlic cloves, roughly chopped
2 T heat-safe neutral oil, like avocado or light olive
1/4 teaspoon kosher salt, plus more as needed
1 red jalapeno pepper, finely diced (seeded, to reduce heat level, if desired)
1/4 cup rum
1 6-ounce can of tomato paste
1/2 cup apple cider vinegar
1/4 soy sauce, tamari, or aminos
1/4 cup molasses
3 Tablespoons honey
2 teaspoons minced fresh ginger
1 teaspoon ground cumin
1/2 teaspoon ground coriander
1/2 teaspoon ground allspice
1/2 teaspoon freshly grated nutmeg
1/4 cup water
1 teaspoon freshly grated lime zest
1 Tablespoon freshly squeezed lime juice
1/8 teaspoon liquid smoke (optional)
2 Tablespoons heat-safe neutral oil, like avocado or light olive, for frying
Instructions
A day or two ahead, sprinkle the salt and pepper over the chicken, then cover and refrigerate. (I used a gallon-sized zip-top bag.)
To make the BBQ sauce, saute the onions and garlic in a medium saucepan with the oil and a pinch of salt over medium-low heat for 10-15 minutes, or until the onions are just starting to caramelize. Add the jalapeno and cook for 2 more minutes. Add the rum and scrape up any browned bits from the bottom of the pan. Simmer until reduced to a glaze, 1-2 minutes.
Whisk in the tomato paste, vinegar, soy sauce, molasses, honey, ginger, cumin, coriander, allspice, nutmeg, salt, and water, and then simmer for 15 minutes.
Stir in the lime zest, lime juice, and liquid smoke, if using. You should have between 1 1/2 - 2 cups of sauce. Cover and store in the fridge until ready to use. Can be made up to a week ahead of time. (Big time saver!!)
Preheat the oven to 400 degrees F.
Heat 2 Tablespoons of oil in a large oven-safe skillet (preferably cast iron or stainless) on high. Sear the chicken legs for 2 minutes per side or until the skin begins to crip and turn brown. You don't need to cook them all the way through.
Add 1/2 cup of BBQ sauce to a large bowl and toss the hot chicken legs in the sauce to evenly coat. Put them back into the skillet and spoon remaining sauce from the bowl onto the chicken.
Place the skillet into the oven and roast for 20 minutes.
Turn the broiler on high and broil the chicken legs for 3-5 minutes, or until nearly blackened on top. (I skipped this step because I didn't want blackened BBQ sauce.)
Let the chicken rest for about 10 minutes before serving. Serve with extra BBQ sauce on the side.
Notes
Nat's Notes:
If you don't cook with alcohol, just use water instead of rum when you deglaze the pan.
I didn't add the jalapeno because I didn't want it to be too spicy for my kids. On a regular date night, yes. I would definitely add it.
This post may contain affiliate links. Any purchases made by using these links won't cost you any extra and helps keep my content free. These links may be Amazon links as I am part of the Amazon Associate Program.