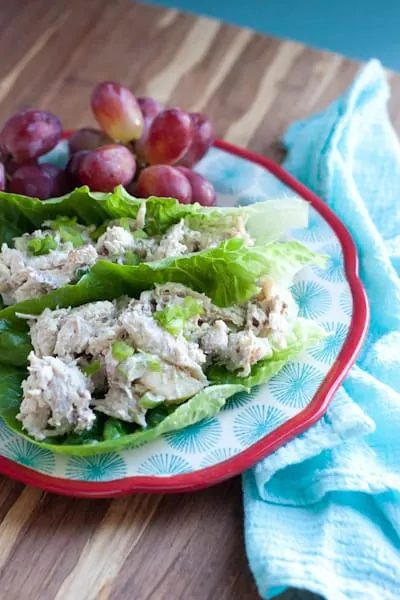 Halloween is growing on me, but I'm seriously glad that week is over. I was silly enough to schedule our family photos that weekend, too. (?!) So I was worrying about getting coordinating outfits together, costumes figured out for the kids, and trying to be a good mom and take them to at least one of the fall festival/trunk-or-treat type activities.
I really wanted to have a fun, "spooky" dinner with them, too, right before they went trick or treating, but I ended up throwing pancakes and apple slices at them as they ran out the door.
And we didn't carve a single pumpkin this year. I had some #momfail moments over that one, but I realized the kids didn't even complain or act disappointed. They loved the festivities all week and had a great time. They also loved their costumes.
Luckily. My older two (8 & 6) always choose obscure characters that I can't buy costumes for so I end up making them. Last year they were Pocahontas and Fawn, Tinkerbell's animal fairy friend. This year it was Miss Frizzle and Liz, her lizard from the Magic School Bus. I was pretty excited to have some non-princess costumes this year, even if I did have to make them. My three-year-old was Belle (Straight out of the dress-up box, hallelujah.)
And my little man was Luke Danes, of course. (Go find Gilmore Girls on Netflix if you haven't yet.) He's been known as #babylukedanes on Instagram since birth. It was only fitting. See? This is him, right here.
The candy aftermath hasn't been so horrible, either, but it really makes me crave simple, fresh meals. Like the one I'm finally going to tell you about. . .
I know you've been to baby showers, bridal showers, baby blessings, wedding receptions, or other gatherings that served that chicken-grape salad on croissants? Despite being way over done, it's still pretty darn tasty. Pretty much anything on a croissant would be eaten without complaint, I think.
I really love chicken salad with apples and recently I stripped a whole chicken I pulled out of the slow cooker and made this salad. Um, wow. So much better with well-seasoned chicken! This would be a snap with a store-bought rotisserie chicken. (Whole Foods has clean ones!) Even my picky little eaters liked it and my oldest requested it in her lunch the next day.
If you need a homemade mayo recipe, use this one: Homemade Mayonnaise. I use avocado oil now instead of olive because I like the neutral flavor better. I also throw in a little garlic, because… garlic. I used to turn my nose up at mayonnaise and shudder at recipes that used it by cupful, but after I realized homemade mayo is actually WAAAAY better for you and tastes superior to commercial mayo, it doesn't scare me any more.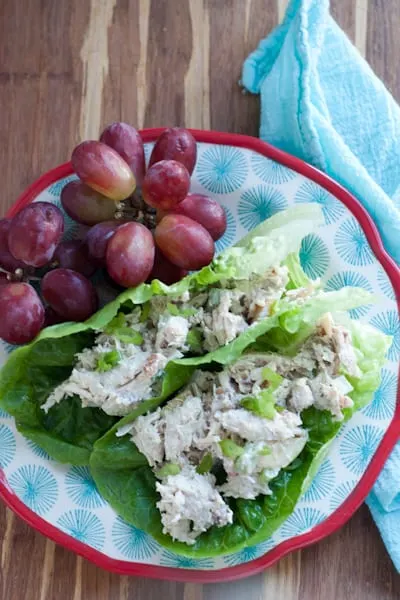 Easy Rotisserie Chicken and Apple Salad
This makes a perfect, portable picnic lunch without needing to make a bunch of sandwiches. We love the sweet crunch from the apples!
Ingredients
1 whole, cooked and seasoned chicken, meat stripped
1 cup of homemade mayonnaise (recipe link in post)
1 Tablespoon Dijon mustard
1 Tablespoon honey
1/2 of a large apple, cored and diced
1 celery stalk, diced
1 thinly sliced green onion
1 cup of toasted nuts (walnuts, pecans, cashews, or slivered almonds)
Lettuce leaves, for serving
Instructions
Place chicken in a large bowl and shred into small pieces.
In a small bowl combine mayonnaise, mustard, and honey. Pour mixture over chicken and stir it up.
Add apple, celery, green onions, and nuts to the bowl and fold them in.
Serve in lettuce cups.
Notes
Nat's Notes:
If you don't have or want to use a rotisserie chicken, about three large, cooked and seasoned chicken breasts would be fine.
If you don't have issues with dairy (or don't like mayonnaise), you can replace half or all of the mayonnaise with full-fat, plain Greek yogurt.
Save
Save