Almost 10 months ago I posted this photo on my Perry's Plate Instagram account with a cryptic caption about a fun project on which I was about to embark. Don't you love cryptic captions withholding big secrets? Especially when that person keeps the secret from you for 10 months.
Sorry about that. I didn't realize at the time I wouldn't get the green light to open my big mouth for almost another year. Believe me I didn't enjoy it. It was like keeping a pregnancy a secret THE ENTIRE TIME.
So what's the big deal? Why has my posting been sporadic? (Actually it's been sporadic for, like, 3 years now.)
I WROTE A COOKBOOK!!
Here are the deets:
(Tentative) Title: The Big Book of Paleo Slow Cooking
Publisher: Harvard Common Press
Publication Date: Spring 2017
Details: 200 paleo slow cooker recipes! It will include appetizers, soups, main dishes, sides, desserts, and a chapter full of pantry staples. And lots of pretty photos that I'll start taking next week.
In some ways this isn't such a big deal. I mean how many cookbooks have been written? Like a gazillion. But, for me, it was checking of a major goal on my bucket list and getting the opportunity to fulfill a long-time dream.
Keeping this secret from my little corner of the internet was really hard, guys. There was so much I wanted to tell you. Like how I never imagined how buried I would be in dishes. (I figured slow cooker = less mess. Um, no. I have a tendency to destroy my kitchen no matter what I do. The kitchen look like a bomb went off every day by noon, and I ran the dishwasher twice most days.)
I wanted to tell you about how I tried to make a blended kale-zucchini soup and it ended up being the most vile thing that has ever come out of my kitchen. After the initial shock and disappointment, I laughed my head off.
I wanted to tell you about the desserts. Especially about the caramelized whole pineapple and The Big Chocolate Chip Cookie which took me SIX tries to get right.
And the shredded, drippy, tender meat. And ALLLL the soups.
And remember when I had pneumonia back in March? I had planned on hitting the seafood chapter really hard and spent $100 on seafood THE DAY BEFORE I got sick. Right?! All I could think while I felt like death was the fillets and whole fish and lobster tails sitting in the fridge getting funky. I managed to force myself off the couch a couple of days later and throw a lobster tail curry into a pot (which, miraculously, was spectacular), and the rest of the fish into the freezer.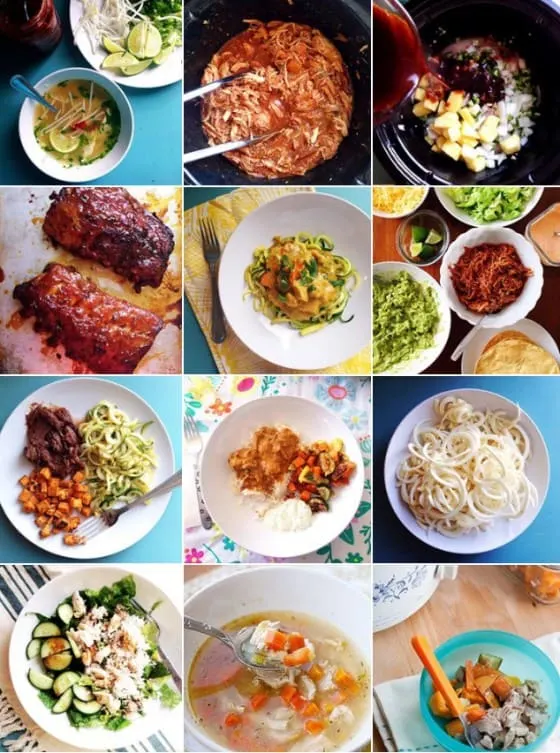 What I did instead was post little snippets from my kitchen and apologize when someone asked me for the recipe and I couldn't give them a link. Gah. It was hard. I went through my Instagram account and hashtagged all of the cookbook-related photos with #BBPaleoSlowCooking so you can see some of the recipe development.
I wanted to tell you how sweet and supportive Steve has been through all of this. Before I signed the contract we talked about how my commitment to this would affect our family, and we even discussed it with the kids. Everyone was on board. My girls were very tough critics and loved rating everything. And you guys…. Steve agreed to clean my slow cookers which amounted to about 6-12 pots per week. And he did (about 98% of the time). That's love right there.
I'm also super grateful for my little group of recipe testers. Thank you for your feedback and for trying out my "iffys"!
Can I also tell you that when I finalized my 200th recipe I actually cried? The nine months I spent developing and writing and rewriting and redeveloping and being so mentally exhausted took a toll on me, but I loved doing it. I loved it more than I thought I would, and I'd happily do it again — but not for a while because writing a cookbook and taking care of three small children and a baby is no joke. When I realized I was finished with the brainstorming and the experimenting I was so relieved. And grateful that I didn't run out of ideas (because that was a legitimate concern).
Also, I wanted to say thank you. Maintaining a food blog and honing my cooking/writing/photography skills all these years is the reason I got to do this. And YOU are the reason I kept blogging for so long. Knowing I have inspired a few of you to like being in the kitchen, to win over a picky eater with one of my recipes, and to make family dinner time more of a priority means the world to me. Thank you for your long time friendship and for your support and kindness. xoxo
More exiting things to come. :)