Moab, UT | Excursions with Small Children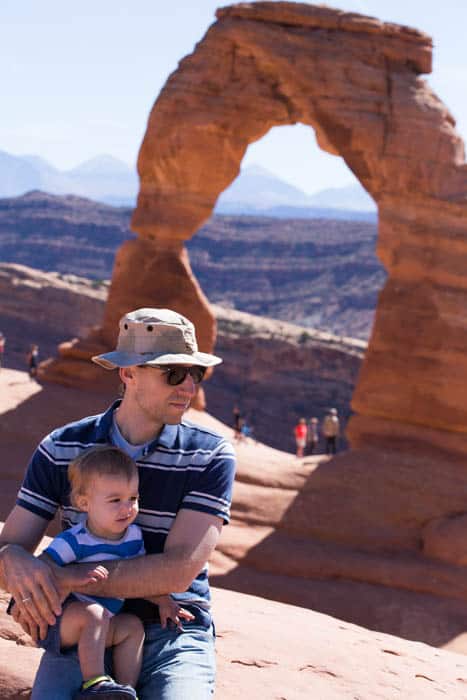 When I was researching activities for us in Moab, it became clear that many of the popular activities — canyoneering, zip-lining, mountain biking — wouldn't make our list because our children are too young. That didn't stop us from having a great time, though. There is SO much to see around Moab, and I'll take you through the parks we went through and our favorites sites.
Arches National Park
We made several trips to Southern Utah when I was growing up, and I've always loved the rugged landscape and rock formations. Steve had never been, so I was excited to show him and the kids around.
The number one thing I wanted to do was hike to the Delicate Arch, so we hit Arches National Park first and went straight to that hike while everyone was still excited and energized.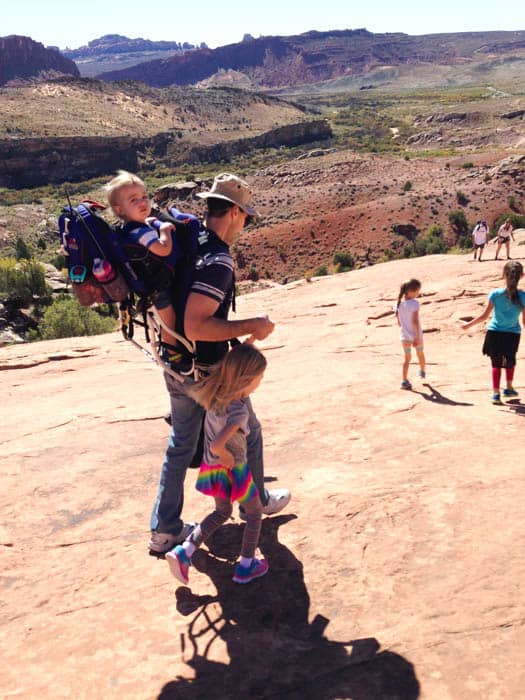 I hesitated taking the kids on that hike because, according to the park's website, it's a "difficult" hike. It's about 1.5 miles each way and some of the ascent is steep and over slick rock areas.
After a few minutes we noticed elderly hikers and heavily pregnant women walking back down, so I felt confident it was something the kids could do. We stuck our little guy in a hiking pack, which was the best idea. I can't even make it through Target if he walks by himself, and he was happy up there with his bag of snacks.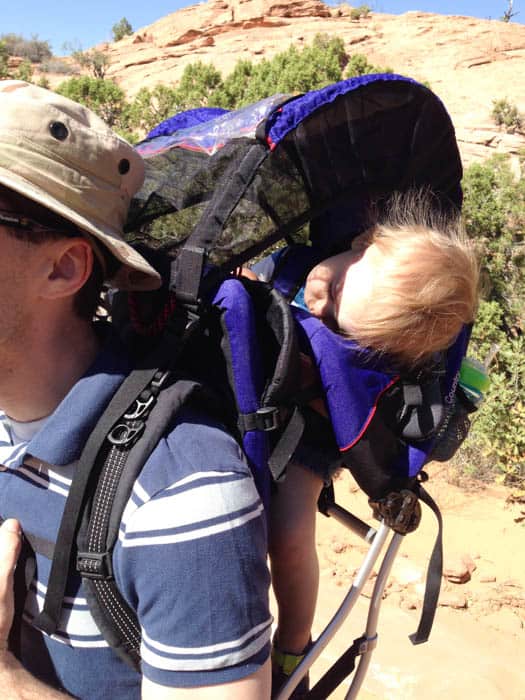 And then it was naptime.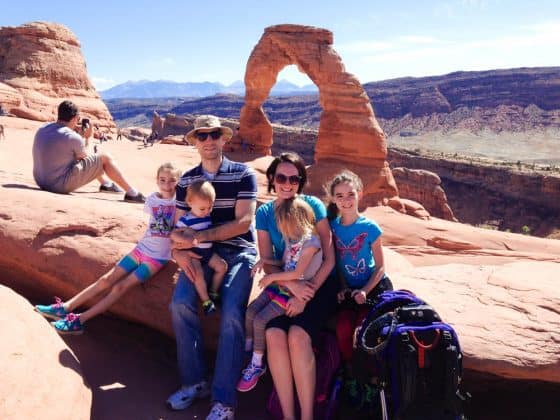 The kids were thrilled when we got to the arch. Delicate Arch is the most famous arch in the park (and graces some of the Utah license pates) and it's hard to describe how massive and beautiful it is.
We all made it to the arch and back alive and with minimal whining, so I call that a win.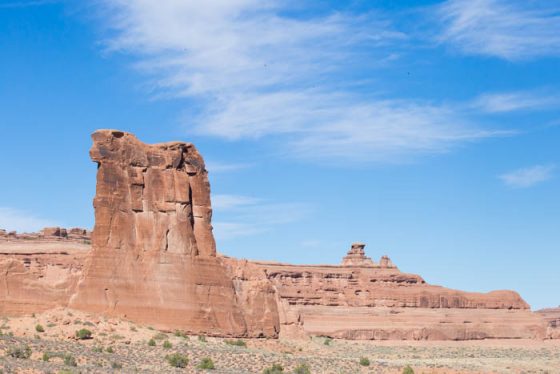 (Photo by Steve Perry)
The kids really liked the rock formations, and most of them had names. Like Sheep Rock. (That was their favorite.)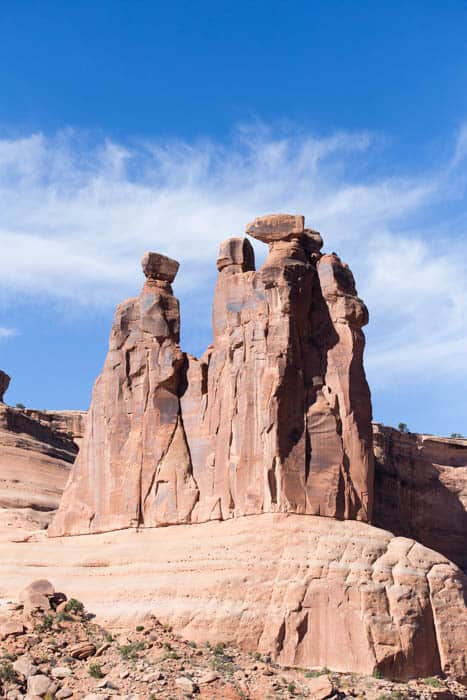 (Photo by Steve Perry)
And the Three Gossips.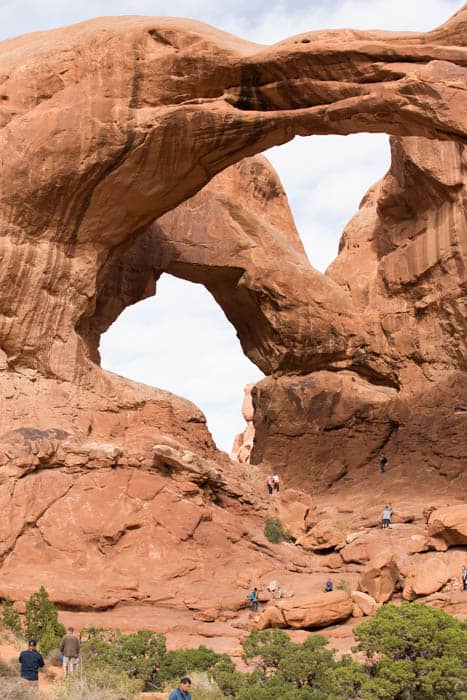 (Photo by Steve Perry)
This is Double Arch. The kids' favorite thing about this park was climbing on the rocks. (My 7-year-old said she felt like a mountain goat.) It makes me wonder why we even bother planning a trip to Disneyland. They had so much fun here finding fun rocks and lizards and climbing around.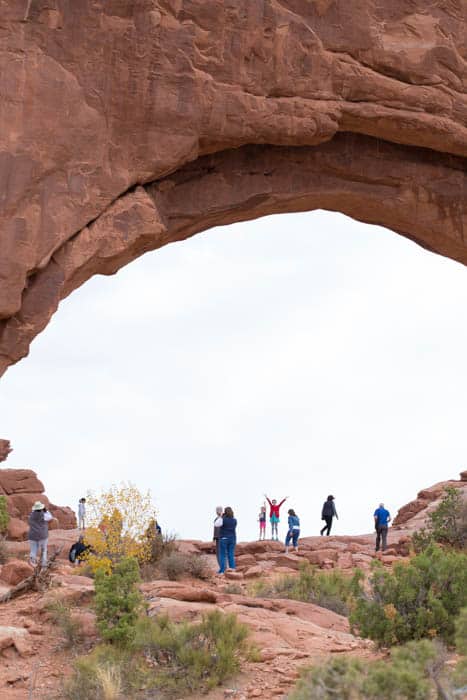 This was one of the arches near the Windows area. It's a busy time of year for the park, so if you happen to go in the fall it might be hard to get a photo without a few other people in it. It was worth it though. The weather was perfect for outdoor exploring. The summers in Moab are pretty brutal.
Canyonlands National Park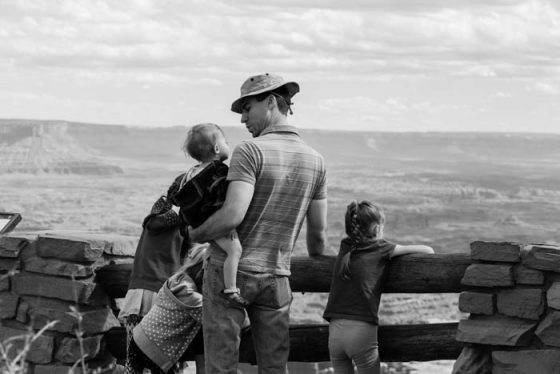 Canyonlands National Park is divided into three main sections — Island in the Sky, Needles, and the Maze. Realistically, you would need at least 2-3 days to see them all. We had one day for the park, so we visited Island in the Sky which is less hiking and climbing and more vista viewing. Like smaller versions of the Grand Canyon all over the place.
Again, more massive rock formations. I wish so much that the photos did this justice!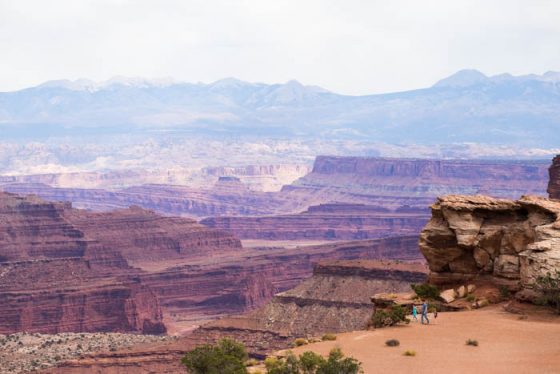 Steve and the girls hiked down to see this canyon while I stayed with a sleeping baby, but I'm glad I got a photo from this angle. See them walking down there?
Dead Horse Point State Park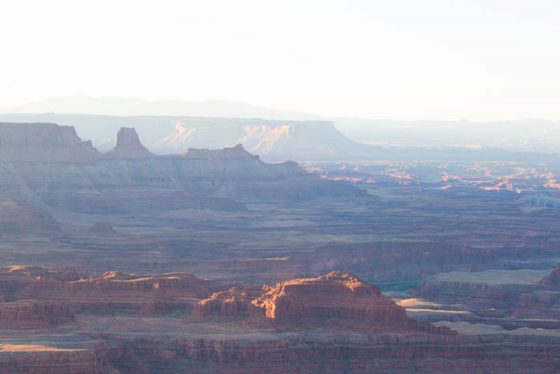 One place I remembered from my trip to Moab as a teenager was Dead Horse Point. If you don't have time to visit both  Canyonlands and Dead Horse Point, go to Dead Horse Point. It's just a single vista point, but it wraps around you almost 360 degrees and it's so vast.
A friend of mine suggested going at sunset, but the day was getting so gray and cloudy, so we didn't end up going. That night I jokingly told Steve we should try to go at sunrise. He was in. We didn't tell the kids — we just pulled them out of bed, put everyone in the car, and said we had a surprise for them.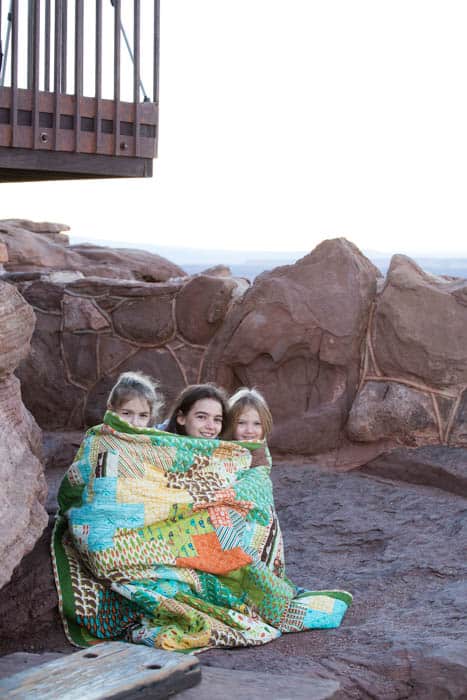 They're smiling, but it lasted about 5 minutes before they wanted to head back to the car. It was pretty cold.
Not at all amused by our sunrise surprise.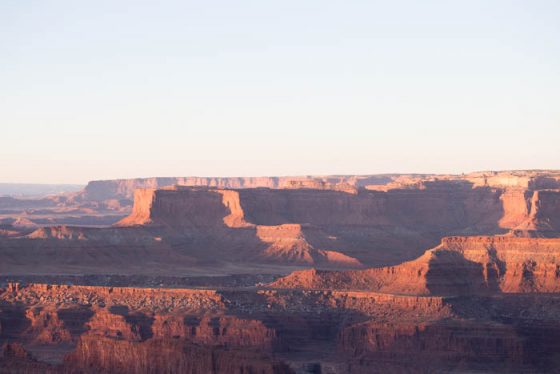 So I stayed back and took more photos and they went back to the van and listened to Harry Potter on audiobook. And then we got some doughnuts to make up for the "surprise".  Party poopers.
Moab Rock Shop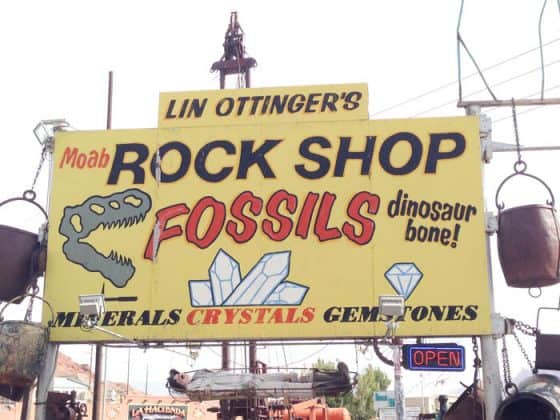 One place I really wanted to take them was the Moab Rock Shop. I had heard a lot of great things about it, and because the kids are obsessed with rocks and crystals, I knew they'd love it.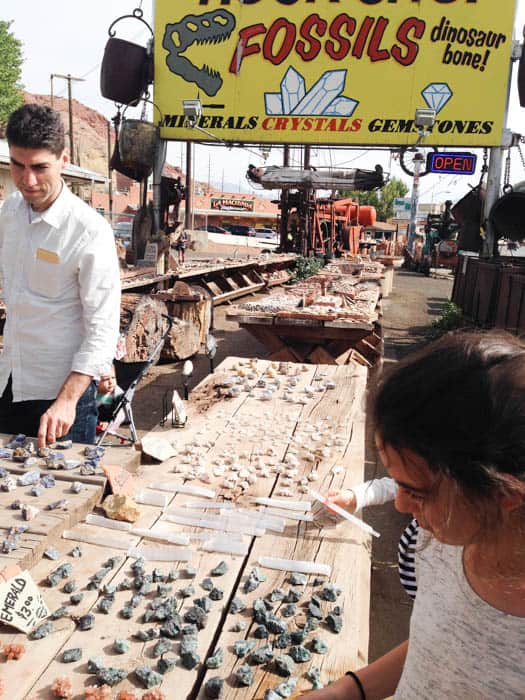 It was the first place we stopped when we arrived in Moab, and boy did the spending money they earned go fast.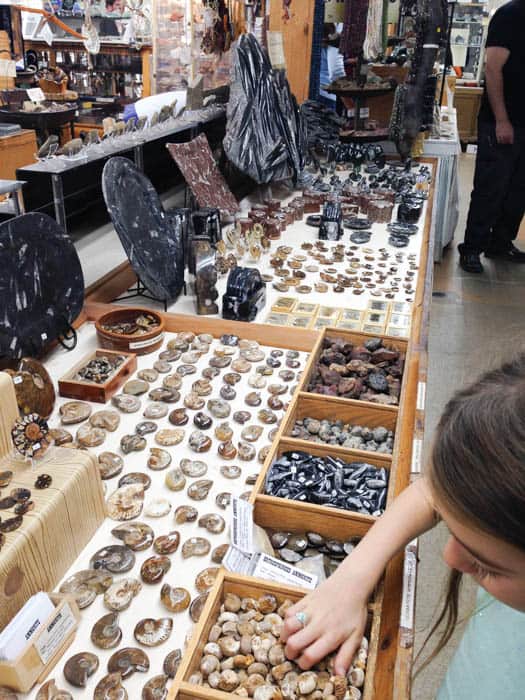 There are a ton of inexpensive rocks, crystals, and fossils that are the perfect little souvenirs for kids. And if you're a hard core collector, you could drop a couple thousand on that big black fossil up there at the end of the table. See? Something for everyone.
Another place we wanted to go was Moab Giants — a dinosaur-themed park/museum that has life-sized replicas of a few dinos and some indoor activities, too. We planned to go on our way out of town, but if you've ever travelled with kids, you'll know that you reach a point where you just can't handle any more activities and everyone is wound up and tired and cranky. A nice 4-hour drive back to Salt Lake was just what we needed.
The kids absolutely loved our Moab trip. It was different from any other place they've been, and they're begging to go back!
Maybe we'll take another trip when they're old enough to zip line….
Check out the rest of our Moab Adventures!
Perrys Do Moab | Homewood Suites by Hilton