Moab, UT | Homewood Suites by Hilton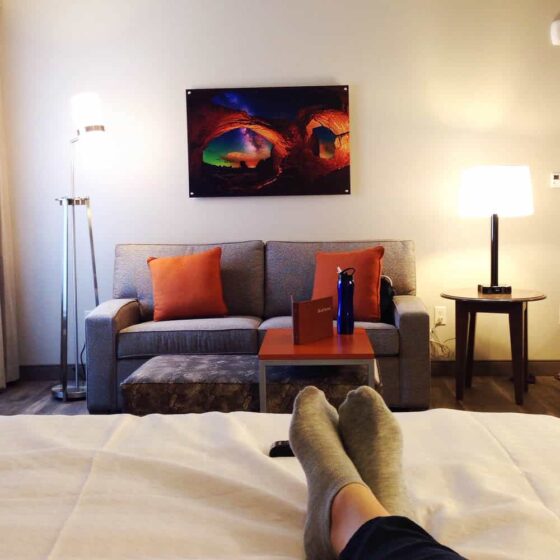 Have you ever been to Moab or Southern UT? It's like an outdoorsy paradise with biking and hiking and lots and lots of places to camp.
If you HAVE been there you might be thinking, "Nat, why are you in a hotel? Don't you know you camp when you go to Moab?"
If you know me, the fact that I posted a pic lounging around in a hotel room shouldn't surprise you.
I'm not a camper. Like, not even a little bit. I may indulge my husband who has been itching to go for years, but not until the last kid is out of diapers.
Oh yeah, and we probably need to buy a tent first…
So, yes, Moab — the non-camping version. Before I tell you about our adventures, I wanted to show you the hotel in which we stayed.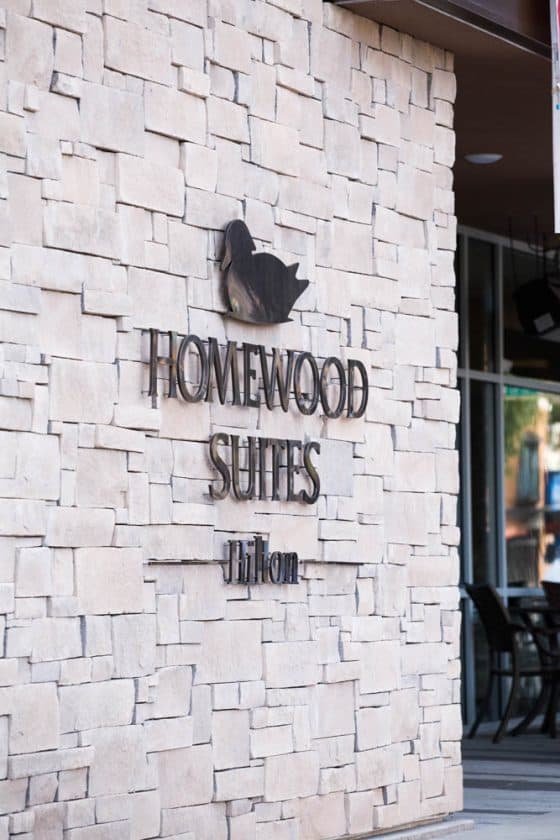 We were excited to stay at a brand new Homewood Suites by Hilton Moab while we were there! By brand new, I mean it had only been open for a few days. And they even installed that sign up there while we were there so it was literally new and shiny.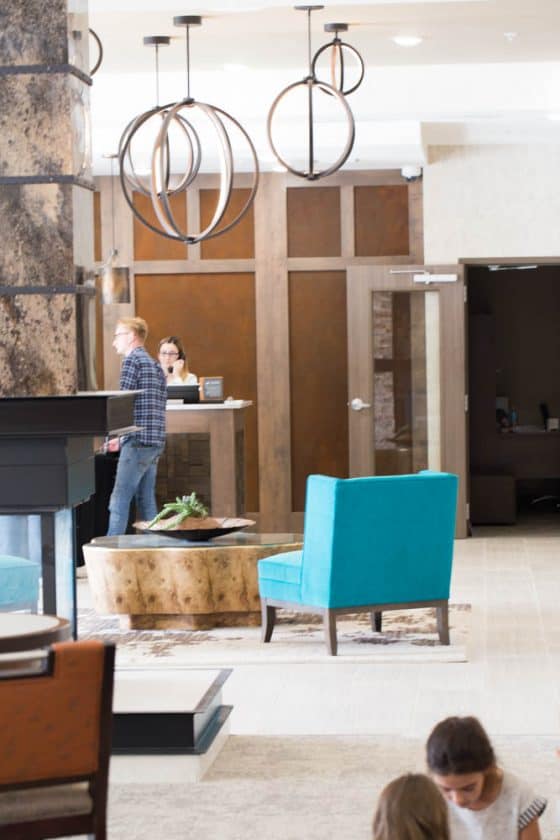 I loved the overall look of the hotel — the interior had a modern, yet rustic feel to compliment the area.
See that turquoise chair? I tried to find an opportune time to stuff it in the back of our van, but those perky front desk employees kept a good eye on things.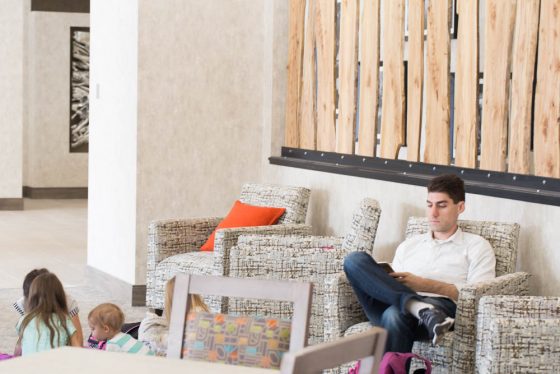 I also loved how they used local businesses and artists to give the place a Moab-like feel — like all of the framed photography of local sites and that cool natural wood divider wall.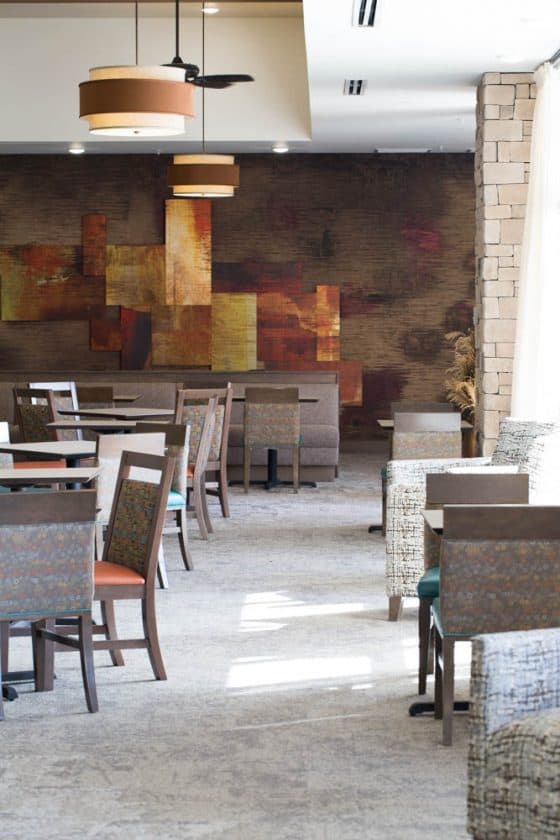 One of our favorite parts about staying here was the full complimentary breakfast they served every morning. We're talking bagels, toast, cereal, eggs, hash browns, bacon, waffles, oatmeal, yogurt parfaits, and pastries. The kids were in heaven and I was relieved to not have to fix breakfast. Or clean it up. Hello, vacation.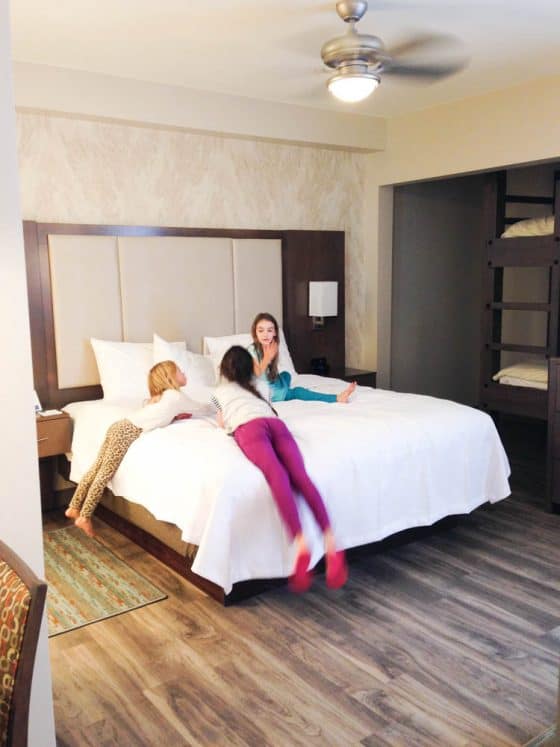 Our room was fun, too! All of the rooms there have kitchens, which was really nice — especially the fridge space. I loved that it had hard floors, too. Hotel room carpet (and carpet in general) grosses me out, because you never know what germy mess is lurking deep inside. I may be a little paranoid, but I know some of you out there know what I'm talking about. So, a big thumbs up for hard floors.
We had a king studio suite which had a king sized bed, two bunk beds (you can see them poking out on the right), and a sofa bed. We had a pack-n-play for the baby, too, that they let us use, so everyone slept comfortably.
But.
If you plan on getting a studio and you have children, just be aware that you'll probably all have to go to bed at the same time because you're basically sleeping in the same room. No watching movies after the kids go to sleep. That was actually OK though because were exhausted anyway from our excursions during the day.
Also, turn off the ice machine at night because it might wake the baby up. Just sayin'.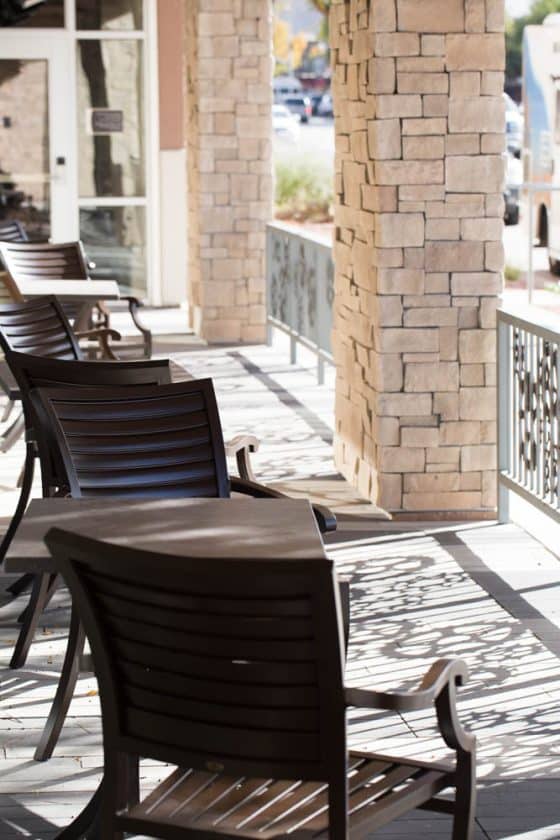 Let's see… the hotel's location is perfect. It's right on Main Street and easy to find. The staff was friendly and helpful and we had everything that we needed. We'd definitely consider another stay on a return trip.
My only regret was not having more down time while we were there to just sit outside and soak up the warm-but-not-too-warm sunshine. But such is a vacation when you're packing kids along with you. We had a blast, so I wouldn't want it any other way.
Check out the rest of our Moab adventures!
Perrys Do Moab | Excursions With Small Children
Disclosure: Homewood Suites Moab provided our accommodations during our stay. I did not receive any monetary compensation for writing this post, and as always, all opinions are my own.