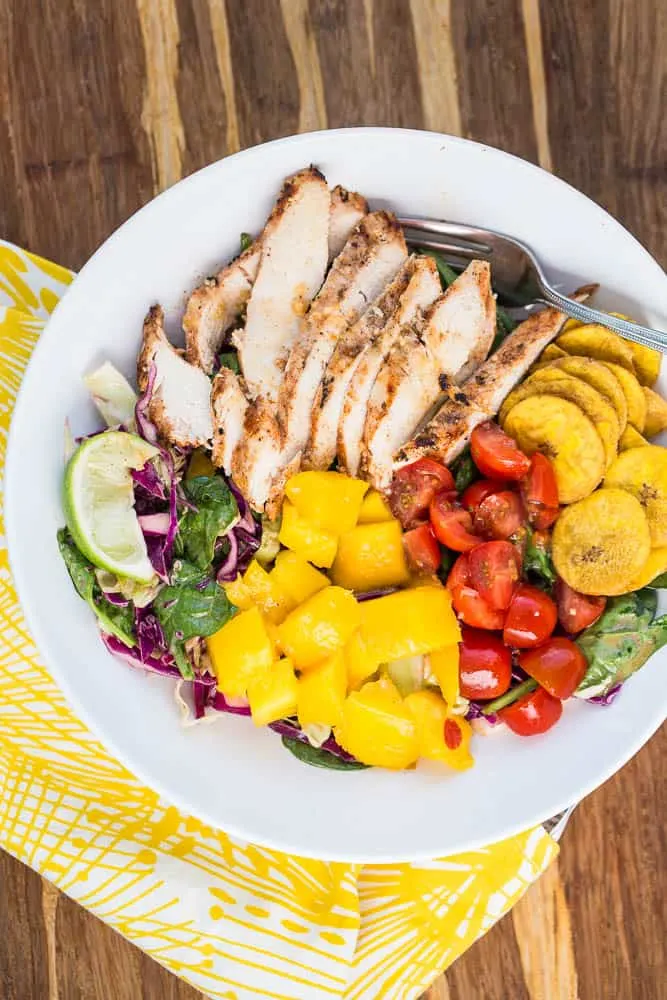 Wow. What a week.
I'm super excited to tell you about this salad with jerk chicken & mangoes, but first I want to say THANK YOU.
SO many of you have received The Big Book of Paleo Slow Cooking already (I'm still wondering how that happened because the release date is tomorrow…?) and have been texting me and tagging me and telling me how much you love it! I feel like I've been on an enormous high all week.
To celebrate I've got FIVE giveaways over on my Instagram account during Aug 1-5! Head over and follow along for a chance to win signed copies of my book, some goodies from Primal Kitchen and Julie's Real, Amazon cash, and an INSTANT POT. Or a slow cooker. Whichever you prefer.
Well, that enormous high was interrupted frequently by the chaos that is summer break. I try to love summer break and have fun with my kids, but dang. Why do they make it so hard to loosen up and have fun? Feral monkeys, they are. You give them an inch…
We did have one glorious hour this afternoon where they were sitting around the kitchen table happily painting. I was feeling like a cool mom (this should be a red flag, really) so I let them pull out some glitter.
I had banned glitter in 2012. It gets into cracks and crevices EVERYWHERE and on EVERYONE.
I'm not sure why I assumed today would be different. Maybe because my kids are all five years older? When the glitter comes out, suddenly they're three again.
They started putting gold glitter on their faces after a while, and I did my motherly duty and warned them that it would be miserable if they got it in their eyes. (Scratched cornieas!) They responded by putting more on their face and in their hair.
I reinstated the glitter ban. Possibly for life — with the exception of Christmas craft projects.
I have to say though, having a glittery kitchen floor is kind of cool.
Oy. Girls. And one sparkly little boy.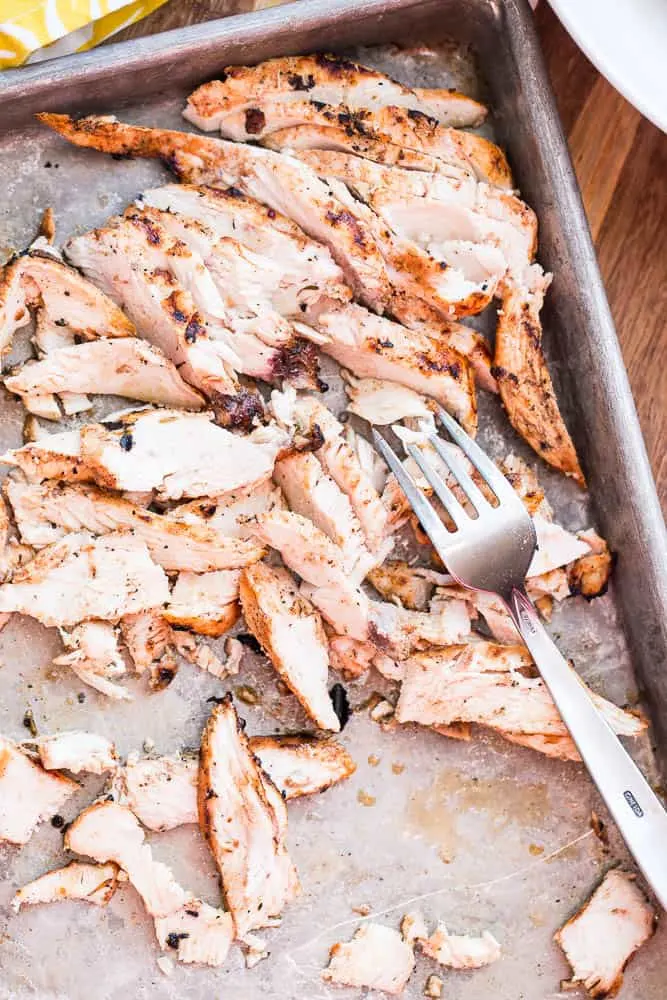 Oh right. THISSSSS. I don't think it's possible to have too many grilled chicken recipes. Truly.
Jerk seasoning is traditionally on the hot side, but I made some of my own, and toned it down for the kids. I included the jerk seasoning recipe in my cookbook, but you can use store-bought (I love Spicely's jerk seasoning because it's salt-free!) or use a quick Google search and throw together your own.
Mangoes tone down the heat nicely, too. And the creamy lime vinaigrette is SUPER good with this. It was the finishing touch on this salad.
I take that back. The plantain chips were. OK, maybe they both were. I'm a little obsessed with plantain chips lately — especially the roasted ones at Trader Joe's. At first I was leery because I hadn't eaten plantains before and they look dangerously like bananas. Bananas = barf.
I even thought they tasted odd at first, but when I realized they had a potato chip vibe going on I was hooked. They are quite starchy so I try not to eat an entire bag in one sitting. It's hard though. Especially if there's guac around.
Long story short…
Glitter is bad.
Jerk chicken is the bomb.
Plantain chips are also the bomb.
Speaking of plantains and Caribbean-inspired recipes, I think I'll give this Caribbean Chicken Bowls with Grilled Plantains from Taylor at Food Faith Fitness a try. (I've never grilled a plantain before!)
---
If you make one of my recipes, be sure to post it on social media and tag me at @perrysplate or #perrysplate so I can send you some love!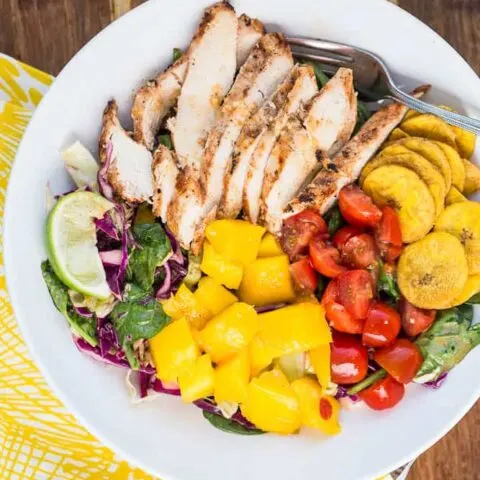 Grilled Jerk Chicken & Mango Salad
Additional Time:
30 minutes
Just a quick rub with some jerk seasoning turns regular grilled chicken into amazeballs grilled jerk chicken! You'll love the colors and flavors and textures in this grilled chicken salad.
Ingredients
For the chicken:
2 pounds chicken breasts or thighs
2 Tablespoons avocado oil
Juice from 1 lime
1 Tablespoons jerk seasoning
1/2-1 teaspoon sea salt (see note)
For the dressing:
Zest from 1 lime (about 2 Tablespoons)
1 Tablespoon paleo-friendly mayonnaise
2 teaspoons apple cider vinegar
1 teaspoon Dijon mustard
1 teaspoon jerk seasoning
1/4 teaspoon sea salt
1/2 cup avocado oil
For the salad:
1 small head of cabbage (red or green or half of each), shredded thinly
2-3 handfuls of baby spinach, torn
3 mangoes, peeled, pitted, and chopped
1/2 pound quartered cherry tomatoes
plantain chips (optional)
Instructions
Place the chicken in a large bowl or a zip-top plastic bag.
In a small bowl, stir together the oil, lime juice, jerk seasoning, and salt. Pour the marinade over the chicken. Chill and let it marinate for at least 2 hours, up to 24 hours.
When you're ready to prep the salads, preheat your grill to high heat.
Whisk together the dressing ingredients (except for the oil). Slowly drizzle in the oil while you're whisking. Set it aside.
Turn the grill down to medium-high heat. Grill the chicken, turning a couple of times during grilling, until the chicken is cooked through and the juices are running clear. Remove from the heat and set aside. Let it sit for 5 minutes before slicing.
In a large bowl, combine the salad greens. Pour 2/3 of the dressing over the greens and toss to combine.
Assemble individual salads by placing a bed of salad greens in each bowl and topping it with sliced chicken, mangoes, tomatoes, and a handful of plantain chips (if using). Drizzle a bit of the remaining dressing over the top.
Notes
Nat's Notes:
If your jerk seasoning has a high salt content, use 1/4-1/2 teaspoon of salt in the marinade. Use more if your seasoning doesn't have salt, up to 1 teaspoon of salt.
I love the Roasted Plantain Chips sold at Trader Joe's, but you can use any plantain chips you like! If you're doing Whole30, omit the plantain chips.
Disclosure: This post contains Amazon affiliate links. Purchases made by using these links doesn't cost you any extra and provides Perry's Plate with a few pennies to keep the lights on.
SaveSaveSaveSave