Throw Anything In Burritos
I used to hate looking in the fridge and seeing "almost-gones". You know what I mean – half-empty can of beans, part of a tomato, or a smidgen of feta that's begging to be used. These poor leftovers have no recipe planned for them and may be doomed to "science experiments" if they're left neglected too long. I hate throwing food away, so I started making "clean out the fridge" or "throw anything in" meals. Meals like pasta dishes, stir-frys, and burritos have saved many leftovers in my fridge from turning into fuzzy critters.
Burritos are especially good for this because:
1. If you chop vegetables small enough, mix it with some ground beef and season it, you can hide almost anything.
2. It also saves on dishwashing time because you throw everything into one skillet. Everything you need is in there – like an all-inclusive resort. The only thing we ever add to our burritos is some sour cream and grated cheese (and guac if we happen to have some avocados on hand).
3.This is a good way to stretch your ground beef. By throwing in a bunch of other stuff, you can use less meat at each meal. You could even take out the beef entirely and make them vegetarian.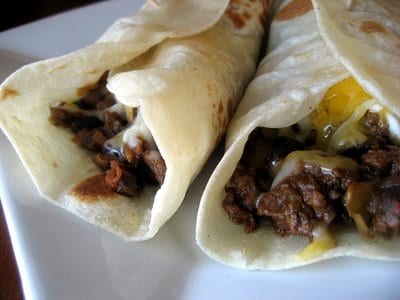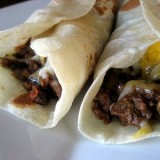 Throw Anything In Burritos
Ingredients:
Here's the base recipe . . . just like you would normally make:
1 - 1 1/2 lbs ground beef or turkey
3-4 T taco seasoning (one packet)
1/3-1/2 c water
Here are some optional add-ins that can either replace or add-to the ground beef:
beans* (any kind)
onions* (any kind)
zucchini*
fresh spinach*
tomatoes* (canned or fresh)
bell peppers*
carrots
celery
peas
basically any vegetable would work...
salsa*
diced green chilies*
fresh garlic*
fresh jalapeno
tomato sauce or chicken broth (could replace some or all of the water)
Be creative!
*Add-ins that work especially well and that we liked a lot.
Directions:
Thaw beef thoroughly before placing in a skillet heated to med-high. Add any ingredient that requires longer to cook (i.e. onions, carrots, zucchini, bell peppers). Add garlic, if using. Cook until the ground beef is brown and cooked through, stirring frequently. Drain grease, if necessary.
Add in the remainder of ingredients you wish to use as well as the seasoning and water. Cook for about 5-10 minutes more until everything is heated through and the sauce begins to thicken.
Serve in warm tortillas and top with sour cream and shredded cheese. Makes about 4-6 burritos.
Nat's Notes:
1. Don't worry too much about measurements. When you get done adding ingredients you should have about as much food in your skillet as when you cook 1 to 1 1/2 lbs of ground beef. If you have a lot more, just adjust the seasoning and water to achieve the taste and texture you would like.
2. I've been converted to the uncooked tortillas found at Costco (shown above). They cook up in just a few minutes, and you can have a batch of them finished while you're making the burrito meat.