Thai Peanut Turkey Burgers
The thought of putting peanut butter in a burger intrigued me when this recipe popped up on my reader from
Cara's Cravings
. I was feeling daring, so I put it on my to-do list. Steve and I love Thai food, so I guess having peanut butter in a savory dish wasn't too far off for us. Anyway, it was fabulous! The ingredients are really balanced in this burger. I didn't feel like there was too much PB or carrot (that's why it's orange), and it had the perfect amount of spice. And using ground turkey was perfect because ground turkey needs a little more "oomph" in flavor than ground beef.
Sophie even ate some. I couldn't help but do a little dance on the inside when she unknowingly ate a few bites of something with carrot in it. She doesn't eat carrots. I made some
sweet potato fries
to go with the burgers, but she didn't eat any. She thought they were carrots. :)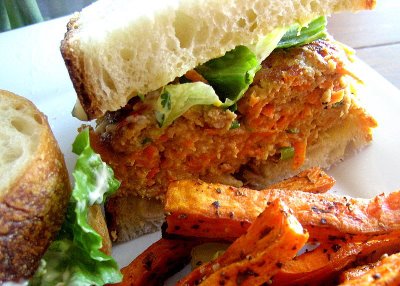 We didn't have any buns on hand, so I toasted some rustic sourdough bread. I'd rather have that than a bun any day.
Thai Peanut Turkey Burgers

Ingredients:

8 oz ground turkey
1 medium carrot, shredded
1 large scallion, minced
1/4 tsp sesame oil
1 tsp chili garlic sauce
2 tbsp natural peanut butter
freshly ground salt & pepper
1/2 tsp ground ginger
2 tbsp light mayonnaise
handful of cilantro, finely minced
1-2 tsp chili garlic sauce
hamburger buns of your choice
mixed greens

Directions:

Combine burger ingredients a mixing bowl and combine thoroughly. Using your fingers to gently blend the mixture together works best. Try not to squeeze everything through your fingers.

Heat a skillet, grill pan or outdoor grill over medium-high heat. Form the turkey mixture into two, tightly-packed patties. Cook for about 7-10 minutes per side, until cooked through.

In a small bowl combine mayonnaise, cilantro and 1-2 tsp chili garlic sauce. Serve burgers on buns with cilantro-chili mayo and greens.

from Cara's Cravings (slightly adapted from A Good Appetite)