Oatmeal Sprinkle, Take Two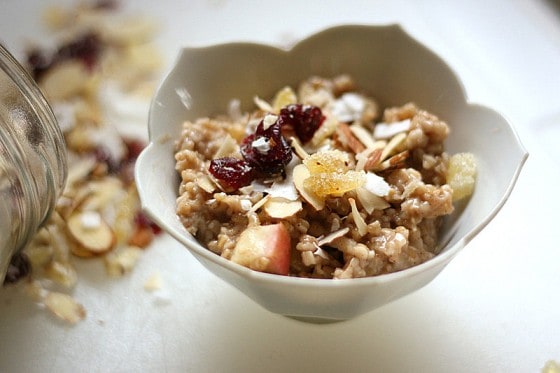 (If you haven't had the chance to enter my birthday giveaway, head over and leave a comment on THIS POST. Comments close tomorrow!)
For those who saw a text-less post this morning on your feed readers, I apologize. I scheduled this post without going back and finishing it. Oops.
A few people have asked me what I was doing when
I almost sliced off my finger
. Well, I was chopping candied ginger for oatmeal sprinkle, which is rather sticky and hard to work with. I won't go into the gory details, but it's doing much better. The stitches are out and my finger is healing nicely, allbeit ugly. It'll be a while before the evidence has disappeared.
So what's oatmeal sprinkle? A mixture of nuts, coconut, and dried fruit that we like to sprinkle on our oatmeal. We eat a lot of steel cut oats, especially in the winter, and a few crunchy and chewy bits gives it a boost of flavor and some interesting texture. After several days of opening four different jars of nuts and such to put on my oatmeal, I had the "brilliant" revelation to make a mixture of the four ingredients and put it in a jar of its own. I wonder why it took so long for me to do it. (Duh.)
I'm not sure if I'd call this a recipe. You can use whatever nuts and fruit you like. My favorite mixture is sliced almonds, unsweetened coconut flakes, dried cranberries, and candied ginger. (And sometimes some mini chocolate chips, if I'm feeling indulgent.) We usually cook apples, pears, or berries into our oatmeal and this mixture compliments it nicely. It also adds some sweetness so you can remove most (or all) of the sugar in your oats without sacrificing flavor. You can also sprinkle it on pancakes or waffles while you're cooking them or afterwards with a drizzle of maple syrup.I added the measurements for this mixture plus some suggestions for substitutions. If you have a grocery store that has a bulk foods section (like Winco or Whole Foods), the possibilities are almost endless. And much less expensive than if you purchase the ingredients in packages. I store my bulk items like this in quart or pint-sized mason jars in my pantry.
Sprinkle away!
Oatmeal Sprinkle

Ingredients:

1 cup sliced almonds
1 cup unsweetened coconut flakes
1 cup dried cranberries
1/2 cup minced candied ginger

Directions:

Combine all and store in an airtight container at room temperature. Makes 3 1/2 cups.

Sprinkle on cooked oatmeal, pancakes or waffles.

Other suggestions:
Other types of nuts or seeds (chopped whole nuts, sunflower seeds, pepitas, flax, etc.)
Other types of dried fruits or berries (raisins, blueberries, chopped mango, strawberries, dates, etc.)
Spices (cinnamon, nutmeg, cloves, pumpkin pie spice, etc.)
mini chocolate chips