This Middle Eastern Inspired Spice Blend is so good in a marinade! Mixed with some lemon juice and oil it creates the BEST grilled chicken!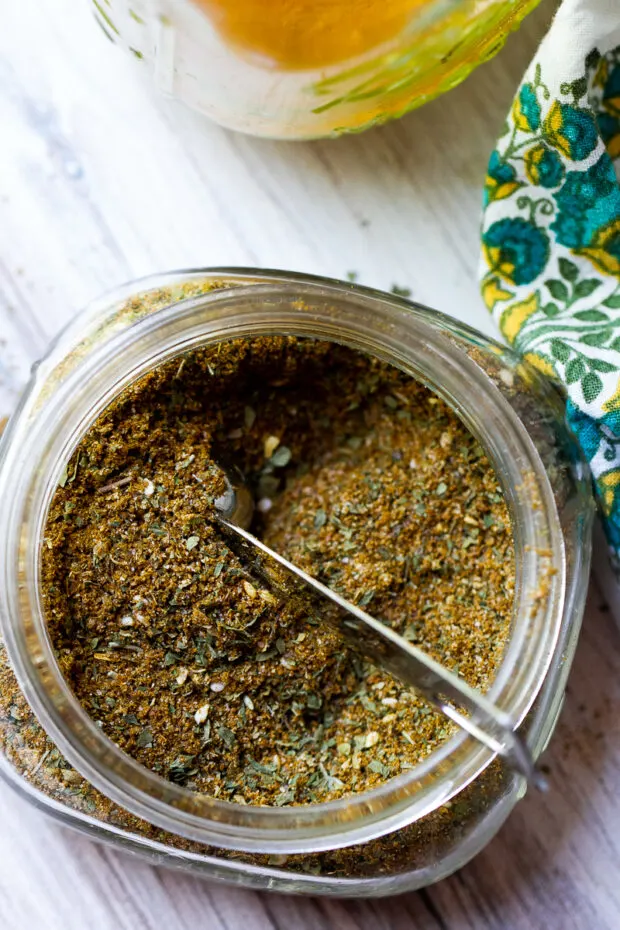 Do you like to make your own homemade seasoning blends? I LOVE it. It makes me feel really cheffy reaching into the cabinet and using a blend that I made.
This Middle Eastern Seasoning blend is super delicious. You'll love it.
I added some recipes at the end of this post that would work well with this Middle Eastern inspired seasoning blend.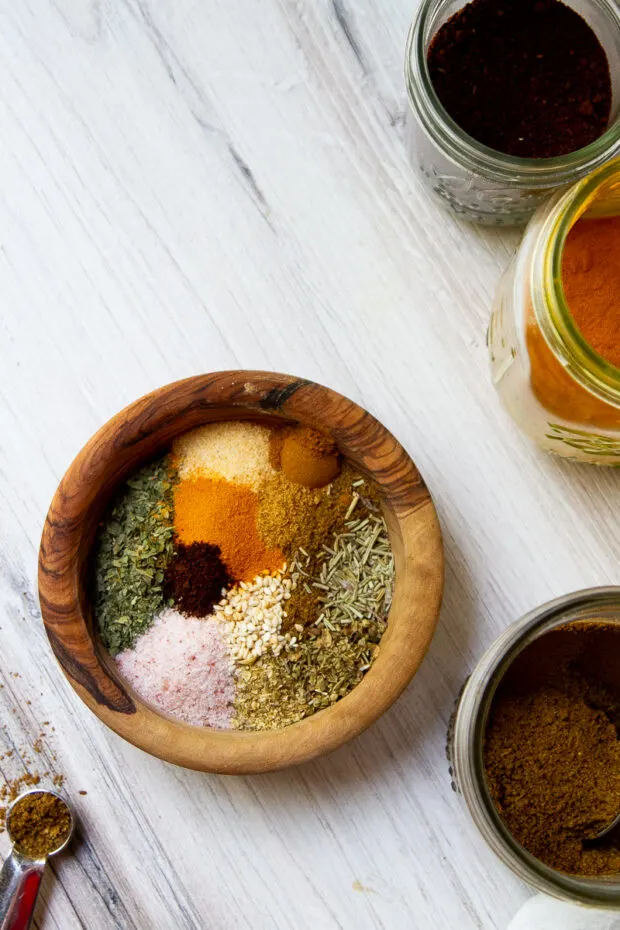 What's in Middle Eastern Seasoning?
If you have a well-stocked spice cabinet, you should already have most of these seasonings:
Cumin
Dried Parsley
Granulated Garlic
Sesame Seeds
Salt
Ground Coriander
Dried Oregano
Dried Rosemary
Turmeric
Cinnamon
Ground Cloves
Cayenne (optional — leave this out if you don't want the heat)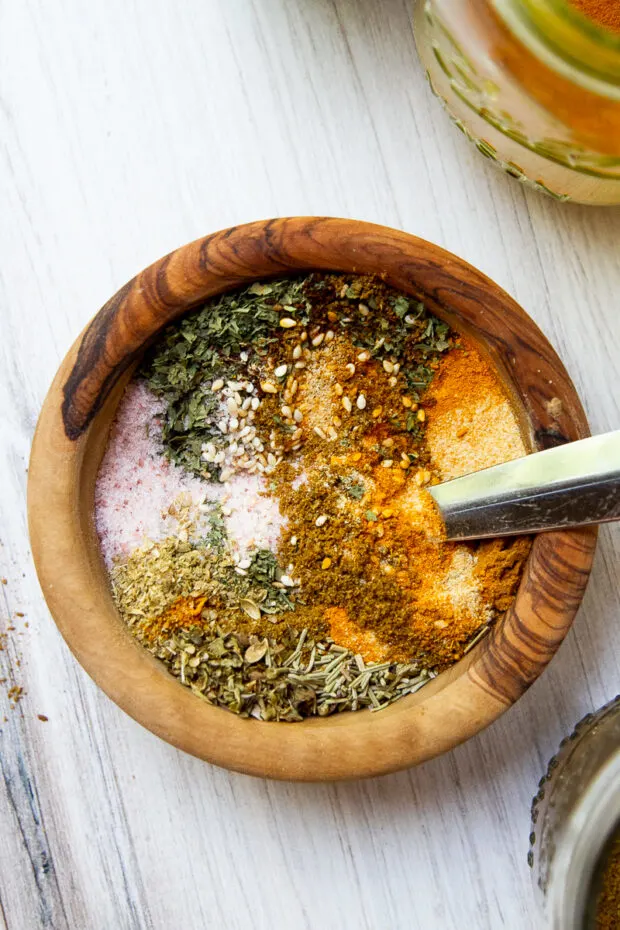 What does Middle Eastern Seasoning taste like?
It has a cumin-parsley-garlic base and reminds me of a riff of off curry powder with its touch of turmeric and cloves. It contains more herbs and some sesame seeds, too. It's really great!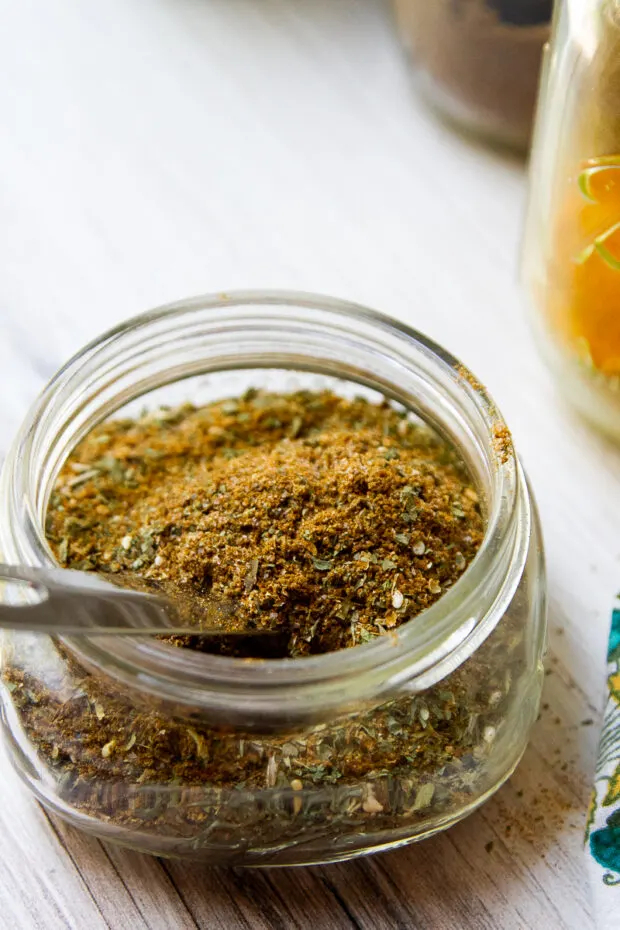 How to Use Middle Eastern Seasoning
Our favorite way to use this is to blend it with some oil and citrus juice to use as a marinade for grilled chicken skewers!
It would also be great in a rice pilaf or adding it to some olive oil and dip pita bread into it. Yum!
Gyro-Inspired Shredded Beef is super easy to make! Just rub a big beef roast with this seasoning and throw it in your slow cooker (or Instant Pot!) with a sliced onion and some fresh garlic. You'll have the most delicious shredded beef to make Greek-inspired bowls!
---
If you make this recipe, be sure to post it to social media and tag me at @perrysplate or #perrysplate so I can send you some love!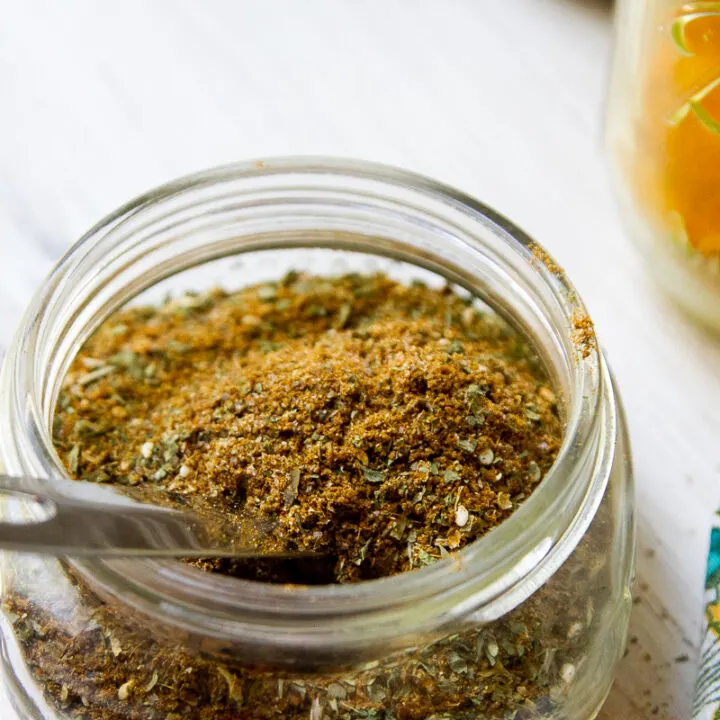 Middle Eastern Spice Blend
Use this exotic (but easy!) mixture to add some Middle Eastern flavor to marinades, spice rubs, dips, or even roasted vegetables.
Ingredients
1/4 cup cumin
3 Tablespoons dried parsley
2 1/4 teaspoons garlic powder
1 teaspoon sesame seeds
1 teaspoon salt
1 teaspoon ground coriander
1 teaspoon dried oregano
1/2 teaspoon crushed rosemary
1/2 teaspoon turmeric
1/4 teaspoon cinnamon
1/8 teaspoon ground cloves
1/8 teaspoon cayenne
Instructions
Combine well, and store in an airtight container. Makes about 2/3 c.
This post may contain affiliate links. Any purchases made by using these links won't cost you any extra and helps keep my content free. These links may be Amazon links as I am part of the Amazon Associate Program.