Every year when zucchini is ripe and abundant I get all excited want to make grilled zucchini every night for dinner and make Paleo Zucchini Flatbread, Pesto Zucchini Noodles with Broccoli & Bacon, and Italian Paleo Stuffed Zucchini with Turkey Sausage.
And then I remember that my kids hate zucchini. *sob*
I can get away with making those gingerbread pancakes because they'll eat pretty much anything if it's cooked into a pancake.
Grilled zucchini is one of my favorites though — especially this version with the herb-y vinaigrette that gets poured over it while the zucchini is still hot from the grill.
This recipe is great if you have a flexible time table, too since it's equally as good at room temperature.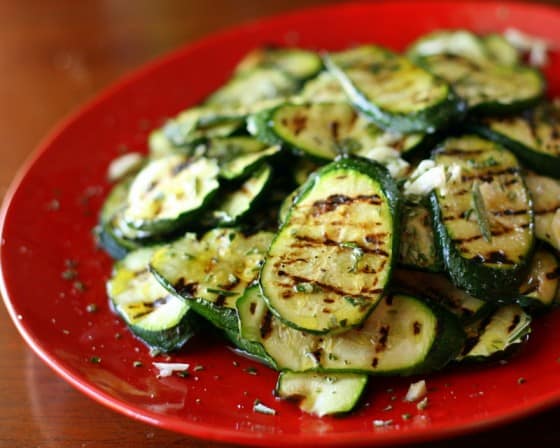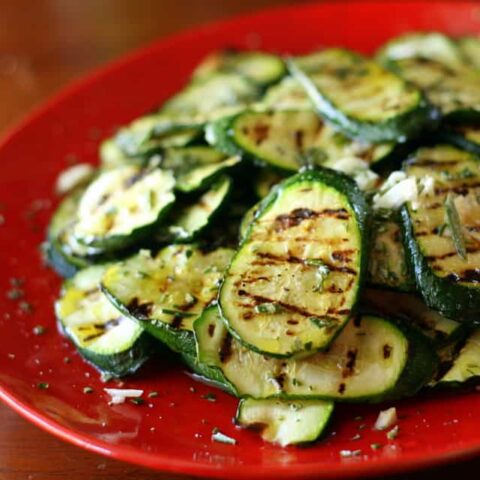 Marinated Zucchini
Yield:
Serves 4-6 as a side
Grilled zucchini is such a great summertime side dish. The fresh herbs and vinaigrette added after grilling adds so much flavor!
Ingredients
3 or 4 medium-sized zucchini, sliced diagonally into 1/4-inch pieces
2 cloves of garlic, minced
3 Tablespoons vinegar of your choice (red wine & balsamic are my favorites)
4 Tablespoons extra-virgin olive oil
2 Tablespoons fresh minced herbs (mint, rosemary, thyme, basil, etc.)
pinch of Kosher salt & black pepper
Instructions
Preheat a BBQ grill or stove-top grill pan to medium-high heat.
Add zucchini slices to hot grill and cook for about 4-5 minutes on each side or until nice grill marks form and zucchini is tender, but not mushy.
Place grilled zucchini on a platter and top with remaining ingredients. Mix to ensure everything is coated (using your hands works best) and it's best if it sits for about an hour before serving.
Notes
Nat's Notes:
1. Why cut the zucchini diagonally? Cutting them at an angle creates larger slices without making them thicker. Larger slices are easier to grill. And they look prettier.