These zucchini noodles are laced with fresh basil pesto and bacon. Because bacon always makes things better.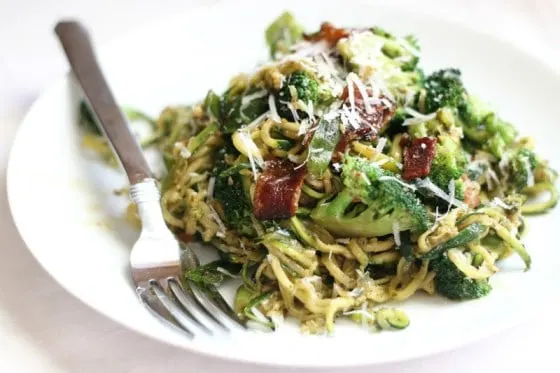 You may have guessed that those "noodles" aren't really pasta, but julienned zucchini. Zucchini noodles are a great alternative if you're eating paleo, gluten-free, or low-carb. I feel like I'm the last one in the blogosphere to try them out.
Why did I wait so long? A mandoline
, my friends. I was holding out for a mandoline. After asking around on Twitter doing some serious research, I found one that I liked, and after multiple uses, I still like it. If you've never used a mandoline slicer, you're missing out on some seriously cool slicing action. And perhaps having a finger nearly sliced off. Given my track record with sharp objects, I probably shouldn't be allowed to use a mandoline. I've been good about using the guard, though. No blood shed. . . yet.
At the end of 2015 I finally got this spiralizer, and I've been happily using that instead of the julienne attachment on my mandoline.
To prepare the "noodles" I used a technique I saw in Vegetable Harvest
by Patricia Wells where she sprinkled the julienned zucchini with salt and let it rest in a colander to extract the moisture. In that particular recipe, she just tossed it with a simple creamy dressing and was finished. I squeezed it out a little, then threw it in a pan for a few minutes to warm up.
I was surprised at how the texture and appearance of the zucchini resembled actual pasta. I think I even giggled a few times. My kids were hesitant (I'm still trying to get them to like zucchini. Tonight we made some progress!) but I think after a few tries they'll be slurping up those "noodles" like nobody's business.
Especially if it's got bacon sprinkled in it. Bacon is my insurance if I'm not sure if something will turn out well. Throw a little bacon in and a mediocre dish will rise to "pretty good" status. Instantly.
I really don't think I needed the insurance with this, though.
Disclosure: This post contains a Amazon affiliate links. Purchases made by using these links won't cost you any extra and give Perry's Plate a few pennies to help maintain the site and sponsor giveaways.
SaveSave
SaveSaveSaveSave
---
If you make one of my recipes, be sure to post it on social media and tag me at @perrysplate or #perrysplate so I can send you some love!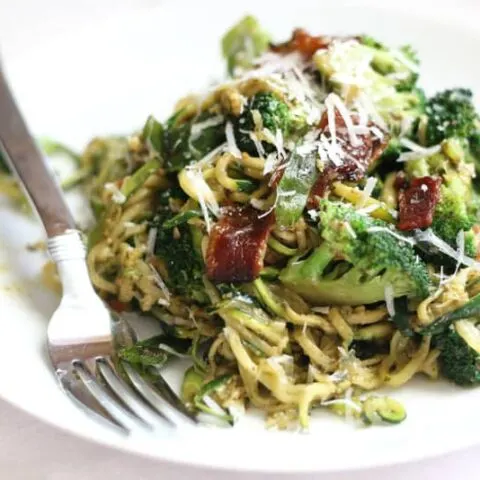 Pesto Zoodles with Bacon & Broccoli
Additional Time:
30 minutes
If you're new to zoodles, this is a perfect intro. The bacon is there for insurance, but it really stands on its own!
Ingredients
4 medium zucchini, julienned thinly (mandoline slicers are great for this)
generous pinch of salt
6 slices of uncooked bacon
1/2 cup green onions, sliced into 1-inch pieces
2 cups broccoli florets
2-3 T prepared basil pesto
Fresh Parmesan or Romano cheese, for garnish
Instructions
Place zucchini strips in a colander over a bowl or in the sink. Sprinkle zucchini with salt and toss to combine. Let the zucchini sit for 15 minutes while the salt extracts the moisture. Drain excess water, squeezing zucchini, if necessary.
Meanwhile, cook bacon in a skillet over medium heat until crisp, turning frequently. Remove bacon to a stack of paper towels to drain. Crumble bacon. Remove all but 2 T of bacon drippings from the pan.
Return the pan to medium heat. Add the green onions and broccoli, stirring frequently for about 3-5 minutes or until crisp-tender. Add zucchini and 2 T of pesto, tossing to combine all ingredients.
Taste and add more pesto, if needed. The mixture only needs to warm up, so 2-3 minutes of cooking ought to do it. Serve with bacon crumbles and freshly grated Parmesan cheese.
This post may contain affiliate links. Any purchases made by using these links won't cost you any extra and helps keep my content free. These links may be Amazon links as I am part of the Amazon Associate Program.