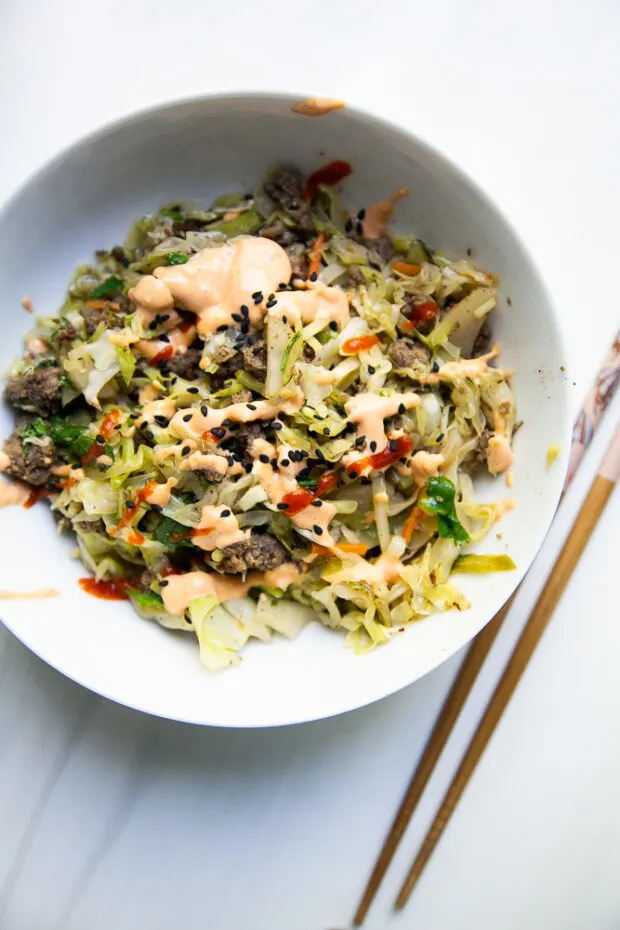 Egg Roll in a Bowl has become pretty popular lately! I've been making these for a few years, but for some reason never posted it.
My kids LOVE these bowls. They're on our family's "favorite dinner list" — a very exclusive list of only unanimously voted recipes that we all love. I always hear "YAY!" when I tell them that's what's for dinner.
Egg roll in a bowl is incredibly adaptable, too! You can use any ground meat you like and substitute other kinds of shredded vegetables (more on that later).
Why I love this particular Egg Roll in a Bowl recipe
It's PALEO-FRIENDLY — meaning it's soy-free, gluten-free, and refined sugar free. You can serve it alone or with some Roasted Cauliflower Rice (my fave) to keep it grain-free, too.
EXTRA FLAVOR. I also love the addition of Chinese Five Spice in the meat to give it an extra boost of flavor. You can find it easily online or in most grocery stores (check the spice and Asian sections). I like to make my own using this recipe. (I really love grinding my own spices.)
SRIRACHA MAYO. Any excuse to squirt sriracha mayo on what I'm eating is fine by me. I love the creamy touch of heat it gives these bowls. If you've never made sriracha mayo, it's easy and only three ingredients.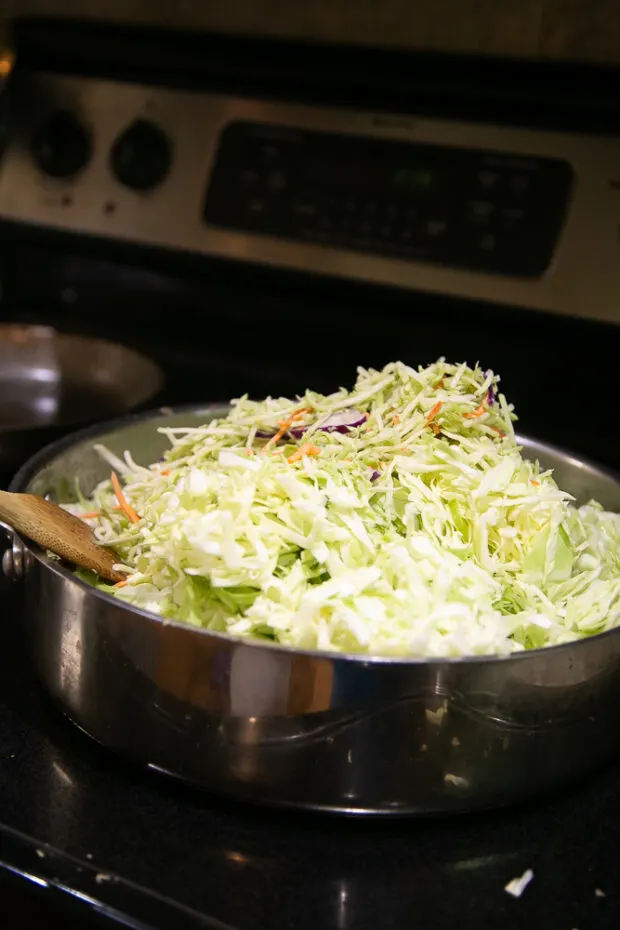 How to make Egg Rolls in a Bowl
Or is it Egg Roll in Bowls? We just call them Egg Roll Bowls.
Basically, you brown some ground meat then throw a giant pile of shredded cabbage on top with some Asian-style sauce.
That's about it!
Like spinach, cabbage cooks down quite a bit, so you'll start with a giant mountain at the beginning.
It's fun to be able to use a massive amount of vegetables in a meal knowing my kids love it.
You'll want to use a big, deep skillet if you have one. Or a wok. I use a deep lidded Cuisinart skillet that I've had for over a decade.
It's such a great pan for making one-pan meals for big families. I use it for all kinds of things and you'll see photos of it all over my site.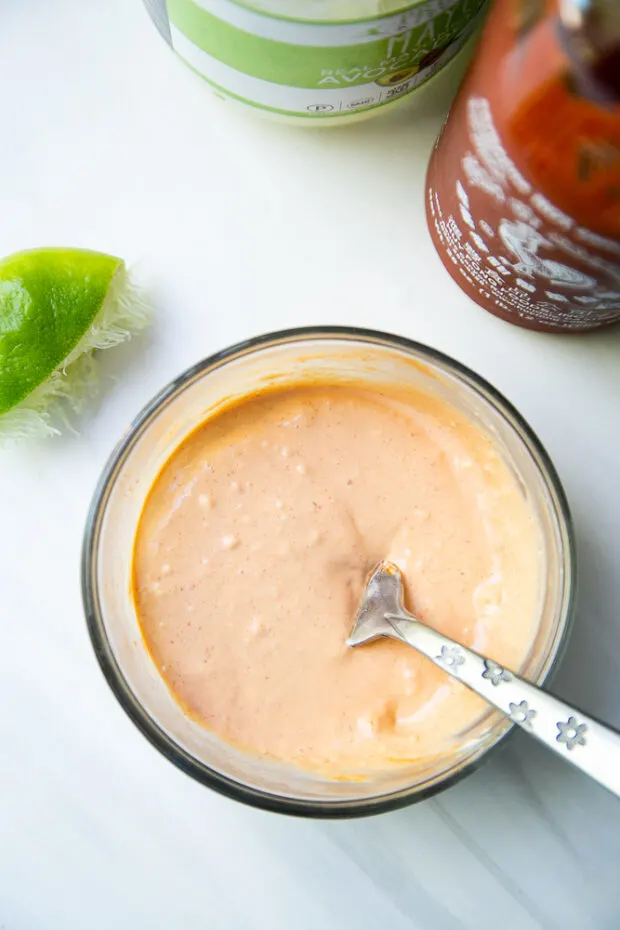 How to Make Sriracha Mayo
When I make sriracha mayo, I'm pretty minimalist. I stir together these three ingredients:
avocado oil mayo
sriracha or another Asian-style chili paste
a squirt of lime juice
You could dress it up with some garlic or ginger or some chopped green onions, but it's amazing just like this.
I use sriracha mayo on California Roll Sushi Bowls, Ahi Tuna Poke Bowls, or slathered over a hard-cooked egg.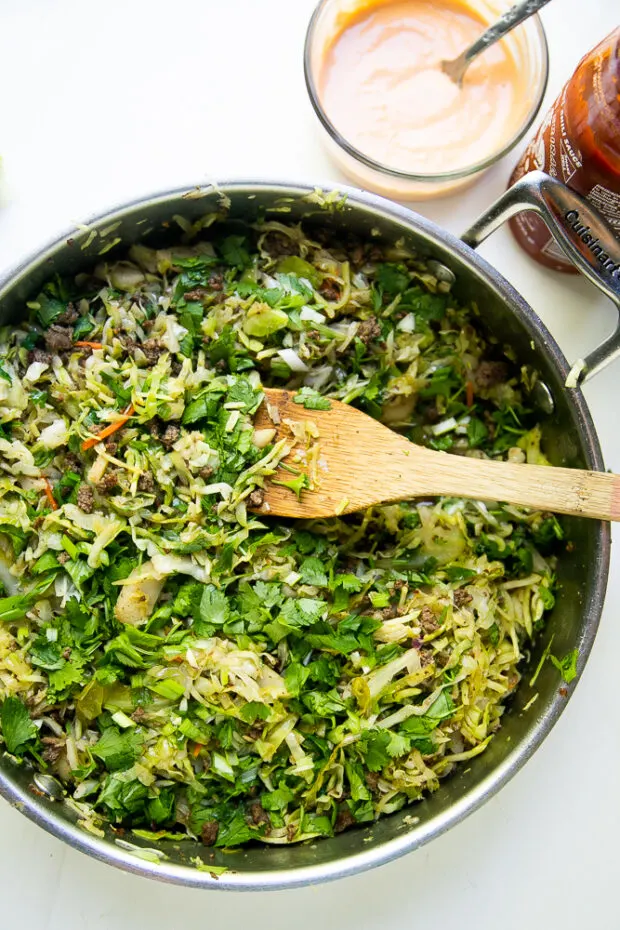 Look at all that GREEEEEEN!!! To add some freshness, I stir in some chopped cilantro and green onions at the end.
I love recipes like this where meat is used to add flavor instead of the main recipe component.
I also love recipes where I can use a pound of ground meat and feed my family of 6 generously. This is especially handy when you're buying higher quality meat. You'll want that grass-fed, pastured meat to stretch far for big families.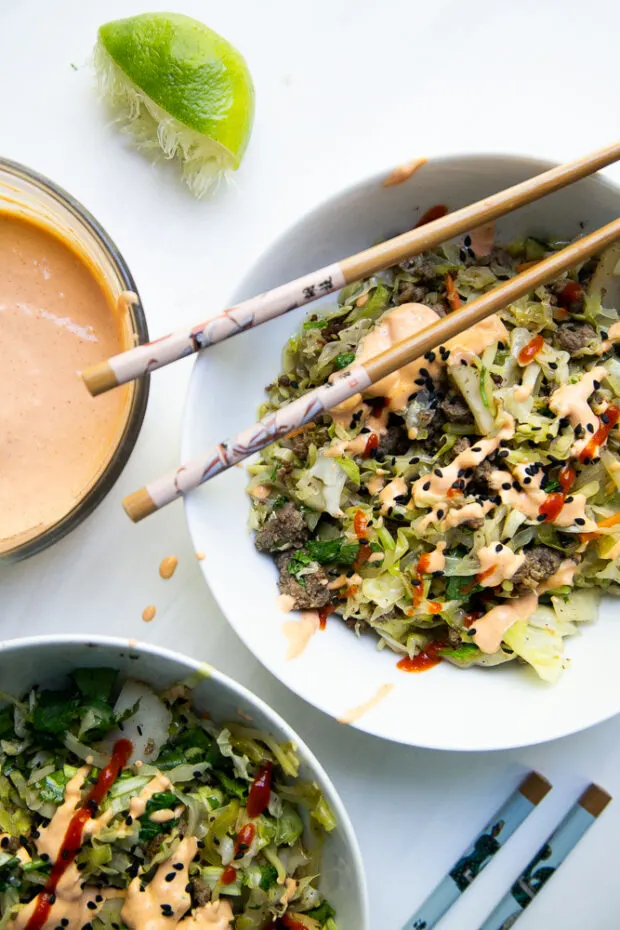 Egg Roll in a Bowl is also a great recipe to use for meal prep! Make a big batch and portion it out for lunches during the week. It reheats beautifully!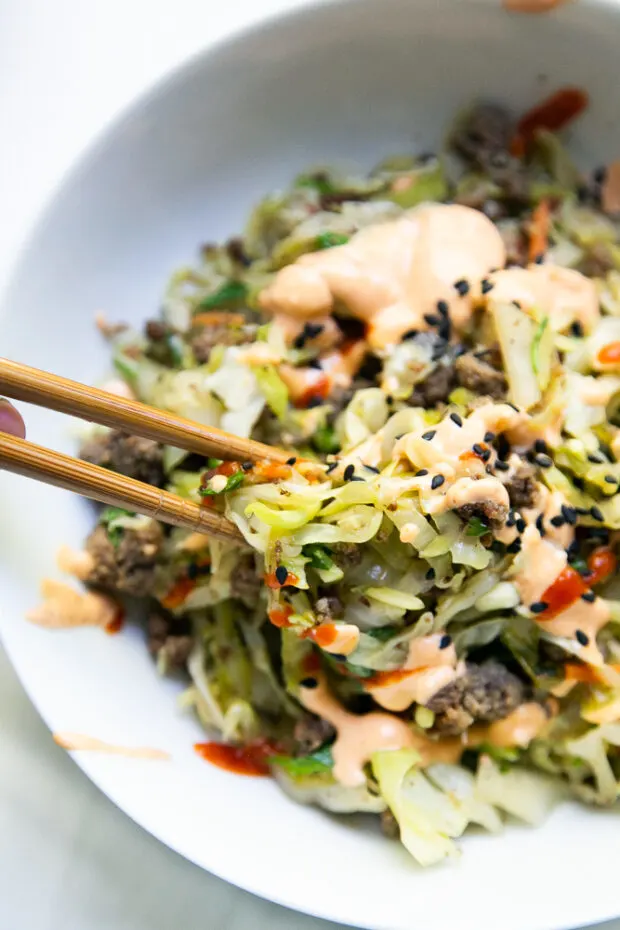 More Asian-inspired One-pan recipes
Here are a few of our favorite Asian-inspired recipes made in just one skillet or pot!
Thai Green Curry Zoodles with Shrimp & Broccoli is a knock off of one of my favorite meals from Noodles & Co. It's a great meal for hot summer days, too.
Easy Paleo Pad Thai is another meal on our "favorite dinner list". And another meal made in under 30 minutes!
Paleo Thai Shrimp & Vegetable Skillet is very similar to these egg roll bowls — but with a Thai flair.
Mango Chicken Curry is an oldie, but such a great recipe for a quick weeknight dinner.
---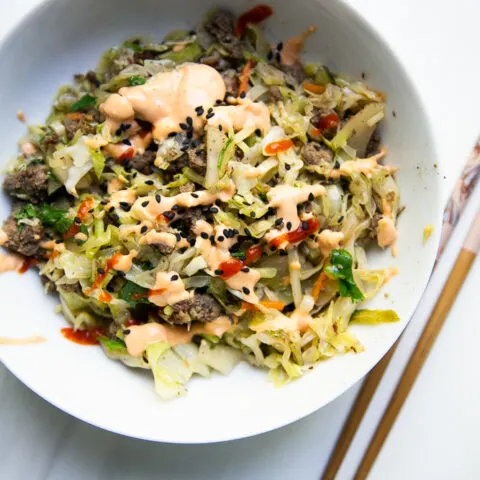 Egg Roll in a Bowl with Sriracha Mayo
Egg Roll in a Bowl is a healthy take on classic Chinese egg rolls without the fried exterior! Spiced ground beef sauteed with loads of fresh veggies are topped with my favorite condiment of all time -- 3 ingredient sriracha mayo.
Ingredients
1 tablespoon of toasted sesame oil or avocado oil
1 pound of ground meat (beef, chicken, turkey, or pork)
Sea salt & black pepper
1 teaspoon Chinese Five Spice seasoning (optional)
1/4 cup coconut aminos
1/4 cup rice vinegar
2 Tablespoons fish sauce
1 teaspoon sriracha or Asian chili paste
4 cloves of garlic, chopped
1 Tablespoon minced fresh ginger
1/2 bag of broccoli slaw (about 6 ounces)
1 medium head of cabbage, cored and chopped thinly or shredded
1 8-ounce can of sliced water chestnuts (optional)
1/2 cup fresh chopped cilantro
4 thinly sliced green onions
For the Sriracha Mayo:
1/2 cup paleo-friendly mayo
1-2 Tablespoons sriracha or Asian chili paste
1 lime
Instructions
In a large, deep skillet or wok, heat the oil to medium-high heat. Add the ground meat and break it up into small crumbles. Add a few pinches of sea salt and black pepper and the Chinese Five Spice seasoning. Cook the meat until it forms crispy brown bits (this adds flavor!) and stirr occasionally. This should take about 8-10 minutes.
While the meat is cooking, whisk together the coconut aminos, rice vinegar, fish sauce, and sriracha in a small bowl. Set aside.
Add the garlic and ginger to the skillet and cook for another minute or so. Pour the sauce mixture into the skillet and stir to release any stuck bits from the pan.
Add the cabbage, broccoli slaw, and water chestnuts to the skillet. It'll be full, but it cooks down quite a bit. Cover and let it steam for 5 minutes or so until the cabbage has wilted.
Remove the lid and continue to cook, stirring to combine everything, until some of the liquid has cooked off -- another 5 minutes. The cabbage and slaw should be cooked and tender when it's finished.
Stir in the cilantro and green onions.
Make the sriracha mayo by whisking together the mayonnaise, sriracha, and the juice from 1/2 the lime. Taste, and adjust the sriracha or lime if needed. It may need a pinch of salt, too.
Serve the egg roll bowls wish a drizzle of sriracha mayo. We like ours with a shake of sesame seeds, too.
Notes
Nat's Notes:
The Chinese Five Spice seasoning is pretty easy to find in most grocery stores -- check the spice or Asian sections. I made my own using Daring Gourmet's Chinese Five Spice Recipe (using regular peppercorns instead of szechuan). I like the extra flavor this seasoning adds, but you can leave it out if you like.
The water chestnuts are also optional -- leave them out if you like. My kids don't like them in big slices, so I run a knife through them before adding them to the pan.
You can eat these egg roll bowls alone or alonside some steamed Jasmine rice or Roasted Cauliflower Rice (my fave).
Recommended Products
As an Amazon Associate and member of other affiliate programs, I earn from qualifying purchases.