Southwest Chicken and Barley Soup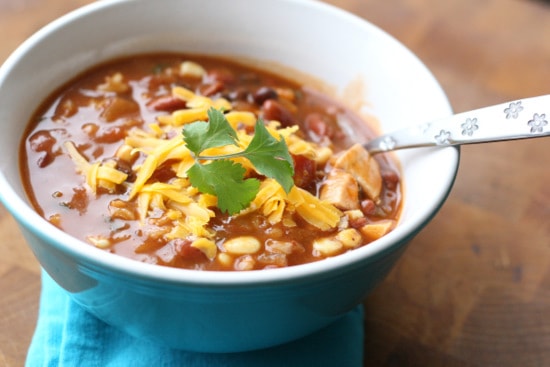 How often do I get the chance to post on leap day? (Well… every four years I suppose.) A special day deserves a special dish.
I've had this recipe for a long time. It's easy, tasty, and relatively healthy. And every comment I've had about this soup has been overwhelmingly positive. It even impressed my grandparents, which is kind of hard to do.
Perry's Plate really wouldn't be complete without it, so I refreshed the photos and brought it back to the front. Welcome back, old friend!
It's very versatile, too. I've added bell peppers, diced squash, and kale on occasion. The barley (or rice, or quinoa) and chicken are both optional, and you can spice it up all you want. I wouldn't skimp on the lime juice and cilantro (unless you hate cilantro) though, because they give the soup a boost of flavor. The recipe is mostly "dump & simmer" and it even freezes well.
A complete package right here…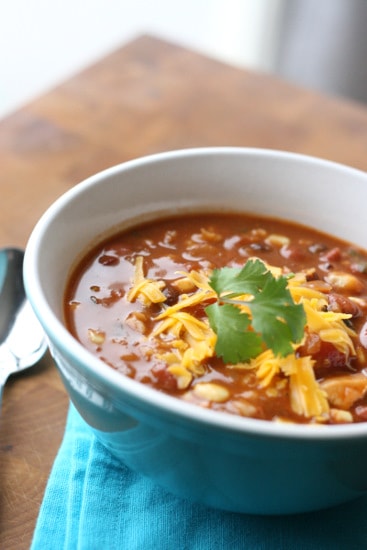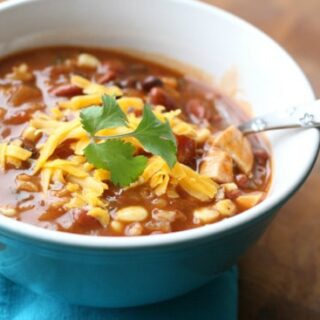 Southwest Chicken and Barley Soup
Yield: Serves 8-10
Prep Time: 15 minutes
Cook Time: 45 minutes
Total Time: 1 hour
This is such an easy, kid-friendly soup that's perfect for a chilly fall night.
Ingredients
1 cup chopped onion
1 minced garlic clove
1 tablespoon oil
3 cups water
2 cups frozen corn
1 15-oz can kidney or black beans, rinsed and drained
1 15-oz can tomato sauce (or two small ones)
1 14.5-oz can diced tomatoes, undrained
1 14.5-oz can chicken broth
1/2 cup pearl barley (uncooked)
1 4-oz can chopped green chilies, drained
1 tablespoon chili powder
½ teaspoon cumin
3 cups shredded or cubed cooked chicken
¼ cup chopped fresh cilantro
juice from 1 small lime or 1/2 large lime (about 2-3 T)
sour cream
shredded cheddar cheese
Instructions
In a large soup pot (4-5 qts) saute onion and garlic in oil until tender. Add the next 10 ingredients.
Bring to a boil, then reduce heat, cover, and simmer for about 30 minutes.
Stir in the chicken and cook for 15 more minutes or until barley is tender.
Stir in cilantro and lime just before serving.
To serve, ladle into bowls and top with sour cream and shredded cheese.
Notes
Nat's Note: For the chicken, I took 2 large boneless, skinless chicken breasts and thawed them. I sprinkled them with salt, pepper, and oregano, and lemon juice, then baked them at 375 degrees F for about 15 minutes or so in my oven while the soup was cooking. After they were cooked, I let them rest for 5 minutes, then cut them into cubes.
Save
Save