When you make these Tropical Fish Tacos, please PLEASE make the pineapple salsa to go with it! It goes so beautifully with the coconut-crusted fish!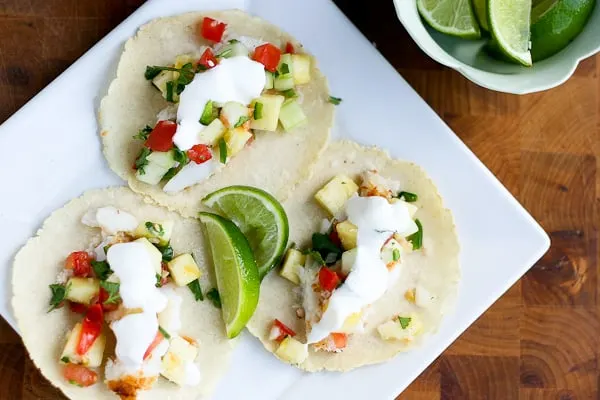 Have you ever been locked out of your car in a parking lot with two small children and a shopping cart full of groceries? Just curious.
Hey, look! Tropical Fish Tacos!
I learned something interesting about pineapples this week. I was in Whole Foods picking up a few things and thought I'd grab a pineapple, too. I wasn't planning on buying one at Whole Foods because I figured it'd be about $8, but I didn't want to make a trip to another store. To my surprise they were $5. But they were organic so that wasn't too bad. I pick one up and sniffed it to see if it was ripe. No smell. In fact, they were all as green as can be.
A produce guy meandered over and asked me if I wanted to know why they didn't have a sweet smell.
Um, yes, please.
He informed me that most commercially grown pineapples are injected with artificial smells and artificial color to make them more yellow! (i.e. "Hawaii gold" pineapples) Is nothing sacred!?
I made him pick one out for me because my visual and olfactory (how's that for a fancy word?) cues for picking a good pineapple were suddenly useless. Plus, it would be his fault if it didn't taste good. I took it home, placed it by my kitchen window for a couple of days and hoped for the best.
You know what? It was a really good pineapple. I want to say it tasted more "real" than other pineapples, but that might be psychological because I knew there wasn't anything artificial about it. We'll just say it was a good pineapple.
AND it was absolutely fantastic made into a salsa, tossed over some coconut-crusted fish and drizzled with coconut crema. Oh, on a freshly-made corn tortilla. Have you ever made your own? You may never want to buy them again.
I'm officially ready for summer. And more tacos.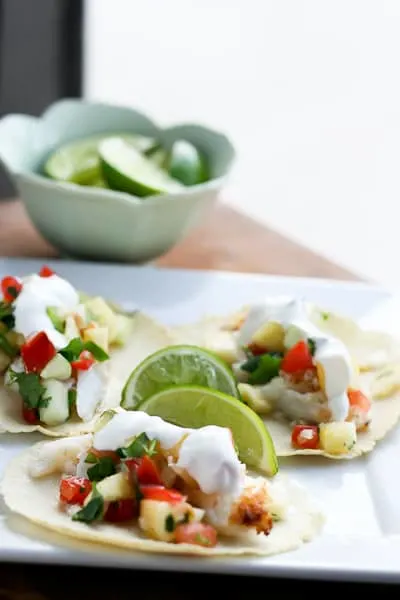 If you want to make these grain-free, omit the tortillas and use this Southwest Cabbage Slaw instead! (I actually tried it and loved it.)
SaveSaveSaveSave
If you make one of my recipes, be sure to post it on social media and tag me at @perrysplate or #perrysplate so I can send you some love!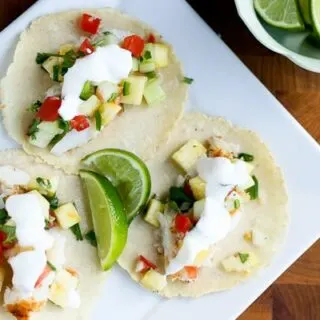 Tropical Fish Tacos with Pinapple Salsa
When you make these Tropical Fish Tacos, please PLEASE make the pineapple salsa to go with it! It goes so beautifully with the coconut-crusted fish!
Ingredients
1 1/2 pounds wild-caught white fish fillets (cod, halibut, dover sole)
2-3 limes, divided
6 T coconut milk, divided
salt and pepper, to taste
1/2 cup Mexican crema or sour cream
2/3 cup unsweetened coconut
2-3 T coconut oil or other heat-safe cooking oil
8-12 corn tortillas, depending on the size
For the Pineapple Salsa:
2 cups diced fresh pineapple chunks (about 1/2 of a medium pineapple)
1 cup diced cucumber
1 medium tomato, diced
2 T minced onion
1/4 cup chopped fresh cilantro
salt and pepper, to taste
Instructions
Pat the fish dry and place on a plate or rimmed baking pan. You may want to cut the fish into manageable pieces or you can leave the fillets whole. Sprinkle both sides of fish with salt and pepper, then drizzle 3 tablespoons of the coconut milk and juice from 1/2 a lime over the fish. Turn fish a couple of times to make sure they're coated. Let the fish sit for 15-20 minutes while you prepare the salsa.
Combine the pineapple salsa ingredients in a medium bowl and squirt the juice from 1/2 a lime over the top. Stir to combine and set aside.
Place sour cream in a small bowl and add the other 3 tablespoons of coconut milk, a squirt of lime juice, and a pinch of salt and pepper, to taste. Set aside until you're ready to assemble the tacos.
When you're ready to cook the fish, heat about 2 T oil in a pan over medium heat. Place the unsweetened coconut in a shallow dish, large enough to fit the fillets, and add a few pinches of salt and pepper. Toss to combine.
Lift each piece of fish, letting the excess coconut milk drain off, and coat in the dry coconut. Place the coated fillets in the hot pan. To ensure that you don't lose all of the coating, make sure your pan is sufficiently hot.
The fish should sizzle like crazy when you add it to the pan. Let the fish cook for a few minutes per side, flipping once. Let it form a good crust before you flip. Don't move the fish around or fiddle with it too much.
When it forms a golden brown crust, it should come off the pan easily with most of the coating. You will lose a bit of the coating in the pan, just spoon out what you can between batches, adding more oil if necessary. I recommend covering the pan while it's cooking if the fillets are thick so the coconut doesn't burn before the fish cooks through.
The fish should start to separate into layers and flake easily with a fork when done. Assemble tacos by putting a couple forkfuls of fish into the center of a tortilla and topping it with some pineapple salsa and a drizzle of coconut sour cream. Serve with lime wedges.
SaveSave
This post may contain affiliate links. Any purchases made by using these links won't cost you any extra and helps keep my content free. These links may be Amazon links as I am part of the Amazon Associate Program.