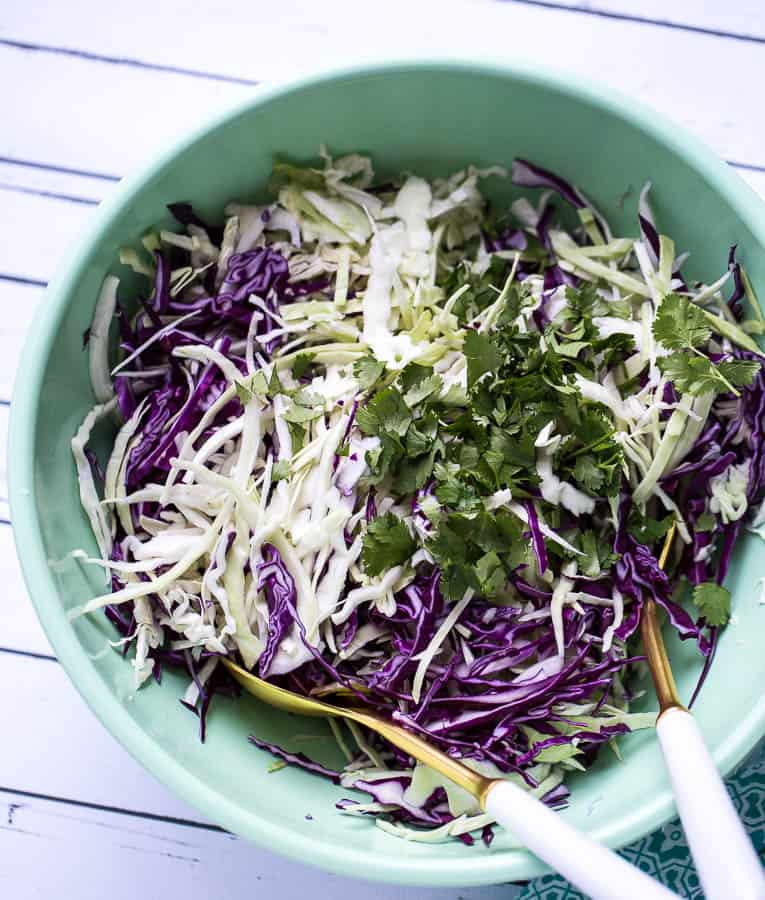 This fresh cabbage slaw without mayonnaise has been one of my favorite recipes for years. Almost seven years, to be exact.
It was actually part of another recipe on my site, but since I make it so often I decided it should have its own post.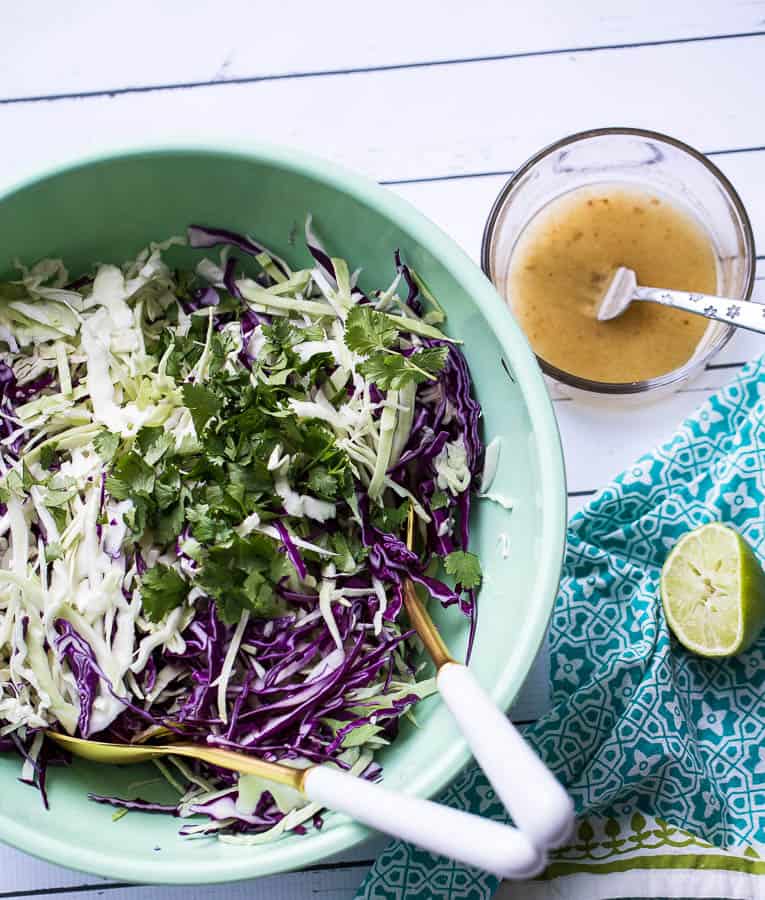 It's so easy, too, especially if you have a food processor with a slicing disk.
And you can add shredded carrots and radishes and call it "rainbow" salad in hopes of getting your little girls to like it.
(That only worked for a few years. They're lukewarm about it now. Sigh.)
Instead of a mayo-based dressing, it has a simple lime vinaigrette.
We use this mainly when we eat tacos or as a base of a taco salad with shredded/ground/grilled tex-mex meat. I listed a few recipes below if you're looking for some ideas!
The leftovers are great with a couple of fried eggs for breakfast — that's actually why I started making it in the first place. It'll keep for about a week in the fridge, dressed. (Have I convinced you yet? It's the best little salad ever.)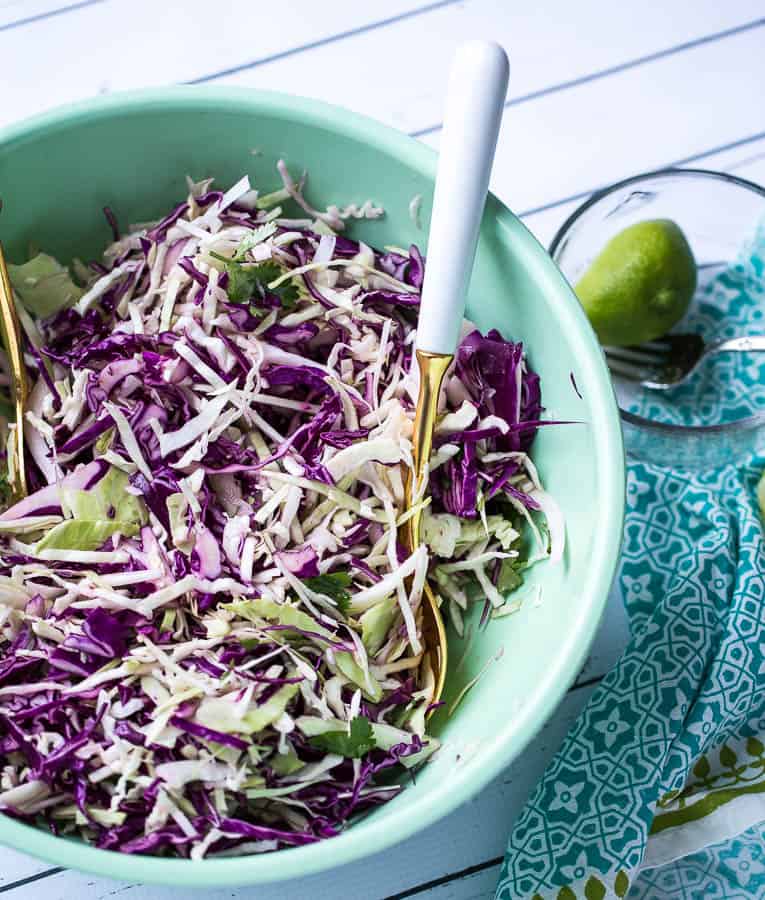 Serve Southwest Cabbage Slaw with these recipes
Need some pairing ideas? Southwest Cabbage Slaw goes beautifully with these recipes:
Slow Cooker Green Chile Chicken
Slow Cooker Shredded Chipotle Beef
If you're looking for a creamy kind of cabbage slaw that isn't heavy with mayonnaise, try my Cabbage Slaw with Cucumber Yogurt Dressing!
---
If you make one of my recipes, be sure to post it on social media and tag me at @perrysplate or #perrysplate so I can send you some love!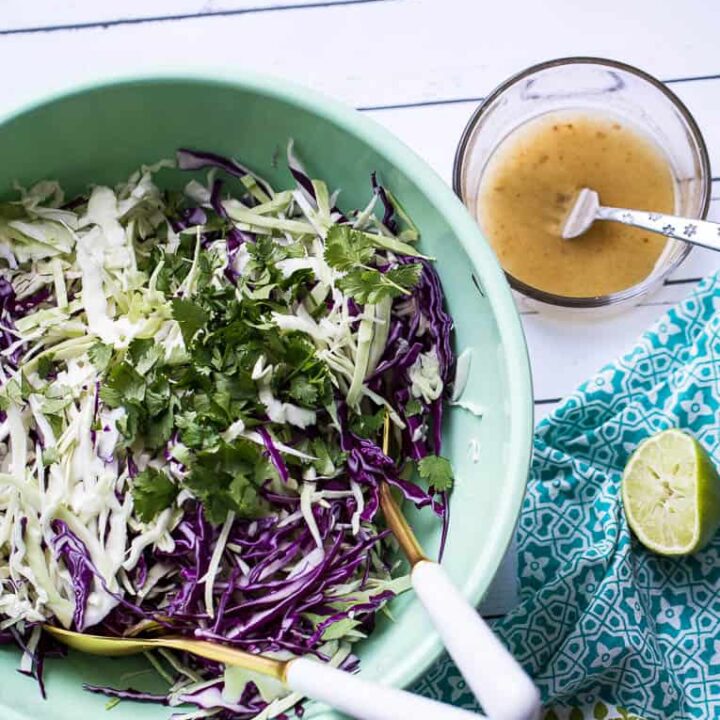 Southwest Cabbage Slaw
This simple slaw is such a versatile staple in my recipe collection! It's a snap to whip together. It's not mayo-based, so it lasts a long time, and it makes your tacos and taco salads even more amazing!
Ingredients
1 medium head of cabbage (green or purple or half of each kind)
3 green onions, sliced thinly
1 cup loosely packed chopped fresh cilantro
3 Tablespoons extra-virgin olive oil or avocado oil
Juice from 1 lime (about 2-3 Tablespoons)
1/4 teaspoon ground cumin
1/4 teaspoon sea salt
Instructions
Slice the cabbage in half, and cut out the cores. Discard the outside leaves. Cut the cabbage thinly by hand or use the shredding disk on a food processor.
Transfer the cabbage to a very large bowl (like a popcorn bowl -- it'll make it easier to mix). Add the green onions and the cilantro to the cabbage.
In a small bowl whisk together the oil, lime juice, cumin, and salt. Pour the dressing over the slaw. Using salad tongs or two big forks, toss it together until all of the slaw is coated in the dressing.
Serve.
Notes
Nat's Note: Adding a few shakes of hot sauce to the dressing gives this slaw a nice bit of heat.
Recommended Products
As an Amazon Associate and member of other affiliate programs, I earn from qualifying purchases.