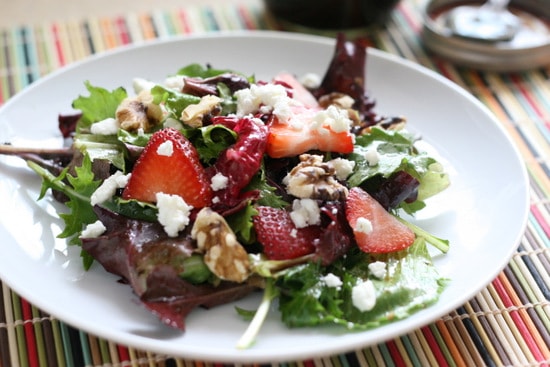 Last week I sat down and planned out my life for the next 6-8 weeks. I wrote down all of the things I wanted to get done (both online and offline) before the baby gets here and thoughtfully assigned each week its tasks.
Over an hour later I looked at my schedule which contains, among other things, six "maternity leave" blog posts, 10 days worth of frozen dinners, a painted bedroom, several book reviews, my 4-year-old's birthday, and I suddenly got very overwhelmed.
And lazy. So I plopped myself on the couch, finished off a container of Nutella (with a spoon) and watched a couple episodes of Chopped.
Along with being apathetic and lazy, did I mention my sweet tooth is out of control this time around? Maybe that's why I love this vinaigrette so much. In my defense, I did cut the amount of maple syrup in half. (The original amount was double what it is in the recipe below — good grief!) It's become one of my favorite salad dressings and is fantastic with a simple green salad with strawberries.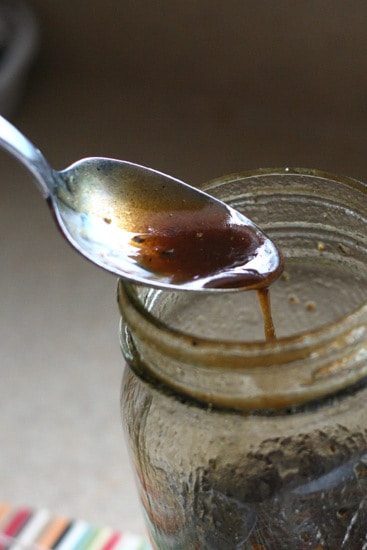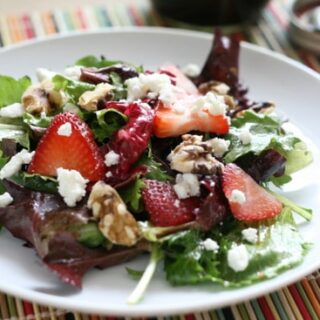 Spring Greens & Strawberry Salad + Maple Vinaigrette
Spring means greens! Salads! Strawberries! Maple vinaigrette.... ok maybe not that, but put them all on a plate together and you'll have your favorite spring salad.
Ingredients
For the Maple Vinaigrette:
1/2 teaspoon dried basil
1 teaspoon dry mustard
1/4 cup balsamic vinegar
3 Tablespoons maple syrup
1 Tablespoon lemon juice
1 clove garlic, minced
1 cup extra-virgin olive oil
1/4 teaspoon black pepper, or to taste
1/2 teaspoon salt, or to taste
For the Salad:
5-6 fresh strawberries, tops removed and sliced
1/2 cup walnuts, pecans, or almonds, roughly chopped
1/2 cup goat cheese or blue cheese crumbles
12 ounces of spring greens salad mix
Instructions
To make the vinaigrette: In a medium-sized bowl, combine the basil and mustard. Whisk in the vinegar, maple syrup, lemon juice, and garlic. Slowly pour the oil into the mixture while whisking. Whisk for about 15-20 seconds until mixture has emulsified and thickened slightly. Whisk in salt and pepper, adjusting to suit your tastes. Store in an airtight container in the refrigerator. (Makes about 1 1/2 cups of dressing.)
To make the salad: Toss about 1/3 cup of dressing with the salad greens and divide among plates. Add strawberry slices, nuts, and cheese over top.
Save
Save
SaveSave